As many investors realize, there has been a pullback in the junk bond market for the past few weeks. We have seen this many times before and I see no reason for major concern as it looks like nothing more than a healthy pullback after a solid run. As the chart shows below, junk bonds have been steadily rising, so it's only reasonable for a pause or pullback at some point. As the chart also shows, buying pullbacks has been a smart move for the past few years, and that trend looks poised to continue because rates remain at very low levels.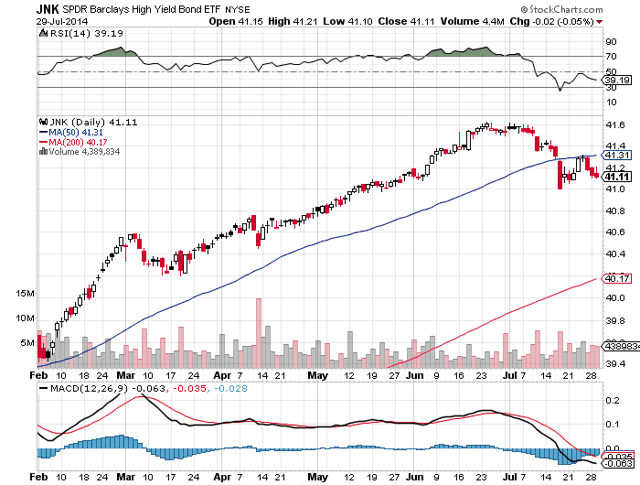 A recent Barron's article points out that Russ Koesterich, (Blackrock's global chief investment strategist), remains bullish on high yield bonds. The article quotes him as stating:
"High yield has seen significant inflows over the past several years, a result of investors' quest for yield in a low interest rate environment. Given that, more outflows and volatility are certainly possible in the near term. However, for investors with a longer time horizon, we would hold course. We still believe the supply/demand balance is favorable and that high yield continues to offer attractive yields relative to the alternatives."
Junk bonds appear to be one of the most attractive places to invest right now, especially considering that stocks are at record highs and yield just about 2%, and ten-year government bonds yield about 2.5%. Junk bonds benefit from an improving economy since default rates tend to drop as the economy grows. Plus, many junk bonds have an average yield of nearly 6% which is far more than what most investments will offer. For these reasons, it appears that the "bull market" for high yield will remain intact. That means investors should be looking to buy on the recent weakness. The question is, what are the best ways to invest in high yielding junk bonds right now?
Many investors use the SPDR Barclays High Yield Bond Fund ETF (NYSEARCA:JNK) to invest in this sector. That is a reasonable choice but as it yields just below 6%, it leaves room for improvement. The Credit Suisse High Yield Bond Fund (NYSEMKT:DHY) is one of my favorite high yield plays. It is a closed end fund or "CEF" that primarily invests in high yield corporate bonds. As of June 30, 2014, this fund has about 233 holdings and around $451 million in net assets. This number of holdings indicates it is well diversified, which reduces risks for investors.
This CEF is professionally managed by Credit Suisse and it pays a monthly distribution of 2.4 cents per share. The monthly payment it offers is another reason why it is a very attractive investment to consider. The Credit Suisse High Yield Bond Fund usually has an ex-dividend date of around the 15th of each month and it typically makes the payment by the 24th of each month. The monthly dividend of 2.4 cents per share provides a yield of roughly 9.1%, which is far more than what a typical junk bond ETF provides. This CEF is able to provide a higher yield because it uses some leverage. While this does increase potential downside risks, it might not be as much as many other investments that use leverage because using a limited amount of leverage to buy a portfolio of bonds is simply not as risky as using leverage to buy a stock.
Investors in any junk bond investment should consider potential downside risks that are typically associated with this sector such as a big jump in interest rates, or another recession. But, these risks do not seem likely now as the economy is seeing steady growth, and also because the Federal Reserve is expected to keep rates at very low levels for years. Relative risks also seem low for junk bonds. For example, if you put new money to work now in the stock market at record highs, you might not be well-rewarded for the potential downside risks, especially as the average stock yields just around 2%. If the market goes nowhere or drops, stocks are likely to underperform junk bonds. By contrast, junk bonds will continue to pay a very solid yield and are not likely to see the kind of decline that equities could experience in a bear market or if geopolitical issues continue to mount.
While the SPDR Barclays High Yield Bond Fund ETF does provide significant liquidity and a solid yield of nearly 6%, I still prefer the Credit Suisse High Yield Bond Fund since it has sufficient liquidity for most investors. Plus, it offers nearly 50% more to investors every month, with a yield of about 9.1%. Over the years, the compounding effect of earning 9.1% versus just below 6%, will make a huge difference. For example, $100,000 invested for ten years at 5.8% will turn into about $178,354. However, that same $100,000 invested at 9.1%, will be worth nearly $250,000. Over more years, the difference becomes even more staggering. For these reasons, the Credit Suisse High Yield Bond Fund remains a very attractive place to invest.
Here are some key points for Credit Suisse High Yield Bond Fund:
Current share price: $3.18
The 52 week range is $3 to $3.29
Dividend: about 2.4 cents per month, which yields about 9.1%
Here are some key points for SPDR Barclays High Yield Bond Fund ETF:
Current share price: $41.11
The 52 week range is $39.14 to $41.82
Dividend: about 20 cents per month, which yields about 5.8%
Data is sourced from Yahoo Finance. No guarantees or representations
are made. Hawkinvest is not a registered investment advisor and does
not provide specific investment advice. The information is for
informational purposes only. You should always consult a financial
advisor.
Disclosure: The author is long DHY. The author wrote this article themselves, and it expresses their own opinions. The author is not receiving compensation for it (other than from Seeking Alpha). The author has no business relationship with any company whose stock is mentioned in this article.