Latest Quarterly Results
McDonald's (NYSE:MCD) reported mediocre Q2 results last week, with EPS of $1.40 and revenue of $7.18 billion, both up 1%. This minimal growth in revenue came solely from an increased number of restaurants, as comp sales were down 1.5% and 1% in the U.S. and Europe, respectively. Only APMEA (Asia-Pacific/Middle East/Africa) managed to grow comp sales by 1.1%. This reflects the struggle McDonald's goes through in Western countries, where customers tend to change their eating habits and go for healthier restaurant options, such as Chipotle (NYSE:CMG).
The bright side is that the company announced to increase capital returns: McDonald's targets $18 billion to $20 billion in share repurchases and dividends through 2016. This is a 10%-20% increase over the amount returned to shareholders between 2011 and 2013.
Current Risks
McDonald's recently got hit by another food scandal in China, which also affected Yum Brands (NYSE:YUM). OSI Group, a meat supplier, has been selling expired products, leading to Yum terminating its relationship with the supplier, whereas McDonald's wants to stick with OSI. This food scandal will probably hurt sales in China, although the effect is temporary.
Another possible threat is a higher minimum wage in the U.S., as fast food workers are campaigning for higher wages. The company would have to pass these higher labor costs on to customers, which could lead to slightly decreasing traffic due to higher food prices. This would affect the whole industry, so customers wouldn't wander off to other chains but more likely reduce the number of meals eaten at restaurants.
Current Valuation
In the following table, you will see a comparison between McDonald's, Yum Brands, and Burger King (BKW).
| | | | |
| --- | --- | --- | --- |
| | MCD | YUM | BKW |
| P/E | 17.36 | 27.96 | 37.06 |
| P/S | 3.35 | 2.39 | 8.86 |
| P/B | 5.89 | 14.53 | 6.16 |
| Div % | 3.38 | 2.01 | 1.05 |
Except for price-to-sales, where it offers the second-best rating after Yum Brands, McDonald's leads in every of these metrics: It offers the lowest price-to-earnings, the lowest price-to-book, and the highest dividend yield. McDonald's seems to be undervalued compared to its competitors (or its competitors seem overvalued compared to McDonald's), which might be explained by the market expecting higher future growth from Yum and BKW.
Still, it seems highly unlikely that McDonald's shares could drop significantly from the current valuation, based on the multiples the company offers right now.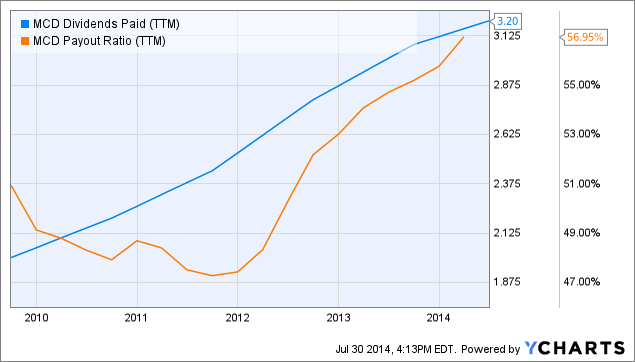 MCD Dividends Paid (TTM) data by YCharts
The dividend yield of almost three and a half percent is an especially nice plus for shareholders, and hedges the share price. McDonald's also frequently raises its dividend, with the next increase due next quarter. The payout ratio still offers a lot of potential increases, although it is already higher than in recent years.
Conclusion
McDonald's is a safe investment: non-cyclical, low-beta, high-yield, and comparatively low P/E. From current valuations around $95, I see very little downside. I don't recommend selling, yet the company doesn't seem to offer huge growth potential either - thus limiting upside. If McDonald's managed to get a foot into the healthier food arena, there would be a possibility of strongly growing comp sales in the U.S. and Europe, but so far, McDonald's hasn't been able to deliver in that segment. Due to lacking growth prospects but a very shareholder-friendly company policy, McDonald's is an option for investors seeking safety and a regular dividend.
Disclosure: The author has no positions in any stocks mentioned, and no plans to initiate any positions within the next 72 hours. The author wrote this article themselves, and it expresses their own opinions. The author is not receiving compensation for it (other than from Seeking Alpha). The author has no business relationship with any company whose stock is mentioned in this article.