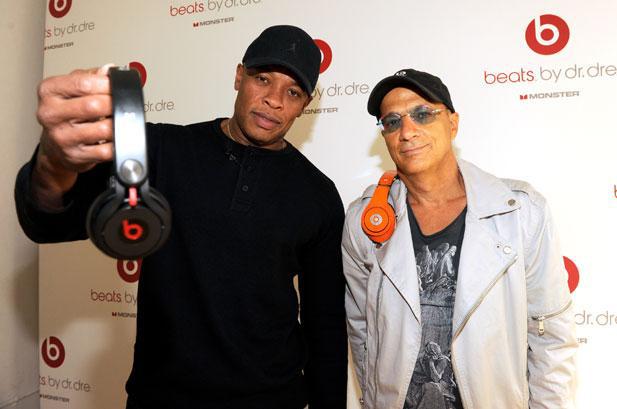 Picture: Dr. Dre and Jimmy Iovine of Beats
Bloomberg News is reporting that Apple, Inc (NASDAQ:AAPL) is laying off 200 employees related to its $3 billion acquisition of Beats Electronics LLC. The job cuts will be in the areas of human resources, finance, and other job functions where the two companies have overlapping operations. According to Bloomberg:
Staff reductions are often part of large mergers and Chief Executive Officer Tim Cook is showing that Cupertino, California-based Apple will behave no differently as its steps up the pace and size of acquisitions. The purchase of Beats was the biggest in Apple's history, giving the iPhone maker a music streaming service as well as the Beats headphones line.
The Beats acquisition was always a sound strategic play for the following reasons:
Apple was getting a premium headphone brand with commanding market share. The deal was also the rebirth of cool as Beats headphones have the "cool factor" once captured by Apple's iPod.
Earnings Growth - Though Beats was privately held, according to sources, it was profitable and fast-growing as revenue grew to over $1 billion from less than $200 million in 2010.
Hedge against decline in music download declines - Apple's iTunes has a commanding presence in music downloads. However, Beats' fledging streaming business gives its a hedge against declining download sales.
With all that being said, with the announced layoffs, Apple CEO Tim Cook is sending a message to Apple employees, Beats and the market that he means business. Critics questioned the $3 billion purchase price for Beats, in that it was Apple's largest acquisition in the company's history.
Apple is known for making smaller acquisitions in a quest to buy technology and managerial talent. Its largest acquisition prior to Beats was a $400 million deal for Next Software when Steve Jobs was the CEO of Next. Beats is privately held; however, sources have quoted the transaction at 3x sales. Given Apple's $150 billion cash hoard, an acquisition of this size and scope would be little more than a rounding error.
With the announcement of the restructuring, any criticism about transaction execution risk or integrating the two corporate cultures - Cook now heads that off at the pass.
Implications For Pandora
Pandora Media, Inc. (NYSE:P), one of the leading music streaming companies in the U.S., saw its stock trade up after the Beats transaction was announced in mid-May. Investors thought it could also be a takeover target given the sudden interest in music streaming. Below is Pandora's six month stock chart through July 15th.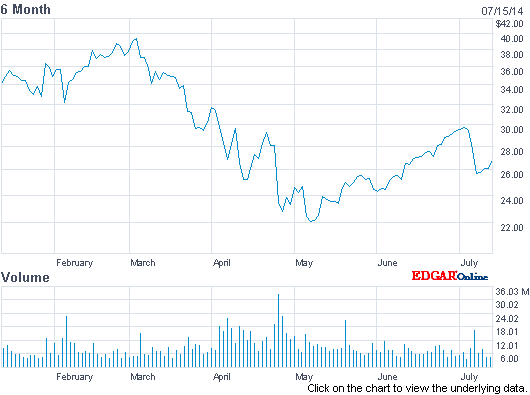 Pandora's share price bottomed in early May at $23 per share. After the Apple/Beats deal was leaked, the stock rallied and topped out close to $30 at the end of June. However, on its Q2 earnings report a week ago, Pandora reported weak revenue guidance and a decline in June listener hours; the stock then fell. It now trades at about $26 per share, giving it a market capitalization of $5.3 billion.
Pandora's stock still reflects an acquisition premium based on Apple/Beats and other transactions in the space. However, I don't see the play for the following reasons:
Apple/Beats at $3B is the largest purchase price tag for acquisitions of music streaming-like companies. Other moves into the space like Google Inc's (NASDAQ:GOOG) (NASDAQ:GOOGL) $15 million acquisition of Songza or Amazon Inc's (NASDAQ:AMZN) launch of Prime Music, were much less capital-intensive.
At a market capitalization of $5.3 billion, a Pandora acquisition would be the largest so far in the industry. Secondly, the most likely buyers like Google, Amazon and Apple - companies with a strategic fit and deep pockets - have already made their play.
Pandora has never turned a profit in its existence. For the 12 months ended January 1, 2013, the company had a loss from operations of about $38 million on revenue of $427 million. Such a sizeable loss could be a deterrent to a buyer. With the recent Beats restructuring, Apple is sending a signal that it will not sacrifice profits to buy technology.
Value Proposition - Based upon the 3x revenue multiple Apple paid for Beats, Pandora is worth $11 - $12 per share, less than half the $26 price it currently trades for.
Conclusion
With Apple's restructuring of Beats, Tim Cook sends a clear signal that there will be no missteps with the $3 billion acquisition, and he wants the transaction to be accretive to the bottom line. Cook may have also sent a subliminal message to Pandora that momentum and market share are great, but profits are even better.
Disclosure: The author is short P. The author wrote this article themselves, and it expresses their own opinions. The author is not receiving compensation for it (other than from Seeking Alpha). The author has no business relationship with any company whose stock is mentioned in this article.