The following is a list of companies approaching 52-week lows. All of these have a historical track record of profitability. To control the quality of the list, we only focused on stocks with market caps north of $300M.

Are these profitable companies trading at attractive valuations? Or is this a list of falling knives? You decide, the goal here is to give you a starting point for your own analysis ...

All data sourced from Finviz.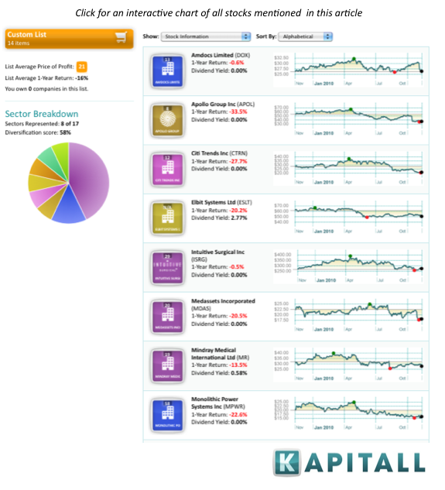 The list has been sorted by an average rank of EPS and sales growth ...

1. Intuitive Surgical, Inc. (NASDAQ:ISRG): Medical Appliances & Equipment Industry. Market cap of $10.89B. The stock is currently 6.56% above its 52-week low. EPS has grown by 54.62% over the past 5 years, with EPS growth projected at 26.19% over the next 5 years. Sales have grown by 49.95% over the past 5 years. Short float at 7.27%, which implies a short ratio of 4.35 days. The stock has gained 3.93% over the last year.

2. MedAssets, Inc. (NASDAQ:MDAS): Healthcare Information Services Industry. Market cap of $1.04B. The stock is currently 3.52% above its 52-week low. EPS has grown by 30.23% over the past 5 years, with EPS growth projected at 20.77% over the next 5 years. Sales have grown by 35.26% over the past 5 years. Short float at 10.29%, which implies a short ratio of 7.63 days. The stock has lost -20.5% over the last year.

3. Mindray Medical International Limited (NYSE:MR): Medical Instruments & Supplies Industry. Market cap of $2.97B. The stock is currently 9.64% above its 52-week low. EPS has grown by 32.51% over the past 5 years, with EPS growth projected at 18.39% over the next 5 years. Sales have grown by 44.83% over the past 5 years. Short float at 19.48%, which implies a short ratio of 15.01 days. The stock has lost -12.87% over the last year.

4. Monolithic Power Systems Inc. (NASDAQ:MPWR): Semiconductor Industry. Market cap of $585.27M. The stock is currently 7.93% above its 52-week low. EPS has grown by 16.1% over the past 5 years, with EPS growth projected at 18.75% over the next 5 years. Sales have grown by 28.23% over the past 5 years. Short float at 8.14%, which implies a short ratio of 4 days. The stock has lost -18.19% over the last year.

5. Teva Pharmaceutical Industries Limited (NYSE:TEVA): Drug Manufacturer. Market cap of $47.32B. The stock is currently 7.78% above its 52-week low. EPS has grown by 34.97% over the past 5 years, with EPS growth projected at 15.1% over the next 5 years. Sales have grown by 23.7% over the past 5 years. Short float at 0.97%, which implies a short ratio of 1.69 days. The stock has lost -2.83% over the last year.

6. Citi Trends (NASDAQ:CTRN): Apparel Stores Industry. Market cap of $311.34M. The stock is currently 4.34% above its 52-week low. EPS has grown by 15.27% over the past 5 years, with EPS growth projected at 17.5% over the next 5 years. Sales have grown by 22.09% over the past 5 years. Short float at 10.96%, which implies a short ratio of 7.49 days. The stock has lost -25.47% over the last year.

7. Amdocs Ltd. (NYSE:DOX): Business Software & Services Industry. Market cap of $5.43B. The stock is currently 3.2% above its 52-week low. EPS has grown by 117.1% over the past 5 years, with EPS growth projected at 11.43% over the next 5 years. Sales have grown by 12.76% over the past 5 years. Short float at 1.54%, which implies a short ratio of 2.06 days. The stock has gained 1.33% over the last year.

8. Quanta Services, Inc. (NYSE:PWR): General Contractors Industry. Market cap of $3.76B. The stock is currently 5.55% above its 52-week low. EPS has grown by 16.26% over the past 5 years, with EPS growth projected at 14.% over the next 5 years. Sales have grown by 15.33% over the past 5 years. Short float at 4.12%, which implies a short ratio of 3.8 days. The stock has lost -15.14% over the last year.

9. Ormat Technologies Inc. (NYSE:ORA): Electric Utilities Industry. Market cap of $1.25B. The stock is currently 5.47% above its 52-week low. EPS has grown by 16.09% over the past 5 years, with EPS growth projected at 16.2% over the next 5 years. Sales have grown by 13.63% over the past 5 years. Short float at 10.08%, which implies a short ratio of 12.6 days. The stock has lost -25.5% over the last year.

10. Qiagen NV (NASDAQ:QGEN): Biotechnology Industry. Market cap of $4.29B. The stock is currently 8.13% above its 52-week low. EPS has grown by 14.48% over the past 5 years, with EPS growth projected at 11.71% over the next 5 years. Sales have grown by 21.55% over the past 5 years. Short float at 3.37%, which implies a short ratio of 4.56 days. The stock has lost -20.23% over the last year.

11. Elbit Systems Ltd. (NASDAQ:ESLT): Aerospace/Defense Products & Services Industry. Market cap of $2.14B. The stock is currently 4.88% above its 52-week low. EPS has grown by 40.6% over the past 5 years, with EPS growth projected at 10.% over the next 5 years. Sales have grown by 12.6% over the past 5 years. Short float at 0.2%, which implies a short ratio of 3.97 days. The stock has lost -13.66% over the last year.

12. Apollo Group Inc. (NASDAQ:APOL): Education & Training Services Industry. Market cap of $5.41B. The stock is currently 4.6% above its 52-week low. EPS has grown by 10.08% over the past 5 years, with EPS growth projected at 11.11% over the next 5 years. Sales have grown by 16.95% over the past 5 years. Short float at 6.52%, which implies a short ratio of 1.77 days. The stock has lost -32.8% over the last year.

13. Techne Corp. (NASDAQ:TECH): Biotechnology Industry. Market cap of $2.25B. The stock is currently 9.97% above its 52-week low. EPS has grown by 12.71% over the past 5 years, with EPS growth projected at 10.67% over the next 5 years. Sales have grown by 8.53% over the past 5 years. Short float at 2.09%, which implies a short ratio of 8.67 days. The stock has lost -6.4% over the last year.

14. SAIC, Inc. (SAI): Technical Services Industry. Market cap of $5.87B. The stock is currently 4.03% above its 52-week low. EPS has grown by 12.14% over the past 5 years, with EPS growth projected at 10.13% over the next 5 years. Sales have grown by 9.44% over the past 5 years. Short float at 4.36%, which implies a short ratio of 7.31 days. The stock has lost -12.66% over the last year.


Disclosure: No positions