The summer is rapidly coming to an end, and with it, market complacency will give way to a macroeconomically eventful fall and winter. Warren Buffett advises to ignore macroeconomic conditions and to only pay the right prices for companies that are likely to succeed in the long run, regardless of what is going on with the economy. While there is merit in this, turning a blind eye to the economy is a crucial mistake and one that Buffett himself would not make. For instance, one of the largest positions that he has recently taken is in Exxon Mobil (NYSE:XOM), which may be a defensive play against future inflation. He has previously said that the Fed's fiscal policies are likely to have sown the seeds of inflation for many years to come, and as I have previously said, defensive sectors like the energy sector do relatively well during times of high inflation.
Interest Rates
Soon after the 2008 financial crisis, quantitative easing was used by central banks, including the Federal Reserve, European Central Bank, Bank of England, and Bank of Japan, to stimulate the economy once conventional means like decreasing interest rates were exhausted. There have been three rounds of quantitative easing so far in the U.S., as shown below:

The latest round, known as QE3, has resulted in as much as $85 billion in asset purchases per month by the Federal Reserve. However, since January 2014, the Federal Reserve began slowly tapering quantitative easing, and it has indicated October of this year as the likely deadline to put a full stop to quantitative easing.
Quantitative easing is one of the main reasons that mortgage rates are at historic lows and the stock market is at record highs. But, critics also attribute the widening wealth gap, an overvalued stock market, and impending high inflation to quantitative easing. It is hard to predict the magnitude of the effect once quantitative easing stops in October, but it is likely that interest rates will increase and the stock market will fall. However, whether the effect is a small blip or a large correction may depend on just how effective quantitative easing was in propping up the economy.
The Federal Reserve can also increase short-term interest rates directly in order to combat rising inflation. However, it is unlikely that interest rates will increase until there is clear evidence of a robust economic recovery. Most economists expect that interest rates will increase in the third quarter of 2015, although some say it could occur as soon as March of next year.
Unemployment
The Bureau of Labor Statistics shows that while the unemployment rate is not quite down to what it was before the financial crisis in 2008, it is consistently improving, and currently stands at 6.3%.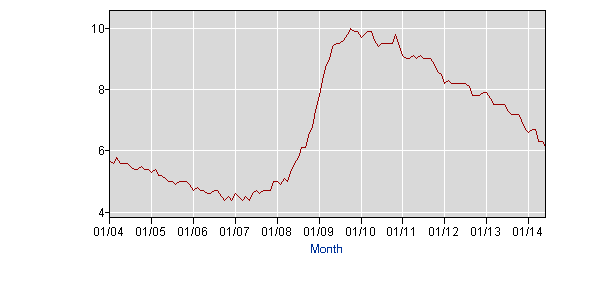 (Source: Bureau of Labor Statistics)
However, critics say that this is not an accurate index of unemployment. An alternate index, the labor force participation rate, or the share of working-age Americans who are employed or looking for a job, is at about 62.8%, a low not seen since 1978. Continuing improvements in the unemployment rate will be critical to continued economic growth. In contrast, tempering of the unemployment rate will surely cast doubts on the economic recovery.
GDP Growth
The International Monetary Fund estimates a 2% GDP growth for the U.S. for 2014. In the first quarter, GDP growth came in at -1%, and the second-quarter GDP growth was just released today. GDP growth was higher than expected for the second quarter at 4.0%. For the remaining year, GDP growth is likely to be around 3%, based on the IMF's 2014 GDP growth rate. Estimates for GDP growth rates are often revised substantially after they are initially released (about 1.5% on average), so they need to be taken with a grain of salt, but worse-than-expected GDP growth could diminish consumer confidence in the economy and negatively affect future stock market performance.
Inflation
The Federal Reserve's inflation target is 2% or less. The inflation rate has been rising recently, but currently stands at 2.1%. Since this is so close to the Federal Reserve's target rate, it is unlikely that any actions will be taken in the near term to fight inflation. To justify an increase in interest rates, inflation would need to show a trend of being higher than 2% for several months consecutively.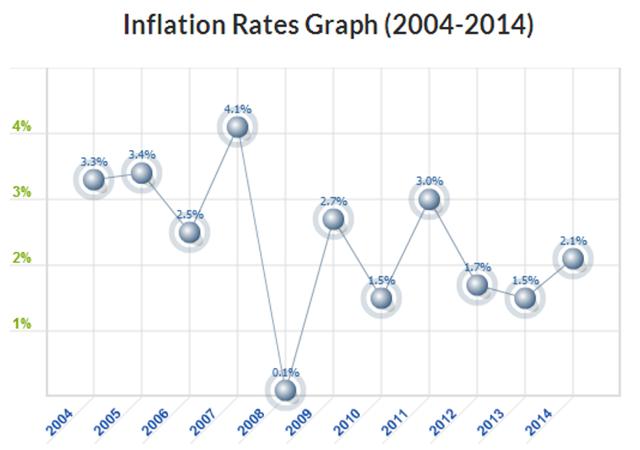 (Source: US Inflation Calculator)
Company Earnings
When the S&P 500 index (is plotted against the trailing twelve-month earnings for the companies listed in the S&P 500 (data shown below up to January 2014), a clear relationship is present between rising earnings and rising stock prices. This provides credence to the idea that there is substance behind record stock market levels.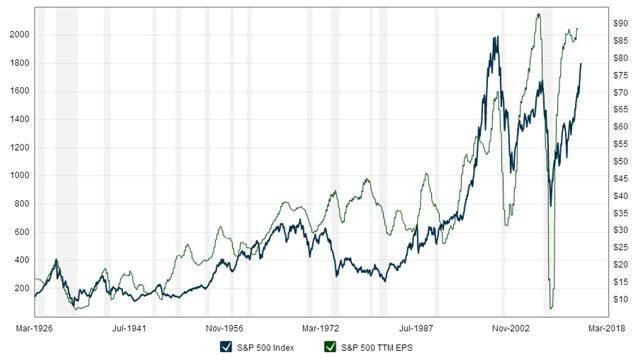 (Source: Macrotrends.net)
While there is a relationship between stock prices and corporate earnings, it seems that stock prices are rising faster than earnings, as is evident by the inflated average P/E ratio for the S&P 500. The current P/E for the S&P 500 is 17.31, whereas the long-term average is only 15.35. For valuations to mean-revert to the long-term average, either stock prices need to come down or earnings need to outpace the rise in stock prices.
Market Outlook
One of Warren Buffett's most famous quotes is to "be fearful when others are greedy and greedy when others are fearful". A number of measures indicate that market "greed" is currently high. For instance, company valuations are less reflective of earnings power than before, and perceived future volatility is at historic lows, even with all the turmoil in the Middle East.
However, what makes this situation unique is that the strongest foreseeable force behind stock market performance, the Federal Reserve, has laid out a clear timeline for its future actions. It has promised to stop quantitative easing in October and to not raise interest rates till well into 2015. This means that the bull market will likely continue unfettered till at least October. Even thereafter, by most measures, the economy has enough momentum behind it to keep running on just fine without quantitative easing. If this is indeed the case, then the bull market may continue well into 2015.
Takeaways
Here are some relevant takeaways if my predicted macroeconomic scenario holds true for the rest of the year:
1) High-yield stocks are safe. These include high-yield REITs like:
Annaly Capital Management (NYSE:NLY)
American Capital Agency (NASDAQ:AGNC)
Five Oaks Investment Corp. (OAKS)
American Realty Capital Properties (ARCP)
ARMOUR Residential REIT (NYSE:ARR)
And high-yield BDCs like:
Prospect Capital (NASDAQ:PSEC)
Fifth Street Finance (FSC)
UBS ETRACS 2X Leveraged Long Wells Fargo Business Development Company ETN (NYSEARCA:BDCL)
These high-yield stocks are especially sensitive to interest rates, and in general, their performance suffers when interest rates increase. Interest rates may incrementally increase in October, when quantitative easing is finally brought to an end, but with other economic indicators intact, interest rates may remain fairly stable till the Federal Reserve moves to increase them in 2015.
2) M&A activity will likely persist. A slew of M&A activity has been in the news as of late. This is likely to continue as companies take advantage of low interest rates to borrow money to finance opportunities for growth. Companies are being surprisingly persistent as well in their pursuit of other companies. Two recent examples include General Electric's (NYSE:GE) repeated bids for Alstom (OTCPK:ALSMY), and AbbVie's (NYSE:ABBV) repeated bids for Shire (NASDAQ:SHPG). This paves the way for investing in special situations as they arise. One instance of this may be Pfizer's (NYSE:PFE) spurned bid for AstraZeneca (NYSE:AZN). It is speculated that when the two companies are allowed to court again in November, Pfizer will likely propose a higher bid for AstraZeneca to ensure that the deal goes through.
3) Being a risk-taker is likely to pay off. This may be a time when investors are not bound to rational valuations for companies (although Warren Buffett is likely to disagree). Investing in riskier companies with high valuations like Facebook (NASDAQ:FB) or Twitter (NYSE:TWTR) would have paid off well through recent earnings reports, as the stocks moved up 20% and 30%, respectively.
4) No need for defensive asset reallocation yet. In anticipation of rising interest rates, investors should diversify into defensive sectors like the energy sector that do relatively better than others during inflation. Moreover, shorting treasury fund ETFs like iShares 20+ Year Treasury Bond ETF (NYSEARCA:TLT), or alternatively, buying ProShares UltraShort 20+ Year Treasury ETF (NYSEARCA:TBT) are good defensive measures against rising interest rates, since yield has an inverse relationship with price.
UPDATE: First quarter GDP growth was revised sharply down to -2.9% according to the third estimate just released in July 2014.
Disclosure: The author is long GE, BDCL, PSEC. The author wrote this article themselves, and it expresses their own opinions. The author is not receiving compensation for it (other than from Seeking Alpha). The author has no business relationship with any company whose stock is mentioned in this article.