We are getting a heavy dose of earnings right now, as we are in the thick of earnings season. The news continues to be mostly bullish, but we are seeing some trends play out across multiple industries, with the fickle consumer probably the most common talked about item. As we have discussed previously, the best way to track when consumers are going to return is not by looking at the initial or continuing claims data but rather hourly earnings growth and the average work week.
Chart of the Day:
The 10-year rate is rising and there is now once again talk about rates rising strongly over the next year. A lot would have to happen in the near-term to set the stage for a big move in interest rates and the most important thing would be for the world's hotspots to cool. Our thinking is that the flight to safety has to end in order to really open up the possibility for another run towards 3%.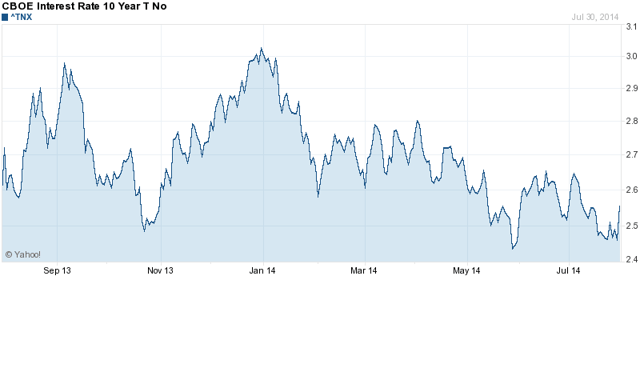 Source: Yahoo Finance
We have economic news today, and it is as follows:
Challenger Job Cuts (7:30 a.m. EST): Est: N/A Act: 24.4%
Initial Claims (8:30 a.m. EST): Est: 310k Act: 302k
Continuing Claims (8:30 a.m. EST): Est: 2525k Act: 2539k
Employment Cost Index (8:30 a.m. EST): Est: 0.4% Act: 0.7%
Chicago PMI (9:45 a.m. EST): Est: 61.8
Natural Gas Inventories (10:30 a.m. EST): Est: N/A
The Asian markets are mixed today:
All Ordinaries -- up 0.18%
Shanghai Composite -- up 0.93%
Nikkei 225 -- down 0.16%
NZSE 50 -- up 0.18%
Seoul Composite -- down 0.31%
In Europe, the markets are lower this morning:
CAC 40 -- down 1.18%
DAX -- down 1.37%
FTSE 100 -- down 0.32%
OSE -- down 1.42%
Competition Ramps Up Among Grocers
It is hard to be surprised by the comments which accompanied the latest quarterly report from Whole Foods Market (WFM), which was released after the market close yesterday. The company's same store sales growth continues to slow and there are fewer large markets out there that Whole Foods and its competitors have not already expanded to. Add to that the fact that traditional supermarkets such as Kroger (NYSE:KR) are making inroads into the top end of the market, as they expand their offerings to include more organic and premium all natural brands and it is easy to understand why management lowered their outlook for the year.
Investors are losing confidence in Whole Foods and if the company fails to meet their same store sales growth estimates (guidance which management has already lowered multiple times this year) next quarter it could get really ugly.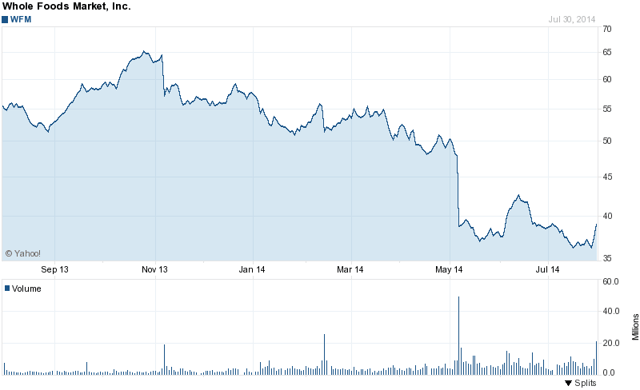 Source: Yahoo Finance
Whole Foods had a mixed quarter when you look at the actual numbers, as the consensus top line number was missed and EPS came in a few pennies above expectations. With same store sales only up 3.9% in the current quarter, management is now predicting same store sales growth for the year between 4.1% and 4.4%. Whole Foods stated that full-year EPS would fall within the range of $1.52-1.54/share. While shares finished yesterday's session up about 4% at $39.11/share, in pre-market trading investors were selling with the shares down $2.37/share, or 6.06%.
Yelp Beats
During yesterday's session, shares in Yelp (NYSE:YELP) rose in anticipation of the company's earnings release after the closing bell. Investors were spot on anticipating a beat, as the company actually reported its first ever profit as a public company. Sales grew by 61% year-over-year to roughly $89 million, powered in part by unique monthly visitors growing by 27% to 138 million individuals.
The company's quarterly report was filled with good news, outside of the $0.07/share beat on the EPS figure, Yelp beat on revenue expectations and even revised their guidance for the third quarter higher (and above analyst estimates) on the back of these results. With the adjustment to the upcoming quarter, paired with this quarter's beat, Yelp also moved to increase their full-year guidance.
New CEO At Target
Mr. Cornell has his work cut out for him at Target, but he looks like an excellent hire which could help alleviate some of the pain shareholders have felt over the past year.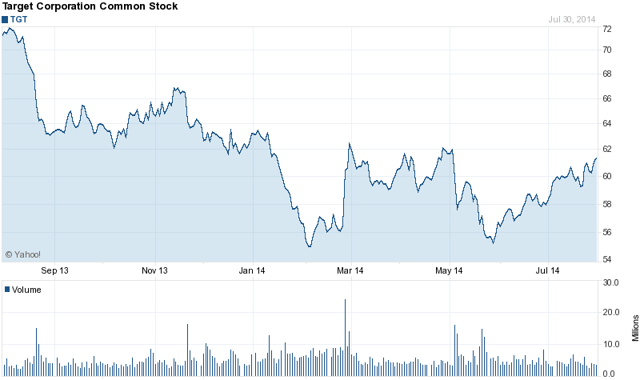 Source: Yahoo Finance
This morning Target (NYSE:TGT) announced the hiring of Brian Cornell as the company's next CEO. Mr. Cornell has run PepsiCo's (NYSE:PEP) Americas food unit the past two years and prior to that was the CEO of Wal-Mart's (NYSE:WMT) Sam's Club unit. He also has experience serving as CEO at Michaels Stores (NASDAQ:MIK) and as a high ranking executive at Safeway (NYSE:SWY). It is a very impressive resume and is part of the reason Target was willing to spend so much in order to land Mr. Cornell, who will start August 12th.
Disclosure: The author has no positions in any stocks mentioned, and no plans to initiate any positions within the next 72 hours. The author wrote this article themselves, and it expresses their own opinions. The author is not receiving compensation for it (other than from Seeking Alpha). The author has no business relationship with any company whose stock is mentioned in this article.