On Monday morning, Zillow (NASDAQ:Z) announced it had entered a definitive agreement to acquire Trulia (TRLA), its closest competitor, for approximately $3.5 billion. The deal market is clearly booming, with North American M&A activity up 83% year-to-date. And technology companies are clearly in a mode of paying up for growth, as evidenced by recent high-multiple deals such as Priceline / OpenTable, Oracle / MICROS Systems, and Analog Devices / Hittite Microwave (not to mention Facebook's handful of billion-dollar private company deals). While I personally believe this deal has questionable strategic merit, there is one thing I can say with high confidence: current Trulia shareholders should thank the M&A gods for a nice premium and take the money and run.
Be Afraid: You Now Hold a Zillow Tracking Stock
There are many ways to structure the receipt of merger consideration, especially in stock-for-stock transactions. In this deal, the exchange ratio has been fixed at 0.444 Zillow shares per Trulia share. Based on prices as of last Friday's close, this ratio implied a price for Trulia shares of $70.53. In reality, Trulia shareholders are highly unlikely to receive that price at close. By negotiating a fixed exchange ratio, Trulia and their advisers have doomed the company's shareholders to absorbing all the downside risk associated with Zillow's shares. And that risk is substantial. If Zillow's stock simply returns to $126.47, its closing price on July 23, the day before the deal rumor surfaced, the implied price received for Trulia shares is $56.15. Subtract the current 7% merger spread, and that price is closer to $52, a long way from today's close of $62.
If you owned Trulia shares, you probably thought the online real estate market was attractive but chose not to own Zillow, the clear market leader, because its valuation was crazy. Guess what; one of tech's most overvalued stocks just increased 19% over three trading days, and you now own it. At $149.87, Zillow trades at the second highest EV / NTM revenue multiple among technology companies with market capitalizations over $1 billion. And doing an admittedly simple pro forma for this transaction (excluding any revenue synergies, if any) does little to change that, as the table below illustrates. (data from CapitalIQ)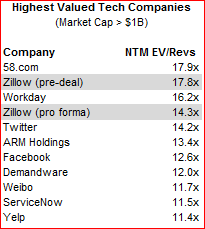 Even the highly promotional Wall Street research community thinks Zillow's stock is dramatically overvalued, as the consensus median price target before the deal was $115.
I won't re-hash many of the arguments about the questionable fundamentals of Zillow's business, emerging competitive threats, or the potential for this deal to backfire with respect to expectations for enhanced pricing leverage with real estate agents. You can find some of that discussion here (Citron).
I will make a simpler point about post-deal announcement trading dynamics. Trulia's shareholder base is likely to see turnover as long-only investors capture the premium and sell to merger arbitrageurs. The arbs are currently looking at the 7% deal spread and salivating. Adjusting this number based on the anticipated time to close yields an annualized return of over 20%. In order to lock in this spread, arbitrageurs will buy Trulia and short Zillow. While those should offset, there will be more downward pressure on Zillow. The large number of shorts that got squeezed when both stocks rallied on the deal rumor are likely to re-build their positions, as this deal does nothing to allay their concerns or counteract the major points of the short thesis on Zillow.
This net increase in short selling is likely to be accompanied by long-only investors exiting positions following Zillow's strong run. The stock is up 90% over the past six months, and it would be logical to take a wait-and-see approach as to whether Zillow can effectively integrate its largest acquisition ever and truly rationalize the combined company cost structure. Longs probably owned Zillow because they thought its clear market leadership would drive outsized gains as they crushed Trulia and other smaller players. Guess what; Zillow just decided to issue half its market cap in stock (and thereby dilute your ownership by 33%) to acquire one of those "losers."
Sale Signals Trulia's Business Was Under Pressure
Trulia has consistently represented that it views the company as one of a handful of "winners" as the online real estate market consolidates. Much to Wall Street's dismay, the company had recently embarked on a strategy to aggressively ramp marketing expenses to ensure its place in the resultant oligopoly. Why then would the company decide to sell now? An obvious answer is that the early returns from this strategy were lacking. The chart below shows market share of organic search traffic between Zillow, Trulia and Realtor.com (owned by Move) as estimated by SEMrush. Trulia has consistently ceded share to Zillow, whose absurdly high marketing expenses seemed to at least draw more eyeballs.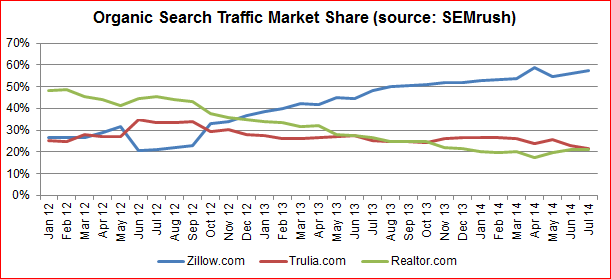 More striking, Trulia's organic search traffic has been in steep decline since Google's Panda 4.0 algorithm update in late May. While most of the market's focus has been on the impact of this event on eBay (NASDAQ:EBAY) and RetailMeNot (NASDAQ:SALE) (see Searchmetrics article), data from Searchmetrics (below) suggests that Trulia's organic traffic was also hit hard. It is likely that investors have not been tracking the deterioration in Trulia organic search traffic, as the impact seems to have picked up steam in the weeks that followed the Panda update.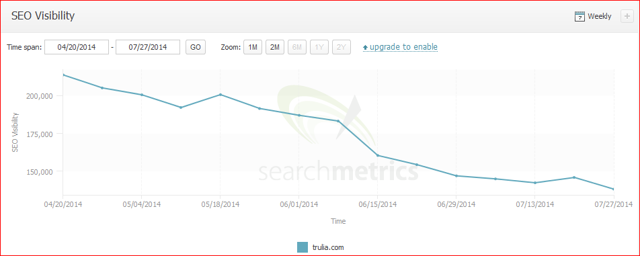 While I have generally found Trulia's management team to be credible, insiders only own 7% of shares. In fact, Trulia's co-founder (and Director), Sami Inkinen, has been an aggressive seller of shares, as his holdings declined from over 2 million shares to about 600,000 over the past year and a half, and he has clearly checked out, as evidenced by his latest adventure of rowing from California to Hawaii (SFGate Article). Faced with declining organic traffic, an increasingly dominant competitor, and unsustainably high marketing expenses, it is not surprising that Trulia hit the bid.
Expense Synergies Both Questionable as a "Strategic" Rationale and Likely Hard to Achieve
One of the top five rationale points for this deal is corporate cost savings, which is laughable. Both companies have been spending like drunken sailors. Over the past twelve months, Zillow's SG&A expense as a percent of revenue was 74.9%, and Trulia's was 75.6%. Even for Amazon.com, tech's poster child for runaway spending, this metric was only 17.8%. Clearly, neither company has operated with much financial discipline, so it is doubtful they will suddenly exercise some self-control.
Zillow CEO Spencer Rascoff believes this transaction advances his vision of creating a portfolio of real estate media properties. However, if the brands are to be run separately, both will require elevated marketing spend to continue to drive home buyers online and confront emerging competitive threats. While some investors may have been heartened to see $100 million of annualized cost savings in 2016 quoted in the transaction press release, a quick review of Street models would suggest nearly half of this comes from Trulia corporate G&A, and most of the rest could come from some technology development overlap. Simply cutting corporate overhead provides neither a compelling strategic rationale nor materially improves the combined company cost structure.
Conclusion
I do not question that the online real estate market will grow nicely or that the way consumers evaluate home purchases will undergo radical change over the coming decade. However, in the near term, I believe Trulia shareholders would be best served by exiting their position and permanently capturing the deal premium. Zillow's stock valuation and post-close integration and execution risks are simply too great. If nothing else, the Zillow / Trulia transaction should make investors fear that such a pricey (and potentially frivolous) deal marks a market top and that it could be a harbinger for the long-anticipated pullback in technology valuations. My advice is the same either way.
Disclosure: The author is short TRLA. The author wrote this article themselves, and it expresses their own opinions. The author is not receiving compensation for it. The author has no business relationship with any company whose stock is mentioned in this article.