Looking around the commodity arena it is of little surprise that oil has fallen below $100/barrel once again and continues to drag down many of the E&P names, which we follow. While the pullback in some of these names has been dramatic, we are not yet buyers across the board. We keep a list of companies, which we would be interested in buying shares in on significant pullbacks and some of those names are getting quite close to being triggered. As that happens we will update readers, but right now, we are keeping our gunpowder dry.
Chart of the Day:
The weakness in many commodity prices can be explained by the recent strength in the US Dollar Index, which has been moving strongly higher in recent weeks. Investors need to continue to pay attention to this index as it does have an impact on commodity prices, especially if inflation is to remain low.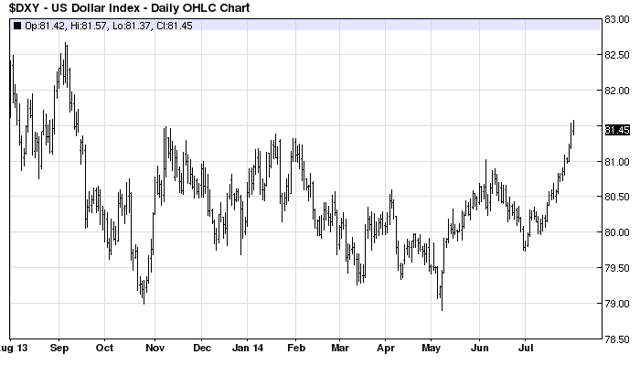 Source: BarChart
Commodity prices are as follows (at time of submission):
Gold: $1,285.90/ounce, down by $9.00/ounce
Silver: $20.49/ounce, down by $0.107/ounce
Oil: $99.50/barrel, down by $0.77/barrel
RBOB Gas: $2.8371/gallon, down by $0.0062/gallon
Natural Gas: $3.844/MMbtu, up by $0.058/MMbtu
Copper: $3.2325/pound, down by $0.009/pound
Platinum: $1,468.60/ounce, down by $13.30/ounce
Exxon Mobil Production Falls
The big takeaway from Exxon Mobil's (NYSE:XOM) quarterly report is not that the company handily beat the consensus estimates on the back of strong energy prices, but instead on the fact that production year-over-year fell. Making matters worse, not only did overall production fall from the prior year period but it fell in both categories; oil and natural gas. One might think that natural gas production falling is no big deal, but when looking at how the biggest oil companies have easily replaced production over the last decade or so it was natural gas replacing oil.
With capital expenditures down nearly 20%, we are not that surprised that production fell, but we would expect Exxon Mobil to begin to deploy that cash in ways that increase shareholder value. Increased dividends and buybacks will go a long way, but at the end of the day the company needs production growth, which is why we would not be surprised if management targeted a smaller company with production heavily weighted towards oil and other liquids.
Unlocking Value With Mineral Rights
Investors are very focused upon Anadarko Petroleum (NYSE:APC) and their plans to potentially monetize their mineral rights in the western United States. There is clearly value to be realized here as the company thinks that they could see royalty payments from these mineral rights approach nearly $800 million annually this year. Depending on how Anadarko wants to structure a deal, this could be a multi-billion dollar asset that they monetize in the near future.
Both Anadarko and Apache have performed well this year. Those gains could accelerate should the companies monetize a portion of their mineral rights portfolios.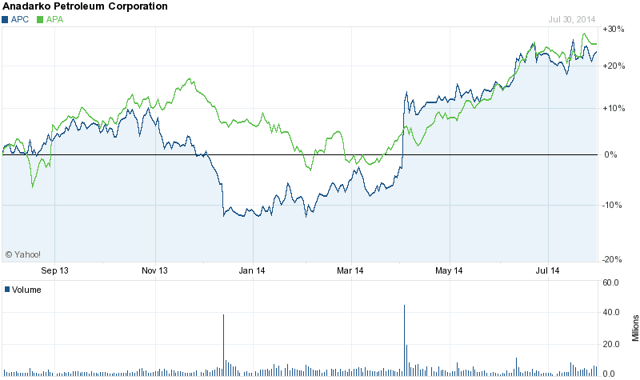 Source: Yahoo Finance
We have already seen successful IPOs of mineral rights from other E&P names, and any IPO of Anadarko's holdings would garner a lot of attention after those previous successes. Anadarko may not be the only name out there looking to monetize their mineral rights as Reuters stated in this article that Apache Corporation (NYSE:APA) was exploring the idea as well. A sale by either of these companies could result in increased drilling activity or the companies increasing the rate at which they return capital to shareholders.
Potential Precious Metals M&A Activity
We had a reader ask us what we thought about the rumors that were in the market about consolidation within the precious metals industry, specifically the gold producers. It is a market we expect to come under fire as rates increase and inflation remains low as the global economy continues to struggle with growth. Without the US, China, Japan or Europe sporting consistently solid growth numbers, the risk of inflation getting out of hand any time soon is pretty low and that does not bode well for the industry as it would seem gold prices are headed lower.
With that said, it does make sense that we would see companies look to bulk up and purchase projects that are low cost and have already had large resources proven. Two names, which were recently discussed as possible buyout candidates by Cowen were Paramount Gold & Silver (NYSEMKT:PZG), which we have previously discussed, and Seabridge Gold (NYSEMKT:SA).
We always thought that Paramount would be taken over as they moved their projects closer to production, but Seabridge Gold was always a question mark for us. They have some attractive assets and are moving towards production but some of those massive resource deposits they own need infrastructure investments to be made prior to be suitable for development. A big miner would have to be interested in the current pipeline as well as working long-term to partner with local governments to build infrastructure to get development underway.
Right now, we do not believe that the current state of the market benefits those looking to speculate on the potential for a takeover of a company and would avoid placing trades to that effect. If we had to pick a name, which was most likely to get an offer in the next 6-12 months, we would think that Paramount would garner the most attention.
Disclosure: The author has no positions in any stocks mentioned, and no plans to initiate any positions within the next 72 hours. The author wrote this article themselves, and it expresses their own opinions. The author is not receiving compensation for it (other than from Seeking Alpha). The author has no business relationship with any company whose stock is mentioned in this article.