The junk bond rally had just started to lose a little steam…and then along come the Fed. The central bank's announcement of a second round of quantitive easing gave the high yield debt market a solid tailwind.
Federal Reserve Open Market Committee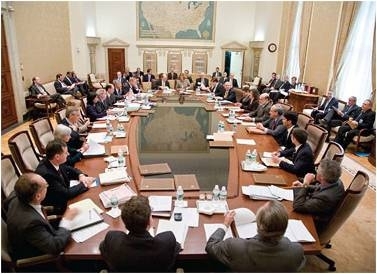 Source: Federal Reserve Bank of Philadelphia
The annual cost of insuring junk bonds (represented by the 100 companies in the Markit CDX North America High Yield Index) against default fell to the lowest level since 2007 on the Fed's news, according to Markit and CMA.
Yes, investors are chasing higher returns in light of the fact that rates will remain near zero and Treasuries will continue to offer lower yields. But, there's more to it than that.
First, let's differentiate here: there's junk, and then there's "real junk", according to Moody's. Speculative-grade debt is rated below Baa3 by the agency (and below BBB- by S&P). But "real junk" is loosely defined as issues rated Caa and below. To put some perspective on the difference: the historic one-year default rate on junk bonds is 4.4% (for B rated debt)…while "real junk" bonds default at a rate of 14.7%.
Junk bond issuance is up... and "real junk" comprises a good slice of it. High yield debt offerings stood at $31 billion as of the end of October (double the $16.8 billion for the same period last year), and real junk is expected to make up just shy of 12% of this year's total.
So is the high yield debt market becoming top heavy with risk? Maybe not, based on recent reports by Moody's.
First of all, as a whole, the speculative-grade debt market has grown this year, but it's still below levels seen in 2007, when issuance reached a record $31.6 billion. And real junk made up 19% of that total. Beyond that, credit quality is improving: Moody's expects the fourth quarter to be the fifth consecutive quarter with more credit upgrades than downgrades in the high-yield market. And through the third quarter, upgrades made up 62% of rating action (up from 45% in 2007).
Still, we can only put so much confidence in ratings. But another factor worth noting: based on third quarter earnings, profit growth is outpacing debt growth at a pretty solid rate.
And then there's the Expected Default Frequency (EDF) – which measures the likelihood of default based on capital structure and trading activity. The EDF median value for real junk debt in October stood at 6.14%...well below this year's high in July of 11.98%.
And looking at the speculative-grade market as a whole, default rates are declining. Last month, the default rate on high-yield debt fell to 3.6% from 4% the prior month…and down from 14.6% one year ago. And continued declines are expected: S&P anticipates a default rate of 2.4% by the end of the third quarter next year, and Moody's forecast is even more optimistic at 2.2%.
We may very well continue to see speculative-grade debt yields compress as investors jump into the market while Treasury yields swim at the bottom. But the Fed's plans for further quantitative easing have a number of unintended consequences, and for that reason, the riskiest space in the bond market is not where I want to be.
Disclosure: No positions