The following is a list of companies trading near their 52-week lows that are undervalued, when comparing today's price to the average analyst target price (used as a proxy for fair value).

Yes, this is a crude way to find undervalued stocks. But this list is only meant to be a starting point for you to find undervalued stocks. We suspect there are quite a few falling knives here, but that's for you to decide.

Target price data sourced from Finviz.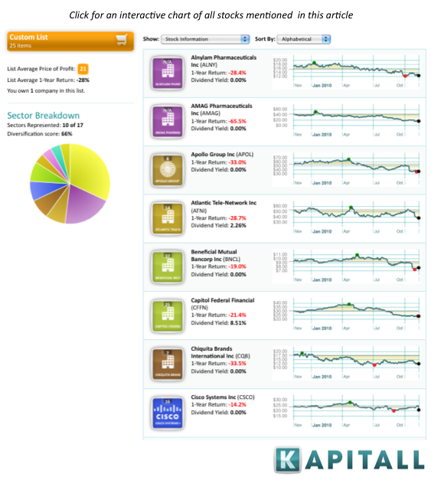 The list has been sorted by discount to analyst target price.

1. Heckmann Corporation (HEK): Diversified Investments Industry. Market cap of $436.69M. The stock is currently trading 9.09% above its 52-week low. Current price at $3.96 vs. target price of $7.75 (discount of -48.9%). Short float at 4.76%, which implies a short ratio of 5.72 days. The stock has lost -4.75% over the last year.

2. CKX Inc. (NASDAQ:CKXE): Entertainment Industry. Market cap of $389.42M. The stock is currently trading 8.31% above its 52-week low. Current price at $4.15 vs. target price of $8.0 (discount of -48.13%). Short float at 2.62%, which implies a short ratio of 7.42 days. The stock has lost -34.18% over the last year.

3. Chiquita Brands International Inc. (NYSE:CQB): Farm Products Industry. Market cap of $550.47M. The stock is currently trading 5.83% above its 52-week low. Current price at $12.23 vs. target price of $22.0 (discount of -44.41%). Short float at 14.71%, which implies a short ratio of 13.83 days. The stock has lost -31.2% over the last year.

4. Select Medical Holdings Corporation (NYSE:SEM): Hospitals Industry. Market cap of $1.02B. The stock is currently trading 5.38% above its 52-week low. Current price at $6.24 vs. target price of $10.75 (discount of -41.95%). Short float at 1.26%, which implies a short ratio of 6 days. The stock has lost -34.36% over the last year.

5. Net 1 Ueps Technologies Inc. (NASDAQ:UEPS): Business Services Industry. Market cap of $480.57M. The stock is currently trading 6.47% above its 52-week low. Current price at $11.50 vs. target price of $19.0 (discount of -39.47%). Short float at 0.72%, which implies a short ratio of 0.93 days. The stock has lost -47.05% over the last year.

6. Capitol Federal Financial (NASDAQ:CFFN): Savings & Loans Industry. Market cap of $1.74B. The stock is currently trading 3.83% above its 52-week low. Current price at $23.83 vs. target price of $38.67 (discount of -38.38%). Short float at 13.58%, which implies a short ratio of 11.8 days. The stock has lost -17.4% over the last year.

7. Scientific Games Corporation (NASDAQ:SGMS): Diversified Computer Systems Industry. Market cap of $731.36M. The stock is currently trading 4.97% above its 52-week low. Current price at $7.87 vs. target price of $12.2 (discount of -35.49%). Short float at 6.02%, which implies a short ratio of 5.08 days. The stock has lost -49.17% over the last year.

8. Ocwen Financial Corp. (NYSE:OCN): Savings & Loans Industry. Market cap of $906.33M. The stock is currently trading 8.43% above its 52-week low. Current price at $9.11 vs. target price of $14.0 (discount of -34.93%). Short float at 6.68%, which implies a short ratio of 7.36 days. The stock has lost -0.33% over the last year.

9. Tsakos Energy Navigation Ltd. (NYSE:TNP): Shipping Industry. Market cap of $462.22M. The stock is currently trading 2.83% above its 52-week low. Current price at $10.19 vs. target price of $15.61 (discount of -34.72%). Short float at 0.53%, which implies a short ratio of 0.67 days. The stock has lost -31.22% over the last year.

10. TFS Financial Corp (NASDAQ:TFSL): Regional Bank. Market cap of $2.75B. The stock is currently trading 3.71% above its 52-week low. Current price at $8.57 vs. target price of $13.0 (discount of -34.08%). Short float at 4.3%, which implies a short ratio of 4.93 days. The stock has lost -21.25% over the last year.

11. Alnylam Pharmaceuticals, Inc. (NASDAQ:ALNY): Biotechnology Industry. Market cap of $522.86M. The stock is currently trading 1.91% above its 52-week low. Current price at $12.29 vs. target price of $18.57 (discount of -33.82%). Short float at 10.5%, which implies a short ratio of 16.57 days. The stock has lost -20.32% over the last year.

12. Revlon, Inc. (NYSE:REV): Personal Products Industry. Market cap of $551.77M. The stock is currently trading 2.01% above its 52-week low. Current price at $10.84 vs. target price of $16.00 (discount of -32.25%). Short float at 4.43%, which implies a short ratio of 4.39 days. The stock has lost -22.7% over the last year.

13. EnerNOC, Inc. (NASDAQ:ENOC): Business Services Industry. Market cap of $634.16M. The stock is currently trading 4.69% above its 52-week low. Current price at $26.59 vs. target price of $38.58 (discount of -31.08%). Short float at 15.96%, which implies a short ratio of 13.56 days. The stock has lost -14.9% over the last year.

14. Orthofix International NV (NASDAQ:OFIX): Medical Appliances & Equipment Industry. Market cap of $499.1M. The stock is currently trading 8.18% above its 52-week low. Current price at $28.89 vs. target price of $40.88 (discount of -29.33%). Short float at 5.72%, which implies a short ratio of 7.8 days. The stock has lost -10.04% over the last year.

15. AMAG Pharmaceuticals, Inc. (NASDAQ:AMAG): Diagnostic Substances Industry. Market cap of $321.85M. The stock is currently trading 0.93% above its 52-week low. Current price at $15.24 vs. target price of $21.56 (discount of -29.31%). Short float at 12.59%, which implies a short ratio of 4.44 days. The stock has lost -64.7% over the last year.

16. MedAssets, Inc. (NASDAQ:MDAS): Healthcare Information Services Industry. Market cap of $1.04B. The stock is currently trading 2.48% above its 52-week low. Current price at $18.06 vs. target price of $25.54 (discount of -29.29%). Short float at 10.29%, which implies a short ratio of 7.63 days. The stock has lost -20.5% over the last year.

17. Atlantic Tele-Network, Inc. (NASDAQ:ATNI): Telecom Services Industry. Market cap of $597.87M. The stock is currently trading 0.05% above its 52-week low. Current price at $38.46 vs. target price of $54.0 (discount of -28.78%). Short float at 3.89%, which implies a short ratio of 4.68 days. The stock has lost -25.49% over the last year.

18. Navigant Consulting Inc. (NYSE:NCI): Management Services Industry. Market cap of $456.91M. The stock is currently trading 4.15% above its 52-week low. Current price at $9.06 vs. target price of $12.71 (discount of -28.72%). Short float at 3.58%, which implies a short ratio of 5.03 days. The stock has lost -37.62% over the last year.

19. Marshall & Ilsley Corporation (NYSE:MI): Regional Bank. Market cap of $2.98B. The stock is currently trading 7.76% above its 52-week low. Current price at $5.54 vs. target price of $7.61 (discount of -27.2%). Short float at 3.54%, which implies a short ratio of 2.05 days. The stock has gained 8.65% over the last year.

20. Beneficial Mutual Bancorp Inc. (NASDAQ:BNCL): Regional Bank. Market cap of $635.89M. The stock is currently trading 8.53% above its 52-week low. Current price at $7.69 vs. target price of $10.5 (discount of -26.76%). Short float at 3.82%, which implies a short ratio of 9.46 days. The stock has lost -16.47% over the last year.

21. Citi Trends (NASDAQ:CTRN): Apparel Stores Industry. Market cap of $311.34M. The stock is currently trading 4.55% above its 52-week low. Current price at $21.11 vs. target price of $28.8 (discount of -26.7%). Short float at 10.96%, which implies a short ratio of 7.49 days. The stock has lost -25.47% over the last year.

22. Apollo Group Inc. (NASDAQ:APOL): Education & Training Services Industry. Market cap of $5.41B. The stock is currently trading 4.31% above its 52-week low. Current price at $36.90 vs. target price of $50.06 (discount of -26.29%). Short float at 6.52%, which implies a short ratio of 1.77 days. The stock has lost -32.8% over the last year.

23. The St. Joe Company (NYSE:JOE): Real Estate Development Industry. Market cap of $1.82B. The stock is currently trading 5.99% above its 52-week low. Current price at $19.92 vs. target price of $26.75 (discount of -25.53%). Short float at 19.27%, which implies a short ratio of 14.27 days. The stock has lost -25.86% over the last year.

24. Wilmington Trust Corporation (NYSE:WL): Regional Bank. Market cap of $384.22M. The stock is currently trading 7.59% above its 52-week low. Current price at $4.32 vs. target price of $5.74 (discount of -24.74%). Short float at 13.1%, which implies a short ratio of 3.79 days. The stock has lost -67.57% over the last year.

25. Cisco Systems, Inc. (NASDAQ:CSCO): Networking & Communication Devices Industry. Market cap of $136.78B. The stock is currently trading 4.44% above its 52-week low. Current price at $20.56 vs. target price of $27.17 (discount of -24.33%). Short float at 0.89%, which implies a short ratio of 0.87 days. The stock has gained 3.55% over the last year.

Disclosure: No positions