Pure-play Energen (NYSE:EGN) just announced the positive results of its Wolfcamp development program. The company offers the following highlights:
• Latest Ward County Wolfcamp B tests at 24-hour peak IP (3-phase) of 1,896 boepd (78% oil).
• Company's first Wolfcamp A well in Howard Co. generates peak 24-hour IP (3-phase) of 955 boepd (84% oil).
• Wolfcamp A test in east central Martin County scores peak 24-hour IP (3-phase) of 970 boepd (79% oil).
Energen also plans to drill longer laterals, up to 10,000 feet, in Glasscock County, which other operators like RSP Permain (NYSE:RSPP) also noted recently. This speaks to the gained confidence and comfort of E&P firms learning what is possible in the various benches or intervals in the Permian. Importantly, when a larger player like Pioneer (NYSE:PXD) de-risks its acreage, other smaller operators can benefit, like Energen, as they often share practices and experiences. This is why many E&Ps call their "competitors" peers.
Interestingly, Howard County has not been drilled and developed to the extent that Midland and Martin have. It is further to the East, and considered Tier 2 for Wolfcamp B prospectivity, but considered Tier 1 in general (see Parsley Energy (NYSE:PE) article). Energen has obviously had respectable results as its news relays in Wolfcamp A. The map depicts opportunity where Energen has acreage in all Wolfcamp zones.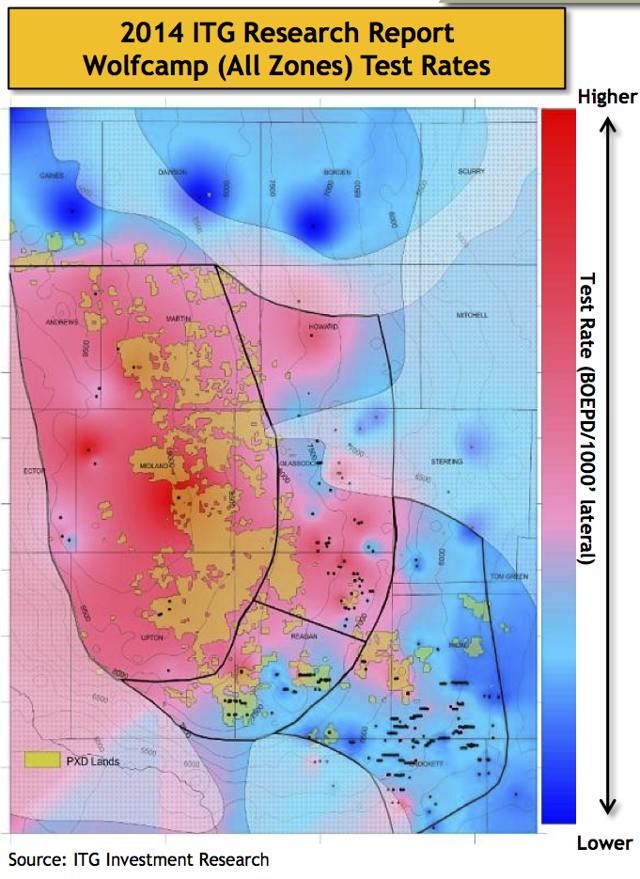 In my earlier article, I cited more activity in the Midland Basin, and Energen is following up nicely with comparable results to peers. Since the article of February 2014, Energen stock has risen about 15%, even with a 3% decline as of this writing.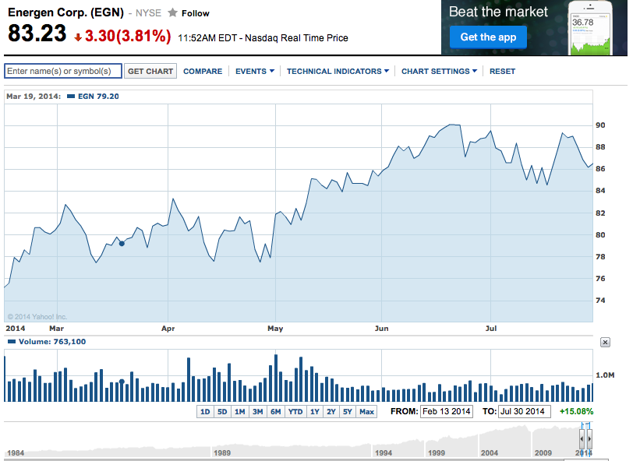 Earlier Executive Summary:
Energen will focus more in the oil-rich Midland Basin in 2014.
While its stock price rose nearly 58% in 2013 by early December, there is a measured, hearty pace to their growth potential.
Interestingly, its contingent resources rose 172% in 2013, creating a big inventory for a smaller E&P firm.
Earlier article here.
(As the above article is a PRO piece, potentially inaccessible, I direct readers to a late 2013 article when first discussing Energen, here.)
Disclosure: The author has no positions in any stocks mentioned, and no plans to initiate any positions within the next 72 hours. The author wrote this article themselves, and it expresses their own opinions. The author is not receiving compensation for it (other than from Seeking Alpha). The author has no business relationship with any company whose stock is mentioned in this article.