The past ten years have been the decade of growth in Asia (namely China and India). And where will we find the next global powerhouse? According to Coca-Cola (NYSE:KO) executives: Africa.
Coca-Cola invested $6 billion in Africa in the past decade, and plans to double that to $12 billion in the next ten years. And that investment will focus on further production and distribution throughout the continent. As CEO Muhtar Kent told Bloomberg "We're in every country in Africa…we're in every community in Africa. The presence of Coca-Cola in Africa is just incredible." And note: Coca-Cola is Africa's largest employer.
But Coca-Cola isn't alone. Wal-Mart (NYSE:WMT) is right behind as it looks at "a variety of options" for ownership structure as it considers buying Massmart, an African retailer with 290 stores, for $4.63 billion.
Then there's China: the country has made significant investments in Africa's infrastructure – since 2005, its investments in sub-Saharan Africa have exceeded the World Banks infrastructure commitments, according to the McKinsey Global Institute.
And it's no wonder. Economic growth in sub-Saharan Africa hardly missed a step during the crisis. The World Bank expects the region to grow 5.1% next year, and 5.4% in 2012. And according to World Bank projections, nine of the fifteen countries with the highest five-year growth rates are in Africa. But more than that, sub-Saharan Africa will see international capital inflows (as a percentage of GDP) increase 3.8% next year, and 4.2% in 2012.
We're talking serious numbers here. Back in 2008, foreign direct investment rose to $62 billion…relative to GDP that's almost equal to China, according to the McKinsey Global Institute.
There are a lot of reasons for it, too. Africa commands 10% of the world's oil reserves…and 40% of its gold. Beyond that, the continent is sitting on somewhere between 80 to 90% of the worlds chromium and platinum metals, and 60% of the worlds uncultivated and arable land (according to the McKinsey Global Institute).
But quite possibly, the continents most valuable resource is its people. Africa has a population around 1 billion, and (unlike China) 60% of its people are young. And in the next ten years, another 128 million households will have discretionary income, a 50% increase, according to McKinsey. Beyond that, collective consumer spending is expected to reach $1.4 trillion by 2020.
Still, for all its potential, Africa is riddled with problems: political, social and economic. Corruption and pandemics are widespread, so is food insecurity. The three largest oil producers (Nigeria, Angola and Algeria) have high per-capita GDP, but what they don't have is diverse economies. And while the continent boasts 60% of the worlds available cropland, much of the land being used now is devoted to subsistence farming on small plots. Even if the agricultural industry were more developed, the region lacks the transportation (rail, air, port and roads) to distribute goods efficiently. That's why Coca-Cola is often called on by agencies it works with to ship products.
And while undersea cables are in place, broadband penetration on the continent is only 3%, according to the World Economic Forum. Telecom and energy are also inadequate, and need investments (through private industry) to develop.
Africa desperately needs private sector led growth to integrate into the global economy and tackle its problems. And it desperately needs trade competitiveness (and cross-border trade) to stimulate commerce.
The bottom line: It is ironic that a continent so resource rich is so poor. Still, the McKinsey Global Institute projects that Africa's collective GDP will total $2.6 trillion in 2020. Access to international capital and global demand for oil, gas and minerals will drive the continent's economy. And demographic shifts will result in a workforce of 1.1 billion people by 2040 (the worlds largest – larger than China's). And the energy of that workforce will be potent if it is harnessed by private industry.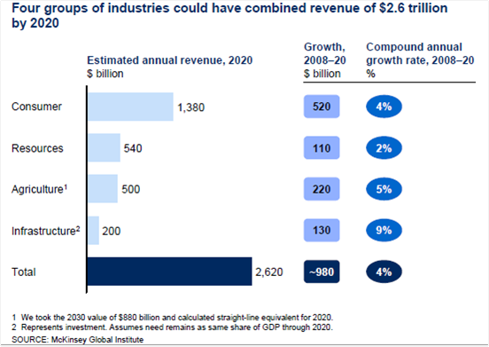 (Click to enlarge)
Coca-Cola believes in the "future of Africa" and the "future of the consumer in Africa." Yes, Africa has serious problems, but it also has serious potential. And if we continue to see the likes of Wal-Mart and Coca-Cola make a long play on the region, we can expect to see the emergence of a powerful global player.
Disclosure: No positions