Are you one of the investors still in DryShips Inc. (NASDAQ:DRYS)? This Zacks #5 (Strong Sell) still hasn't recovered from the Great Recession.
DryShips owns 42 drybulk carriers and tankers and ships worldwide. It also owns and operates 11 ultra deepwater drilling units.
Drybulk shipping was hot prior to the recession but the industry overbuilt and that pushed rates down. It is one of the few industries that has yet to recover.
Full Year Estimates Sliding
It's been a tough couple of years for DryShips. The last time the company was profitable was in 2011 when it made $0.43.
Last year, it lost $0.28 per share.
While the analysts started out more hopeful for 2014, that hope has begun to fade.
The 2014 Zacks Consensus Estimate has sunk to just $0.04 from $0.20 ninety days ago. The story is the same for 2015 with the Zacks Consensus Estimate sliding to $0.27 from $0.45.
DryShips is expected to report earnings on Aug 5 after the market closes. It doesn't have a track record of beating the estimate, however. It's last beat was in 2011.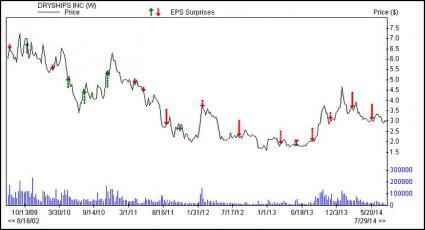 DryShips Has Missed the Rally
DryShips has long been a favorite of investors but shares have moved in a narrow trading range over the last 5 years while the S&P 500 has soared.
You would have been far better off just buying the S&P 500.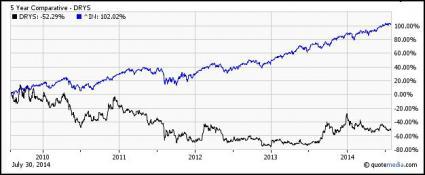 And with earnings estimates sliding again, it doesn't look like there's a turnaround in the near future.
If you're looking for a shipper that is growing its earnings, consider Kirby Corporation (NYSE:KEX). It is a Zacks Rank #1 (Strong Buy) and is expected to grow its earnings by the double digits both this year and next.
Disclosure: None