The Blackstone Group LP (NYSE:BX) is a manager of private capital and a provider of financial advisory services. Its management business includes private equity funds, real estate funds, credit-oriented funds and separately managed accounts. Advisory services include restructuring and reorganization, as well as fund placement services (TD Ameritrade).
BX is current selling at trailing P/E of 16 and a forward P/E of 9.5. Last year's dividend was $1.34 per share, which would make the current yield at 4.2%. However the partnership has already paid $0.90 this year and should top last year's payments by $0.30 to $0.40 per share, raising the distribution to 5% or better. The chart for last year can be viewed below: (Taken from Interactive Brokers)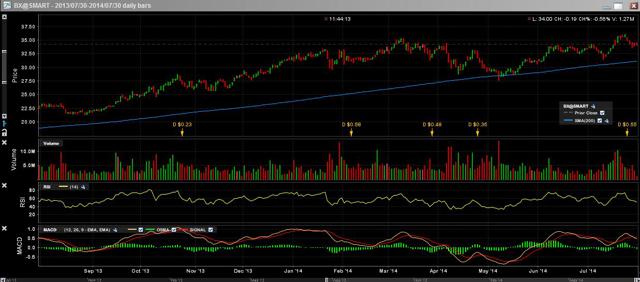 Chairman Stephen A. Schwarzman wrote on March 17, in the 2013 Annual Report:
Strong investment performance drove record revenues and earnings in 2013. Total revenues were $6.6 billion-up 63% year-over-year-reflecting sharply higher realized performance fees and investment income. Economic net income rose to $3.5 billion or $3.07 per unit-our highest level as a public company. Distributable earnings surged 66% to $1.9 billion, or $1.56 per common unit. Total distributions to common unit holders for 2013 were up 86% over the prior year to $1.34.
Besides the record year for 2013, the partnership has continued to grow volumes and earnings. See the slide from a company presentation below: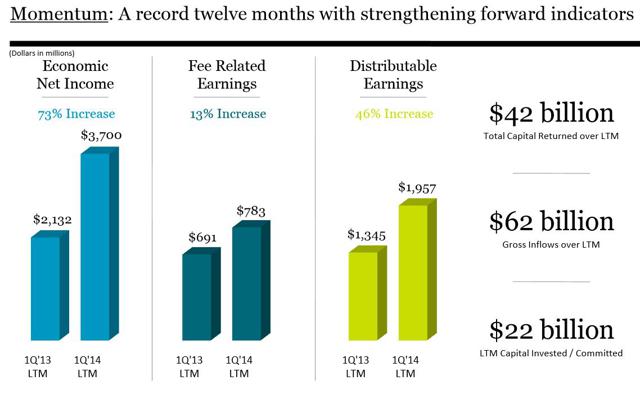 The company has also visualized the growth of the business over the past 6 years: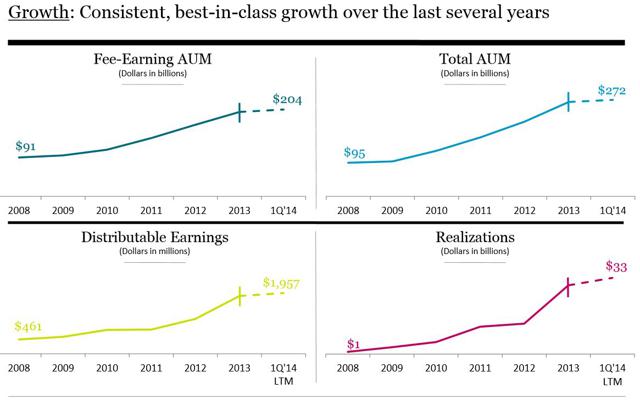 Independent rating firms overwhelmingly have a buy on this issue. Credit Suisse has an outperform with a target price of $38.00, TheStreet has a buy with a target price of $45.95, S&P has 4 stars with a target price of $40.00, Ford Equity Research has a strong buy with a target around $43.00 and the ResearchTeam has an accumulate on the partnership (TD Ameritrade). Zacks also has a buy on this issue, citing the rising estimates on earnings for the year. Current-quarter estimates have risen from $0.84 per share to $0.95, with current-year estimates rising from $3.12 to $3.72 per share.
Conclusion
BX appears to be on a roll. It is increasing volumes and profits at a good clip. An investor can expect both partnership distributions and the price of the issue to continue growing for the next few quarters. Whether one is a momentum investor or a dividend growth investor, the stock looks appealing from either perspective.
Disclosure: The author is long BX. The author wrote this article themselves, and it expresses their own opinions. The author is not receiving compensation for it (other than from Seeking Alpha). The author has no business relationship with any company whose stock is mentioned in this article.