When you think of the Hershey Company (NYSE:HSY) you probably conjure up images of the classic milk chocolate Hershey brand. You think about assembling s'mores around a fall bonfire, making your own chocolate milk with Hershey's syrup or doubling back to the house that gave out king-sized bars on Halloween. As the company itself would have it: "there's a smile in every Hershey Bar."
Then, if you put your investor hat on, you may consider this a reasonable business to begin researching. You might have a thought along these lines: "well gee, it's not that difficult to make chocolate these days and the quality is good. I bet it doesn't cost Hershey twice as much to make their product as the generic competitors, yet the company charges twice as much. And people still buy it in droves." Next you find out that in addition to those classic chocolate bars, the company also controls brands like Reese's, Almond Joy, Kit Kat, Mounds, Ice Breakers, Twizzlers and York; so far so good.
However, when you glance at the relative valuation, your sentiment may change. For instance, depending on your source, Hershey presently trades in the 23 to 25 times earnings range with a price-to-book ratio in the double digits. Not exactly the Ben Graham deal of the day. Speaking of Graham, Hershey would fail both his 20 times 12-month trailing earnings test and the maximum 25 times the 7-year average of trailing earnings (HSY stands at about 40 times this mark).
In essence, this is why it's hard to buy the Hershey Company: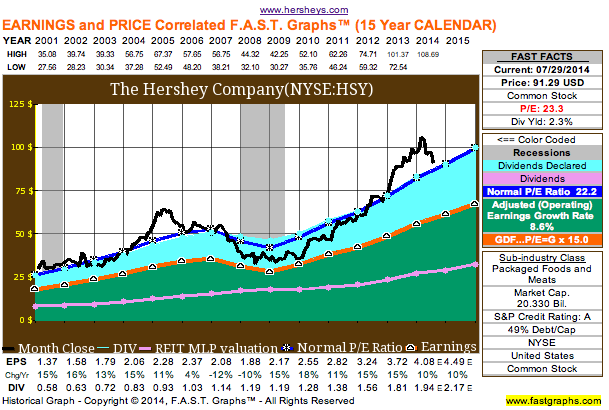 When you're accustomed to using a P/E ratio of 15 as a common benchmark, anything in the 20's seems much too high.
Unfortunately, that's where a lot of analysis stops. You might say: "great company, too pricey, what's next." To be frank that can be a reasonable attitude: why pay 23 times earnings when you can partner with a similar quality company at a 17 or 18 multiple? Yet keep in mind that this might be unnecessarily limiting your investing universe.
The funny thing is, is that it's "worked" before. Granted, performance results shouldn't necessarily be your yardstick. Nonetheless, Hershey's history squashes the notion that "you can't pay 23 times earnings for a quality company, because that's too expensive." Take a look at this performance table to see what I mean: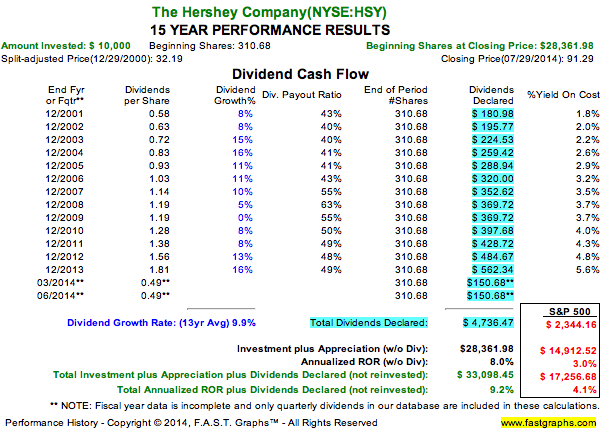 At the end of 2000, shares of HSY were trading at $32 - for a P/E ratio of nearly 27. At that time, you could have said: "27 times earnings is too much to pay, the P/E has to come down." And you would have been right, as described, the P/E ratio is presently lower than that. Yet what's missed is the idea that value is still created - despite the P/E compression. Hershey still grew earnings at a healthy clip. The company retired outstanding shares consistently and one of the most overlooked dividend histories remained quite robust. (HSY won't make the Dividend Champion list due to a payment freeze in 2009, but the company has increased its payout in 38 of the last 39 years).
What does all this add up to? Just 9% annual returns for the past decade and a half - not bad for buying a company that was "much too expensive." A hypothetical $10,000 investment would now be worth over $33,000, not to mention a yield on cost near 6%. It seems there are many ways to build wealth in the investment world.
It just so happens that Hershey is one of those companies that rarely trade at a low multiple. Historically, if you wanted to partner with the company, you had to "pay up."
Moreover, the same could be true today. Analysts are expecting high single-digit earnings growth for Hershey over the intermediate-term. If shares keep trading at the same multiple, this could easily mean double-digit returns over the long term. Alternatively, even if the P/E ratio drops a bit - say to around 18 or 20 - this could still mean reasonable returns with a growing dividend. The thing that could "harm" you would be a massive drop in the P/E ratio to 15 or below; something that hasn't occurred in the past 15 years (and even if it did occur, you still might have positive results).
Here's the takeaway: it seems there's a bit of psychological barrier around what multiple an investor ought to pay. Yet not all companies are going to trade at the same valuation. You're going to have companies like Hershey's or Coca-Cola (NYSE:KO) or Colgate-Palmolive (NYSE:CL) that always appear to demand a premium valuation. When making simple stock screens it can be easy to focus on the multiple as an absolute. Certainly buying a company at 25 times earnings doesn't appear as savvy as buying a business at 10 times earnings. But consider that each case could be offering a similar value proposition.
In short, I'm not telling you to buy Hershey at 20x earnings. I'm merely suggesting that doing so hasn't been an unreasonable venture in the past. And if you're waiting to buy this wonderful company at under 15 times earnings, don't hold your breath. Often choosing the correct businesses to partner with is just as important as the relative valuation you desire.
Disclosure: The author is long KO. The author wrote this article themselves, and it expresses their own opinions. The author is not receiving compensation for it (other than from Seeking Alpha). The author has no business relationship with any company whose stock is mentioned in this article.