To start off, let's take a look at the situation in the graph below illustrating the incredible spreads between on 10-year interest rates of certain countries with that of Germany.
10-year rates: Greece, Ireland, Portugal and Germany
So how is Mr. Trichet's transmission channel going these days? Not too blocked up?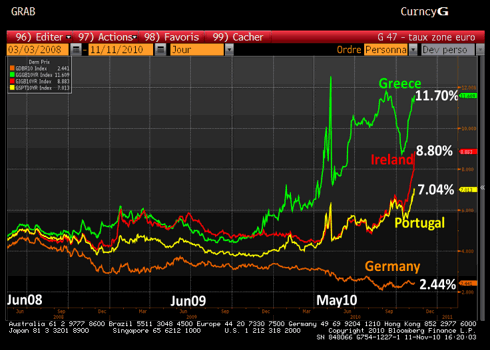 There is no doubt about it: Today's situation is worse than the crisis in May, which was severe enough to trigger the Greece bail-out, the creation of European Financial Stability Facility (EFSF) of €440bn (€750bn including the IMF's contribution) and the launch by the ECB of the Securities Market Programm (SMP).
If we begin with the most basic (and hopefully obvious) economic principle, which is that a country can only dig itself out from debt if its nominal borrowing rate is below is nominal GDP growth rate, the situation appears dramatic: Ireland and Portugal have no other choice but to ask for help from the FESF. They cannot continue much longer (default or membership in eurozone) with this level of interest rates.
We can only hope that investors have already factored in the fact that there is a very good chance that these countries' will be downgraded by credit rating agencies, leading to forced sales, like in the case of Greece early this summer.
They will most likely end up in the same spot as Greece, among the other countries under European transfusion.
The question many have been asking me in recent days is: "Why doesn't the ECB intervene more forcefully in its purchases of government bonds to put an end to this destructive spiral?"
Let me try to answer.
Everyone remembers the clash between Mr. Trichet and German and French government leaders ("A communication took place which was quite heavy") over their acabrantesque plan to formulate new sovereign debt contracts in such a way as to formalize default procedures, thus, making private-sector investors fully responsible for the ensuing risk.
This Crisis Resolution Mechanism actually changes nothing, since today, in case of default/debt restructuring of any government debt, private-sector investors are hurt, just like anyone else.
The only consequence of such a programme on peripheral nation debt, like the health warnings required on cigarettes packs, is to dissipate what little appetite investors still have for such investments.
No one can accuse me of being in the least bit soft on eurozone monetary authorities, but Trichet was absolutely right to oppose this destructive political posturing and to warn against the consequences of such pyromania.
As his message was not heard and some claim brusquely reprimanded by Nicolas Sarkozy, ("The European Council decided, decided unanimously and thus gave its response to Mr. Trichet"), the ECB president decided to place the Franco-German pair before its responsibilities.
The ECB has in reality put a lid on its zeal. We con only hope that it will learn how to reorient it.
By taking a band-aid approach to these grave problems with its SMP, Mr. T is allowing the Greek, Irish and Portuguese debt to slide into a bond market quagmire, by valuing their debt at the same level as that of Turkey or Vietnam. This sort of benign neglect must please Mr. Weber, given his publicly stated opposition to this programme.
I will let you judge Mr. Schaüble's 5 November comments on the Crisis Resolution Mechanism':
I don't share the argument that the markets will be unsettled by such talk. The markets know that it's necessary.

Trichet's argument against a crisis mechanism is that it will worsen the European competitive position for investors, my argument is that this has long been taken into consideration by markets and priced in.
10-year Irish government bonds, which had already lost 10% following the launch of the Crisis Resolution Mechanism idea, collapsed another 10% in the wake of these brilliant predictions by Mr. Schaüble.
If such an error of judgement, whose consequences put the future of the European Monetary Union itself in danger, does not constitute cause for resignation, we might as well "resign" ourselves to the idea that some of his responsibility can say anything, anytime it suits his whim.
To conclude today's Thaler's, you might want to check out the interview with Mr. Trichet, who addressed the Irish outlook at the Institute of International and European Affairs in Dublin 26 February 2009.
After reading this text, you will understand why he is in such a bad way, given the missteps of our European leaders.
I am also optimistic about the prospects for this country. The Irish economy clearly faces severe challenges over the next few years – and hard decisions will have to be taken. But in many ways, the Irish economy is an excellent example of some of the characteristics that foster global competitiveness – in its openness, its flexibility and its high levels of education. And this has paid off in significant increases in income per capita.

Some things will of course have to change. But none of the positive characteristics are lost nor should they be lost in the crisis. In my view, the open nature of this economy with its associated flexibility and adaptability means that Ireland will be well placed to benefit greatly from the eventual recovery and to compete effectively in the global economy in the future.
Asset allocation biases and advised option strategies
Ø Bund, Bobl, Shatz: See above… Bear Flattening, Schatz vs 10-year Bund. On options basis, given souvereign vibrations!
Long December Schatz puts vs Bund puts (premiums received and net delta short).
Ø Upward targets hit, now bet on correction toward 2750/2700. Not working very well, but still valid
December puts 2700 or November put spreads 2800/2700.
December put spreads 2800/2650.
Feel free to contact me for details on strikes and maturities.
Disclosure: Long 20 years OAT and 30 years BTP Zero Coupons, EDF Corp 5 Years 4.5%, Grece 2 Y and 10 Y bonds, Thaler's Corner.