Why Silver Wheaton?
Silver Wheaton (SLW) is a precious metals streaming company, which finances gold and silver mines and receives a fixed portion of the production at a set price. For example, a deal might see Silver Wheaton pay a company building a mine $100 million in cash, and net Silver Wheaton 10% of the life-of-mine silver production at $5 per ounce.
This is a win-win for both parties as the miner gets much-needed money to build the mine, and Silver Wheaton gets exposure to a high-quality asset, with no exploration costs, sustaining capex and fixed operating costs. You'll see below that the company has some pretty great margins from this business, with cash costs per ounce of silver below $4.30.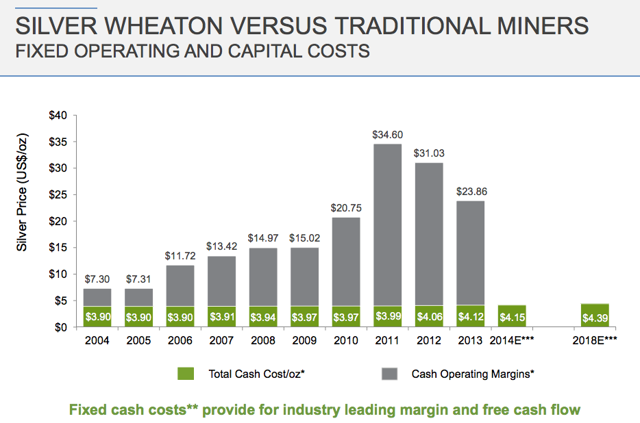 This business model gives Silver Wheaton great leverage to a rising gold and silver price and has lead to outperformance. In fact, over the past 5 years, Silver Wheaton has returned nearly 200%, while the iShares Physical Silver Trust has returned less than 50%. In addition, Silver Wheaton has also outperformed the Silver Miners Index (NYSEARCA:SIL), which contains some of the biggest silver mining companies in the world: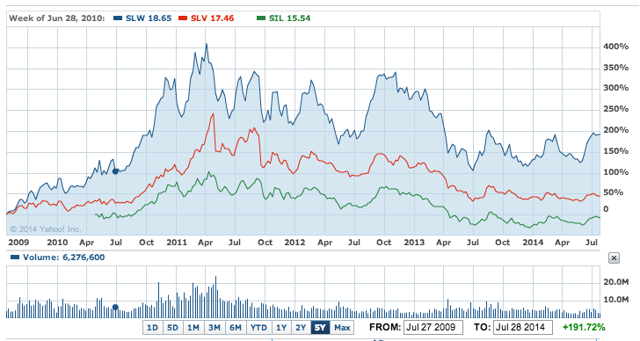 With an enterprise value of $10.7 billion, Silver Wheaton is the largest precious metals streaming company, followed by Franco-Nevada (NYSE:FNV) $7.9 billion, and Royal Gold (NASDAQ:RGLD) $4.7 billion. You'll see in the below chart that Silver Wheaton has outperformed its peers over the past 5 years: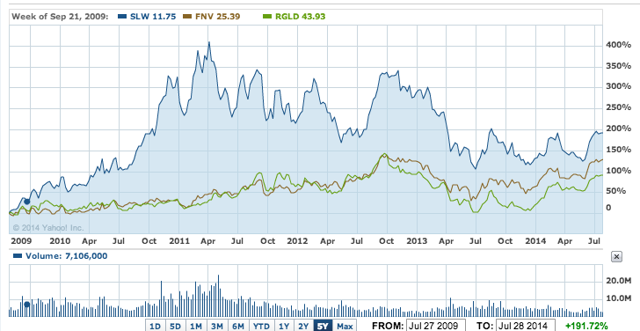 The company produced operating cash flow of $114 million in the first quarter of 2014, substantially higher than Franco Nevada ($77.2 million) and Royal Gold ($35.4 million). 100% of Silver Wheaton's revenue comes from gold or silver, compared to 80% of Franco Nevada's and 76% of Royal Gold's, according to SLW's corporate presentation.
Silver Wheaton has the second largest silver reserve and resource base in the entire world with close to 1.7 billion silver ounces, second only to Fresnillo (OTCPK:FNLPF) and higher than Silver Standard (NASDAQ:SSRI), Pan American Silver (NASDAQ:PAAS) and Coeur Mining (NYSE:CDE).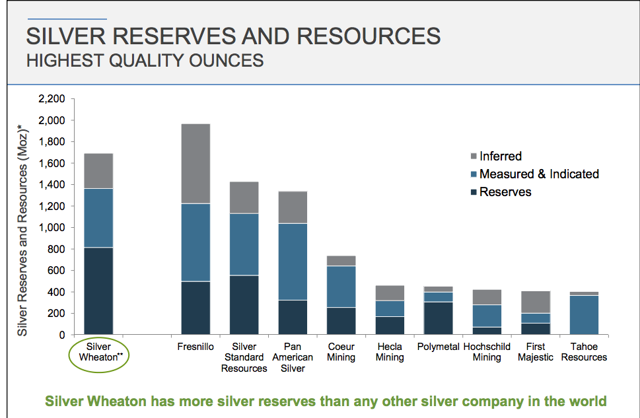 Silver Wheaton has a very high quality asset base, with royalties or streams on 19 operating mines and five development projects, located in mining friendly jurisdictions such as Canada and Mexico. Its partners include Primero Mining (NYSE:PPP) and the San Dimas mine, Goldcorp (NYSE:GG) and its Penasquito mine, Vale (NYSE:VALE) and its Salobo and Sudbury mines, and Hudbay's (NYSE:HBM) Constancia mine. These are all mid-tier or major mining companies that have successful track records.
The company is forecasting 5-year production growth of 35%, from 35.8 million silver equivalent ounces in 2013, to 48 million by 2018. It's important to note that this does not include another potential 9 million ounces from Barrick Gold's (NYSE:ABX) Pascua Lama project. Of course, this also doesn't include any potential future deals that the company might strike by then.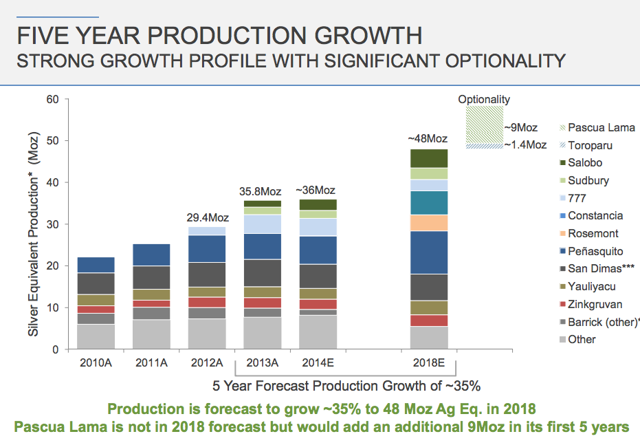 The 48 million ounce figure also does not include Silver Wheaton's early deposit agreement with Sandspring Resources (OTCQX:SSPXF), which would add at least 1.4 million silver equivalent ounces by then.
The company only paid $13.5 million for the Sandspring stream, and will advance an additional $135 million if Silver Wheaton decides to proceed (based on whether or not Sandspring can get permitted and financed). If Silver Wheaton decides not to, Sandspring must return $11.5 million, payable in either cash or a stream of .774%. This is a low-risk, potential high reward deal for Silver Wheaton, and I look forward to seeing more deals like this in the future.
Pascua Lama: Huge Long-Term Upside for Silver Wheaton
Pascua Lama contains a massive reserve and resource base, with more than 15 million ounces of proven and probable gold reserves and 675 million ounces of silver. Average annual production in the first five years is forecasted at 800,000 to 850,000 ounces of gold, with 35 million ounces of silver, at negative cash costs.
Silver Wheaton entered into an agreement to buy 25% of the life of mine silver for $3.90 per ounce on production at Pascua Lama, a deal announced on September 8, 2009. Silver Wheaton agreed to pay $212.5 million at closing, with three further payments of $137.5 million on the first, second and third anniversaries.
Development at Pascua Lama was halted last year following the drop in gold and silver prices and opposition from Chilean protestors, after Barrick spent $5 billion investing in the project. However, on May 28 Barrick reached an agreement with local Chilean protestors who had opposed the mine, a big first step to reactivating the project.
It is still very uncertain if or when Pascua Lama will get into production, but if it happens, shares of Silver Wheaton should benefit a great deal as the company would add roughly 9 million silver equivalent ounces to its annual production profile. This could be a game-changer for Silver Wheaton, so it's important investors keep a close eye on the situation.
Sustainable Dividend Policy
Silver Wheaton currently yields 1.1%, which is second-highest among its peers:
| | | | | |
| --- | --- | --- | --- | --- |
| Silver Wheaton | Franco-Nevada | Royal Gold | Sandstorm Gold (NYSEMKT:SAND) | Osisko Gold Royalties (OKSKF) |
| 1.1% | 1.4% | 1.1% | 0% | 0% |
The company has quite a unique dividend policy, linking its dividend to its operating cash flow - 20% of the average previous quarters' operating cash flows are distributed to shareholders. The company has also adopted a dividend reinvestment program where the company can issue common shares at a discount of up to 5%.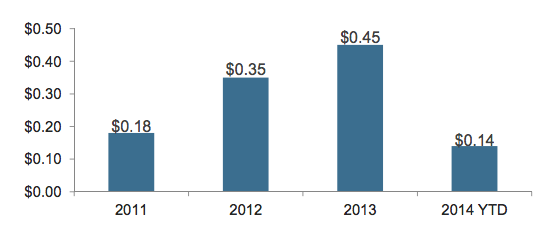 I think this dividend is sustainable and gives investors director exposure to a rising silver price. For the full year 2013, the company paid of $.45 a share; year-to-date, the payout is $.14 per share, since the silver price is lower.
Is the Balance Sheet a Risk?
Silver Wheaton does have a considerable amount of debt, with a $1 billion non-revolving term loan fully drawn and capital commitments of $365 million, including one final payment to HudBay of $135 million and $230 million to Rosemont, contingent upon receipt of key operating permits and commitments of financing, according to the SLW presentation.
However, Silver Wheaton is literally a cash flow machine because of its business model, with $114 million operating cash flow reported in the first quarter of 2014 and more than $400 million on an annual basis. The company also has a $1 billion undrawn revolving credit facility and $80 million cash; the company estimates it has $900 million capacity if it wishes to complete further deals. For these reasons, I don't think Silver Wheaton's balance sheet poses a risk currently; only a significant drop in the price of silver would pose a concern.
How Much Can Silver Wheaton be Worth by 2017-18?
If we assume that Silver Wheaton will reach 48 million silver equivalent ounces of production by 2017-18, with cash costs per silver ounce estimated at $4.39, then it is fairly easy to come up with some potential price targets.
Here is how much in EBITDA Silver Wheaton might earn by 2017-18, using various silver prices, 48 million ounces of production and $4.39 operating cash costs:
| | | | | | |
| --- | --- | --- | --- | --- | --- |
| Silver Price | $20 | $25 | $30 | $40 | $50 |
| EBITDA (millions) | $749 | $989 | $1.22 | $1.7 | $2.1 |
You'll see just how highly leveraged Silver Wheaton is to a rising silver price: a $30 silver price, with 48 million ounces of production, would mean annual revenue of $1.44 billion. With fixed operating costs of $210 million ($4.39 per ounce), Silver Wheaton could bring in $1.22 billion in EBITDA. If the company traded at 21x EV/cashflow -which is where it currently trades - the company could have an enterprise value of more than $24 billion, more than double its current enterprise value of $10.4 billion.
If we use a more aggressive silver price of $50 an ounce - which I feel is very possible in a few years, especially if inflation takes off - then Silver Wheaton could record more than $2 billion in EBITDA annually. At 20x EV/EBITDA, the company would have an enterprise value of more than $40 billion, representing a share price of at least $100 a share, and more than 400% upside potential. This also does not include any potential production from Pascua Lama and Toroparu.
Of course, these are fairly bullish estimates and might not actually happen, but the purpose is to show you the potential that an investment in Silver Wheaton holds. The stock is currently my second-largest overall holding, and I intend to add more shares on any pullback.
Disclosure: The author is long SLW, SAND. The author wrote this article themselves, and it expresses their own opinions. The author is not receiving compensation for it (other than from Seeking Alpha). The author has no business relationship with any company whose stock is mentioned in this article.