Recent months have seen a continued decline in the U.S. dollar and an associated rise in commodities prices. After a relatively steady climb in commodity prices since May, commodity prices spiked early in November. Gold crossed above the $1400/ounce level and crude oil challenged the $90/barrel level. Along with the rise in commodity prices, volatility has suddenly picked up this past week in the commodity futures markets.
Some additional recent futures market activity, reflected by the Liquid Commodities Index (LCI):
Since hitting a recent low at May 31, 2010, commodities have rallied strongly, with the LCI rallying more than 20%.
The LCI followed gains of 4.9% and 3.3% in September and October, respectively, with a solid gain of about 6% early in November.
Commodities prices started to weaken towards the end of the week (week ending November 12th), before selling off dramatically on Friday, November 12th.
Major commodities such as gold and crude oil declined about -3% from recent highs.
Some commodities saw much larger declines, such as sugar, which declined -21% from 33 to 26 cents per pound, on the March 2011 futures contract.
Agriculture generally declined -5% and cotton lost more than -8%.
The LCI, gave up some of its recent gains, but remained up +2% for November, as of the close of trading on November 12th.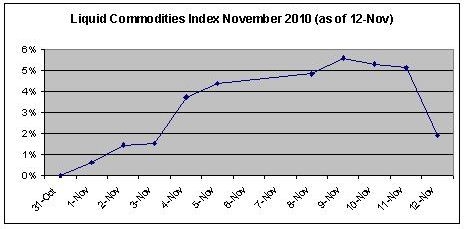 The investable, "Liquid Commodities Index" (LCI), was designed so that Adamah Capital could more easily track the price movements of the commodity futures markets. The LCI has a very high correlation (about 0.98) to other commodities indices, has slightly better risk/return characteristics, and is a good low-fee alternative for investors seeking the
diversification benefits of the major commodities markets.
Managed Futures
In addition to a passive approach to investing in commodities, some investors seek a more actively-managed approach to futures, namely "managed futures." These products can capture both up and down movements within the futures markets. The Liquid Commodities Index showed the "buy and hold" performance of the commodities markets over the past several months.
Similarly, the Barclays CTA Index, a measure of "managed futures" CTA (Commodity Trading Advisors) programs, had a strong showing over the past several months, with gains in each of the past three months, as follows: Aug: +1.6%, Sep: +2.0%, Oct: +1.6%. Because the Barclays CTA Index is an index, or average, of multiple CTAs, the performance of some managed futures programs has been even stronger.
For instance, the Adamah Diversified Program
captured profits in the futures markets
over the past few months -- and protected profits during the sharp reversal of the week ending November 12, 2010, maintaining about 75% of the month's gains.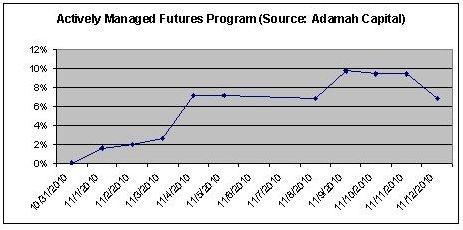 Many managed futures programs are systematic and aim to capture moves within the futures markets. While no program will be successful all of the time, a good trading strategy will attempt to capture the profit opportunities within the markets -- maintain these profits -- and minimize risk and whipsaw losses during more difficult trading environments.
Quantitative trading programs often manage and monitor risk on both a "trading system" level as well as on a "portfolio level." Trading strategies are often based on historical simulations, as well as statistical and systematic research. They are also tested in a multitude of ways to increase the comfort level of robustness and improve the "forward information" of the strategies. These methods include blind-testing, bootstrapping, Monte Carlo, and other methods to maximize the effective use of data.
Finally, CTAs monitor and
manage risk within their portfolios using a number of metrics and models
. In addition to capturing the opportunities the futures markets offer, it is essential to protect these profits. In today's economic environment -- with commodity price volatility increasing -- risk management and "protecting profits" are particularly important.
Disclosure:
Long commodities, and managed futures.