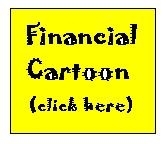 Outlook: While most have characterized our current fiscal dilemma as "kicking the can down the road", such an analogy doesn't provide an apt visualization of the growth in the size of that "can" each time it's been booted. The question most frequently debated is the impact of government debt levels on economic growth and inflation.
Growth in the Time of Debt: In a paper entitled "Growth in a Time of Debt" (January, 2010), the authors Reinhart and Rogoff contend that in developed countries there is not a strong relationship between government debt and GDP below a threshold of 90%. However, "Above 90% debt/GDP, median growth rates fall by one percent, and the average growth falls considerably more." (Even this issue is disputed in a paper by Irons and Bivens, entitled, "Government Debt and Economic Growth".)
Furthermore, authors Reinhart and Rogoff go onto say that in certain advanced countries, like the U.S., have experienced higher inflation when debt/GDP is high.
Race to the Top: Currently, it is anticipated that the US debt/GDP, will be about 60% at the end of this year. However, it's been estimated that including debt owed to Social Security, the government debt levels are closer to 85%. That could cross over into the 90% territory over the next few years.
Dancing on a Pin? (See "Financial Cartoon") While these "propeller heads" debate the number of "angels dancing on the head of a pin", what really matters is the deficit—as it's the major source of the debt.
It's About the Deficit: While the current federal deficit is at $1.3 trillion, it is projected to rise to $7.7 trillion in the next decade (2020). The likelihood of surging inflation is a high probability in a slow growth economic environment, an expansionary monetary policy and the general global devaluation of the dollar as a reserve currency. Even with severe remedial actions on the part of policymakers, at the recommendation of the Deficit Commission, the 2020 deficit will still be three times its current size.
Transparency: Globally, investors recognize that the Fed is monetizing the US deficit. While the Fed is trying to encourage investors to move their assets out of cash into productive assets, all it's doing is chasing money overseas that ends up devaluing our currency with the results of our importing commodity price inflation we've created back into our economy. This is not your Father's economy, Mr. Bernanke.
Re-Inflation Play: I know I'm repetitive, but good investment themes shouldn't change materially from week-to-week. I continue to accumulate on weakness ProShares Short 20+ Year Treasury ETF (NYSEARCA:TBF) for a re-inflation play and J.P. Morgan Chase (NYSE:JPM) on any pull back. The latter is a play on the big banks which will benefit from the shape of the yield curve and give-backs on financial regulation as their participation is integral to the jump starting the economy.
Don't look for any short-term gains in either as these stocks represent a mid-2011 yield—or, if we're unlucky, maybe sooner.
CEF Weekly Review: The 13 closed-end fund (CEF) types on average posted a 3.2% decrease for the week ending 11/12/10. The high-low spread was a wide +4.7% versus +5.9% the previous week on an average price decline of 3.2% versus an increase of 1.4%, respectively. On an aggregate, unweighted basis, the weekly average price change for the 500 plus CEFs was down 4.1%.
The PowerShares CEF Income Composite (NYSEARCA:PCEF), an ETF that invests in taxable income CEFs, was down 2.7% for the week. The S&P 500 was down 2.2% for the week and up 7.5% YTD. (Click Here for YTD CEF Performance. The table is based on a smaller CEF sample size as all the data fields are not available for the CEF universe.)
The Eqcome CEF Fear Index for the week jumped. The average price was declined 4.1% while NAV was down 1.8%. The CBOE Volatility Index (VIX), which typically moves inversely with the stock market—but is mostly a measurement of volatility based on stock options' premiums—spurted 12.9% to register above 20 at 20.61. It spiked on Friday after zigzagging for the week.
The VIX had been bouncing off its lowest point since April telegraphing that there might be a change in direction. The S&P 500's average daily share volume again exceeded the 4 billion shares mark for the fifth week in a row easing 10.4% to 4.3 billion shares from the previous week.
Money Flow: "Money Flow" into the DJ US Total Stock Market was down 2.1% for the week and up 2.8% for the month. The up/down ratio decreased to 0.98 for the week versus 1.03 the previous week; 1.01 versus 1.02 for the month. The Oil & Gas sector again experienced the greatest weekly change for the second week in a row, jumping 1.1%. The biggest loser was the financial sector, down 3.9%.
Mutual Funds: The total inflows into mutual funds for the week ending 11/5/10 increased $1.8 billion to $5.0 billion on both a $3.5 billion positive swing in equity-oriented ($3.1 billion) and hybrid ($0.4 billion) mutual funds accompanied by a $1.8 billion decline in the inflow of $3.5 billion to the fixed-income oriented funds.
Money market funds decreased another $6.6 billion for the week of November 4th—the same as the previous week. Taxable government funds decreased by $2.5 billion, taxable non-government's decreased by $5 billion, and tax-exempt funds increased by $0.9 billion.
ETFs gained over 10% in assets to $882 billion for the month ending September. Domestic equity ETFs represent 56% of ETF assets while global equity accounted for 28% and bond ETFs 16%.
CEF Weekly Fund Type Performance: The 13 CEF fund types weekly performance was for the fourth week in a row biased towards the equity-oriented fund types with the fixed-income sectors lagging despite the sagging stock market.
[Click to enlarge]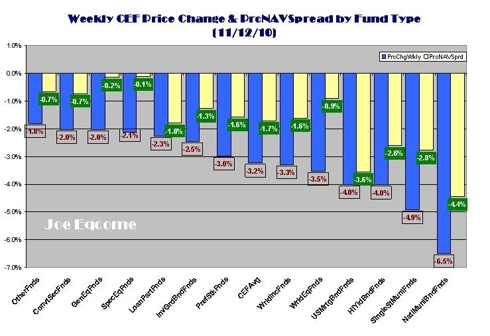 OtherFnds and ConvtSecFnds, which represents hybrid equity/debt fund types, fared the best eking out the smallest losses. Debt oriented fund types were impacted by the skepticism of the QE II along with the failed G-20 trade and currency agreements.
Most particularly, muni bond funds were hammered again as a perfect storm of peaking valuations, refinancing concerns of default rate ARPS and continuing anxiety over the health of municipal credits.
Weekly CEF Winners and Losers: One of the CEFs that experienced the greatest positive PrcNAVSprd* was Cohen & Steers Total Return Realty Fund (NYSE:RFI). RFI price advanced 1.0% while its NAV decreased 4.2% generating a 5.2% positive PrcNAVSprd.
In mid September, several of Cohen & Steers CEFs adopted a level distribution policy. RFI adopted such a policy. RFI increased its quarterly distribution from $0.125 to $0.22 per share. Since that announcement RFI's stock price has increased 12.5% and has gone from a discount to a premium. RFI is currently trading at a premium of 7.3% and is yielding 6.2%. In comparison, the 17 other real estate CEFs are trading at an 8.6% discount. Approximately 68% of its most recent quarterly distribution is constituted as a ROC.
The CEFs having the greatest negative PrcNAVSprd for the week was any one of a dozen muni CEFs. The one with the greatest was Nuveen Municipal Income Fund, I (NYSE:NMI). NMI price declined 8.5%--on heavy volume late in the week—while its NAV decline 1.5% generating a negative PrcNAVSprd of 7.0%.
NMI is yielding 5.34% (taxable equivalent yield of 8.2%), has no debt and an expense ratio of 0.8%. Average daily trading is light. NMI monthly distribution went ex-dividend on the 11th of October.
Eqcome CEF Portfolio™: Joe maintains three separate CEF portfolios that have different investment objectives: CEFBig10™, CEFMuni10™ and CEFDisc10™ (see website).
The first is a balanced equity-income portfolio, the second a tax-exempt income portfolio and the third a portfolio whose objective is capital gains with a secondary objective of current income. These portfolios will soon be available to retail investors at a nominal fee to maximize equity-income for retirees and retail investors.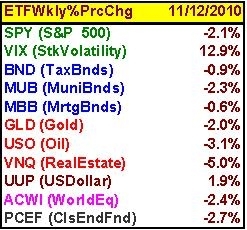 Economic & Earnings Outlook: (Click here for next week's economic calendar; click here for earnings' announcements and estimates.)
ETFs: For a more detailed EFT performance by sectors, click here.
Insider Trading: Rodney F. Dammeyer, a trustee of several of the Invesco Van Kampen CEFs, continued his accumulation from the previous month of shares in several of the CEFs in which he is a trustee. Mr. Dammeyer accumulated 20,000 shares each of Invesco Van Kampen Trust for Investment Grade Municipals (NYSE:VGM) and Invesco Van Kampen Municipal Trust (NYSE:VKQ) making an incremental aggregate capital commitment of over $500,000. Most of the shares were indirect purchases for the DRD Family Partnership, LP.
Since beginning to recently reacquire shares in these respective CEFs, Mr. Dammeyer has accumulated both directly and indirectly 53,092 and 76,585 shares, respectively. Both BofA (NYSE:BAC) and UBS have modestly upped their holdings in each earlier in the year.
(Click here for a hyperlink to the Joe Eqcome's CEF Weekly Insider Report.)
CEF Distribution Announcements This Week: The following is a link to a table of CEF distribution announcements this week as well as the previous week's with yet expired ex-dividend dates. The list is not intended to be inclusive. (Click Here for Joe Eqcome's Weekly CEF Distribution Announcements)
Significant CEF Corporate Events: Under Neuberger Berman Real Estate Securities Income Fund's (NYSEMKT:NRO) previously announced tender offer program, its shares have traded above the 10% threshold (10.3%) for the 12-week Measurement Period.
Therefore, NRO will conduct a tender offer in the range of 5% to 20% of the outstanding common shares in accordance with the terms of its tender offer program at a price of 98% of NAV. NRO traded at an average daily discount to NAV of 10.30% for the Measurement Period. The size and timing of NRO's tender offer will be announced as soon as practicable.
Other Neuberger Berman muni CEFs subject to a similar repurchase program traded at less than a 10% discount during the measurement period and will not be the subject of a tender offer. They include: (NYSEMKT:NHS), (NYSEMKT:NBH), (NYSEMKT:NBO) and (NYSEMKT:NBW)
Pimco (NYSE:PCN): With interest in inflation-protected bonds increasing amid growing concern among investors that global monetary easing will lead to renewed inflation and rising interest rates, Pimco, the world's biggest bond fund manager, filed paperwork with the Securities and Exchange Commission to market an actively managed ETF with inflation-protected bonds from developed and developing countries alike.
The Pimco Global Advantage Inflation-Linked Bond Strategy Fund will, under normal circumstances, invest at least 80 percent of its assets in inflation-linked bonds that are tied to at least three developed and emerging market countries. Those countries can include the U.S., the filing said. The value of the bond's principal or the interest income paid is adjusted to track changes in an official inflation measure.
BlackRock Advisors, LLC yesterday announced changes to the names of 17 of its insured municipal closed-end funds (the "Funds"). The name changes were made in connection with the changes to certain non-fundamental investment policies of the Funds that were previously announced on September 3, 2010. The name changes are as follows: Click Here for further details.
Kayne Anderson MLP Investment Company (NYSE:KYN) announced yesterday that it has completed a private placement with institutional investors of $140 million of senior unsecured notes (the "Senior Notes") and $50 million of mandatory redeemable preferred stock (the "MRPS"). Net proceeds from the offerings will be used to repay borrowings under the Company's revolving credit facility, to make new portfolio investments and for general corporate purposes.
CEF Focus Stock(s) for the Week: Given Pimco's announcement of its likely entry into the TIPs market through its new proposed ETF, it might be worthwhile to review the three CEFs in my database that traffic in TIP area.
The names include Western Asset Inflation Management Fund (NYSE:IMF), Western Asset/Claymore Inflation-Linked Securities & Income Fund (NYSE:WIA) and Western Asset/Claymore Inflation-Linked Opportunity & Income Fund (NYSE:WIW). As a group they all invest in TIPs. They average $495 million in net assets, employ modest leverage at 9.1%, generate a 3.5% current yield and in the aggregate trade at a 5.5% discount. On average, the shares have advanced 8.3% YTD.
The largest TIP ETF is iShares Barclays TIPS Bond Fund (NYSEARCA:TIP). Its net assets are $21 billion and it currently trades at a 2.5% yield and employs no leverage and trades at par. YTD its shares have advanced 9.5%.
While Pimco's proposed ETF has a global focus, it will still likely invest in the US. The cumulative impact of greater concerns regarding higher inflation and interest rates among investors and the big "foot print" of Pimco in this space may provide an underlying lift to the valuations of TIP-related CEFs.
However, historically, the marketing of a particular fund type, as Pimco is proposing, usually marks the top of the cycle. I am not sure that is the case here, as I don't see the investment type yet touted in the news nor do I see the "piling on" of other managers in this area. Lastly, inflation may be a secular phenomenon in the wake of global monetary easing.
PS: "Freedom isn't free."
It is with gratitude that we've celebrated this week both Veterans' Day and the 235th birthday of the Marine Corp.
This is neither a political statement nor an endorsement of armed conflict. It is simply a statement of appreciation for the voluntary risks made individually by our military and the sacrifices of their familes on our collective behalves that allow us to enjoy "life, liberty and the pursuit of happiness".Thank you.
[*] All things being equal, price and NAV should move in tandem. A price movement greater than the NAV generates a positive PrcNAVSprd and may be interpreted as negative on a near-term basis and indicate that the stock is overvalued relative to its NAV which in theory is the stock's intrinsic value. The opposite would be true for a negative PrcNAVSprd.
Disclosure: Author owns a diversified portfolio of CEFs and ETFs and is long TBF and JPM as well as stocks in the CEFBig10™, CEFMuni10™ and CEFDisc10™)