Macquarie Group (
OTCPK:MQBKY
) should be seriously considered by dividend seeking investors for current yield and for dividend growth, both of which are enhanced in a declining US dollar environment.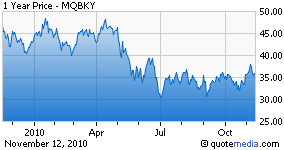 Macquarie is an Australian investment bank whose earnings have fluctuated over the past few years, and so has its payout. Management has a stated goal of distributing 55% to 60% of taxable earnings to shareholders and as earnings climb with the next business cycle, so will the dividend.
It is important to note the exchange rate US $ to A$ impacts cash distributions enjoyed by US shareholders. As the US $ declines in relation to the A$, converting the dividend, which is paid in A$, to US $ means the US investor receives more cash distributions, while the opposite holds true when the US $ strengthens against the A $.
For example, in April 2010, the exchange rate was 1 A $ = US $0.86. Currently the exchange rate is 1:0.985 or a 12.5% devaluation of the US $. This would increase Macquarie's 2010 annual dividend of A $1.86 when converted into US $ from $1.60 to $1.83.
As with all overseas listed companies, Macquarie's share price, earnings, and dividends will affected by international exchange rates and currently the A $ is strong against the US $, trading almost at parity. If current exchange rate trends reverse and return to April '10 levels, the negative impact could be around 12%. All overseas dividend investments carry these same risks and rewards to foreign currency exchange rates.
Macquarie uses a March fiscal year-end and pays its dividend twice a year in Nov and May. Payout is usually directly tied to earnings, with the May payment historically being a bit higher. This volatility in distributions along with exchange rate variables removes Macquarie from most dividend screening lists. However, that could be a mistake.
Barron's publication ran an article on Nov 15 discussing the possibility of government regulators allowing US banks to raise their dividends. The article offers a list of banks with anticipated yields over the next few years based on today's stock price and anticipated dividend payouts. MQBKY.PK current yield and potential yield on invested capital is very attractive compared to its competitors. Adding anticipated distributions for Macquarie, Barron's comparative table would be:
Macquarie recently announced Fiscal 2011 1st half results and they were temped, as was most of the industry. The company announced earnings of A$1.17/shr, along with a dividend of A$0.86/shr. In an effort to maintain the dividend amount, the payout ratio increased above management's stated goal to 74%.
Management's guidance is at odds with Wall Street. Management believes earnings in the second half will increase by almost 50%, and annual earnings will be flat FY 3/2011 vs FY 3/2010 at A$3.25, generating a flat dividend of A$1.86 as well. Consensus estimates anticipate a decline to A$2.73 in earnings accompanying a small decline in dividends to A$1.78. FY2012 and FY2013 are expected to improve with earnings of A$3.53 and A$4.07, respectively and dividends of A$2.11 and A$2.47, respectively.
For the 1st half FY2011, revenues were generated in the following categories. Macquarie relies heavily on fees from investment, commercial, and consumer banking, along with trading activity. The most recent six month revenue numbers, along with y/o/y growth, are:
Interest Income – A$605 million (+42%)
Fees and Commissions – A$1,995 million (+6%)
Trading Income – A$606 million (-4%)
Other Trading (commodities, interest rate, Forex) – A$532 million (+80%)
Driving earnings growth will be an improving ROE. Historically, Macquarie has generated 20%+ ROE, but margins and revenues have declined during the recession. ROE hit bottom 2nd half FY09 at 6.4% and recovered to 10.3% 2nd half FY10. However, ROE has slipped again, falling to 7.1% during the most recent period. ROE is expected to improve to the 10.5% to 12.5% range over the next 24 months.
Macquarie has been acquiring businesses during this recession. As it has maintained a stronger balance sheet than many competitors, management has been buying assets from other institutions needing to generate cash. This has expanded headcount by 3,000, or 22%, over the past year. This growth has caused compensation to grow from 41% of revenues in 2nd half FY10 to 48% for the most recent period, and represents the highest percentage cost since 1st half FY08. This has negatively impacted earnings and ROE as higher overhead expenses have yet to generate anticipated returns.
Macquarie has maintained about A$2.9 billion in excess capital, after acquisitions. While the impact and timing of new Basel III regulations to excess capital reserves is still unknown, the company is in excellent position to comply with more stringent regs. Setting additional capital aside will reduce funds available for acquisitions, but management should have sufficient to continue its opportunistic growth program.
Macquarie trades on the Australian Exchange and on the US OTC Pink Sheets as an unsponsored ADR, with a 1 for 1 ADR ratio. The company does not offer a DRIP plan and many brokers will not reinvest dividends into Pink Sheet stocks.
For dividend investors looking for direct exposure to international firms, Macquarie should be worthy of further due diligence. While the financial sector still presents some instability, Macquarie offers lower regulatory risk to its trading and fee-based activities because it mainly focused on Australia and Asia, not the US where heavier regulations are becoming commonplace. The company is also focused on growth opportunities in Asian and Canadian markets, along with continued timely acquisitions.
In addition, there is added intrigue for improved investor returns with a declining US dollar over time.
As always, investors should conduct their own due diligence, should develop their own understanding of these potential opportunities, and should determine how it may fit their current financial situation.


Disclosure: Long MQBKY.PK and have been a shareholder since 2009