Teranga Gold Corp. (OTCQX:TGCDF) or (TSX:TGZ) is a Canadian based company. It is operating the Sabodala mine in Senegal, West Africa. It is located in the West African Birimian geological belt in Senegal, only 90 km away of major gold mines in Mali. This African neighbor of Senegal is the third biggest producer of gold in Africa with a yearly production of some 50+ tonnes of gold. Companies like Anglogold Ashanti, Randgold and Gold Fields are operating in the region (Mali).
Teranga currently targets a production for 2014 between 220,000 and 240,000 ounces of gold. With its recent acquisition of the "Oromin Joint Venture Group" (OJVG), the company speaks of projected "base case" production for the following years of 250,000 ounces of gold as stated in its "Q1-conference call".
The cost of these ounces for 2014 were projected between $650 and $700, with all-in sustaining costs (AISC) between $800 and $875 per ounce. However, the company did just warn us that the AISC might hit $900 per ounce, and production to come in at the lower end of the guidance for 2014.
In the first quarter, production came in at 51091 ounces of gold with cash costs of $696 ounces of gold and an AISC cost of $813. The resulting consolidated profit was $4 million ($0,01 per share).
On July 30, Teranga reported Q2 results. Production was a disappointing total of 39857 ounces of gold with cash costs of $815 ounces of gold and an AISC cost of $1060. The resulting consolidated loss was $12 million ($0.04 per share).
The second quarter puts Teranga slightly off track to meet its 2014 guidance. The company however did state that it foresees a production of 130,000 ounces of gold throughout the second half of the year. The production for Q2 was weaker than expected due to the lower mined grade and longer than planned downtime associated with scheduled maintenance of the crushing and milling circuits in May.
Furthermore, the company reported a cash position at June 30, 2014 of $28.4 million and guided that it still aims to be debt free by year-end.
The results were not at all what I expected, but a bad quarter does not mean a bad company. Let us have a look!
What about future potential? Why Teranga?
Teranga Gold is uniquely positioned to leverage the regional potential in Senegal. The company has great cornerstones to build on. It has a partnership with the Senegalese government. You assumed right if you thought some strings were attached. As part of the fiscal regime with the Senegalese government you have to count on:
5% government royalty
25% corporate income tax after tax holiday which ends May 2015
10% Government of Senegal free-carried interest.
If you additionally consider that Teranga currently operates the only mill in Senegal, you can understand its important advantage as a first mover. Teranga recently completed the acquisition with the Oromin Joint Venture Group (OJVG). With this transaction it has doubled reserves, resources and mine life. Mine life jumped from 8 to 16 years. This allows the company to concentrate on exploration without unnecessary stress of needing the extra ounces "yesterday".
Through the acquisition, the reserves jumped 120% to 2.8 million ounces of gold and measured and indicated resources totaled 6.2 million ounces. In addition the company sees tremendous opportunities for exploration on the large land holdings. The company has currently 9 exploration permits encompassing approximately 1000 square kilometers on an emerging gold belt.
What else is there to know?
An important thing to know about as an investor is its Franco-Nevada streaming deal:
• Franco-Nevada provided an upfront cash payment of $135M in exchange for a fixed and floating stream on future production.
- 2014 to 2019: 22,500 ounces per year
- 2020 and thereafter: 6% of gold production
• Franco-Nevada will pay 20% of spot gold price on each ounce delivered (the 6% stream is equivalent to a 4.8% NSR royalty)
What about its present and future production profile?
Having a look at the graph of its base case production and cost schedule, Teranga Gold foresees a minimum base case production of 250,000 ounces of gold per year for years to come and the AISC should stay around $900. With a current gold price of around $1300, Teranga would do good over time. With higher gold prices, it would do great.
Do note that the company has the ambition and the potential to substantially increase production in a first phase towards $350,000. The company is currently evaluating various contributing elements to support that goal.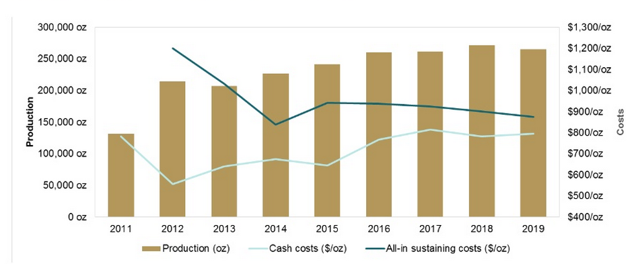 Is it safe? Geopolitical Risk:
With the spikes in geopolitical unrest lately around the world, the importance of stability gets renewed attention. It is definitely not risk free out there, but Senegal does belong to lowest risk zone security-wise and medium risk zone on as for the segment "Political forecast" on the riskmap.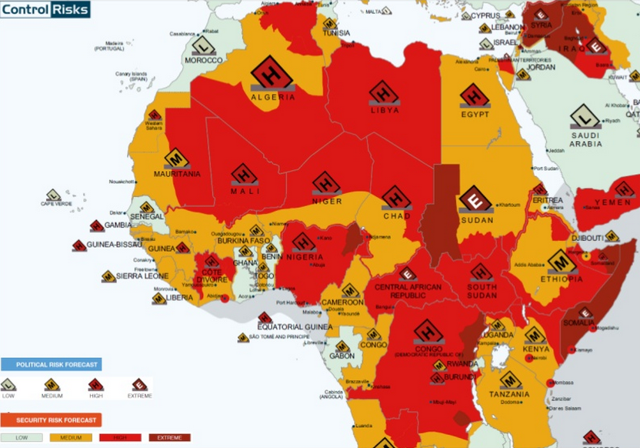 Why should we still trust guidance after the miss?
The company undoubtedly delivered a very disappointing quarter but rather than throwing everything overboard, I can't help but realizing whenever we deal with mining companies that soft quarters are part of the package. I am currently not willing to deny the potential of their transformational acquisition of OJVG or forget that the last two years it has met guidance as you can see on the table chart below.

Sure enough, it would better not disappoint in third quarter, but until then I don't see the reasons for panic. Remember that it is still on schedule to meet its full year guidance. This means that its forecast was prudent.
Honestly, I don't see its second half production as my main worry. I would worry if the gold price would drop around $1050 by the end of the year, like Goldman Sachs called for. That would imply the company might come under severe financial strain.
As I have mentioned before, a bad quarter does not necessarily mean a bad company. At a current market capitalization of $243 million, Teranga is not at all expensive, but I would like see debt paid in order to feel more comfortable.
For the remainder of the year the company is set to progress on its growth initiative program and exploration program as planned. I am looking forward on some positive news in that area and expect the company to reach its full year guidance like it has done the last 2 years. If gold can at least hold on to its current trading range then Teranga should be able to service all of its outstanding debt in 2014.
Let's see if it can come up with a great third quarter, and be debt free by the end of the year. That would be a true accomplishment!
When investing in small-cap stocks you should always consider the higher risks involved and the higher volatility of the stock price and the potential total loss of your investment. Your portfolio and investment decisions should be based on your own investment profile and risk appetite. Remember that this article on Teranga Gold Corp. is subject to various factors beyond this author's control (management and execution risks, governmental interference, gold price environment, etc.); furthermore, this article is not to be interpreted as investment advice - rather, as an idea to further investigate and do your own due diligence.
Disclosure: The author is long TGCDF. The author wrote this article themselves, and it expresses their own opinions. The author is not receiving compensation for it (other than from Seeking Alpha). The author has no business relationship with any company whose stock is mentioned in this article.