Why did municipal bond ETFs like iShares' S&P National Municipal Bond Fund ETF (NYSEARCA:MUB) decline so much last week? Some reasons for the recent price decline relate to the perceived instability of municipalities' finances, the potential expiration of the Build America Bond program, and the effects of the Fed's bond buying - which excludes the 30-year Treasury. A wide ranging price re-calibration occurred last week that caused all muni bond prices to be reset lower. Since muni bonds are priced on a spread to Treasuries, as yields on 30 year Treasuries moved up, so did yields on long-term munis. Yields go up, prices go down.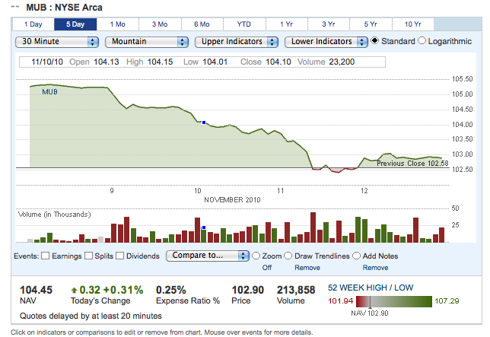 So why did MUB and other muni ETFs get hit hard last week? One reason has to with the way bonds prices are assigned. Most muni bonds are illiquid and do not trade daily. But bond ETFs are required to be repriced frequently. The prices of their underlying bond holdings are estimated based on various factors including the last daily trades. But if no trades occurred that day, then the price estimate is based on what similar bonds are trading at, the underlying rating and the spread to Treasuries.
While MUB holds investment grade bonds, most are not top rated AAA bonds. Morningstar has them categorized as follows: AAA ( 18%), AA (48%), A (24%) BBB (5%) and no rating to 3.5%.
The wide ranging price re-calibration that occurred last week caused all muni bond prices to be reset lower. Estimated Prices on lower rated bond were hit harder than the higher rated AAA rated bonds. Since about 1/3 of MUBs holdings are A rated or lower, its NAV declined because the prices on the underlying bond holdings were lowered.

Disclosure: no positions