We recently started researching SolarCity (SCTY) intrigued by the rapid adoption of solar photovoltaic ("PV") power generation; press announcements about the acquisition of Silevo; SCTY's stated intention to establish the largest solar PV panel manufacturing facility in the world; and the hype surrounding Chairman of the Board, Elon Musk.
The solar industry has gone through turbulent periods in the past but companies within the industry seem to be emerging the latest downturn with proven technology, declining cost curves and critical mass sufficient to develop self-sustaining non-subsidized businesses.
The promise of a vertically integrated solar company with the vision, professional management, drive and capacity to disrupt the status quo of the current fossil fuel-based electric utility industry is an attractive investment proposition. There is a lot of commentary on the emerging trend of distributed power generation and the threat this phenomenon poses to the current utility business model so we won't rehash that here. However, we would like to attempt to reconcile the current high valuation of SolarCity with their GAAP earnings statement.
Valuation is extreme considering that we cannot measure a price to earnings multiple or a value to EBITDA multiple. Both earnings and EBITDA are negative and expected to remain so for some time. We can evaluate a multiple to Retained Value at the end of 2015 or 2016 but that seems like a stretch. Retained Value is described in SolarCity investor presentations. It quantifies the aggregate net present value of future cash flows from contracted solar systems through lease or PPA arrangements. It is also a measure adopted by other companies and third party analysts to value companies in the solar installation business.
If we considered using this measurement, we would be assessing a calculation, Retained Value, which in itself contains numerous assumptions and is predicated on the future. Second, we would need to apply a multiple to such a figure to ascertain the company value and hence the stock price. For some reason the Retained Value figure does not in itself summarize the pertinent residual value of future cash flows and hence the market value of the company but a multiple would be required to be applied to it. Third, we would not use the current Retained Value but the hypothetical Retained Value in the future, say December 2015 or 2016 and apply a multiple to that figure. So we would be taking step after step after step away from current concrete generally accepted accounting measures. It is difficult for us to take such an analysis seriously.
We prefer to generate a discounted cash flow and try to ascertain value from this exercise. What assumptions are built into an analysis of the future? How can a company that is losing money and has been for years, has negative gross margins and operating margins, as shown by the publicly released accounting statements, become the darling of investors? Will the company make up for poor margins through increased volume? - as the saying goes.
For project companies and or high growth companies, we normally like to forecast what the company will look like once it generates stable ongoing operational cash flow. We then assess what risks and challenges the company faces to get from its current state to the stabilized profitable state and determine whether we think the company can make the journey successfully. We apply our valuation metrics within this framework.
First let's compare SolarCity to a couple of its peers. We can see that poor operating margins are not endemic to the industry.
USD In Thousands (FY 2013)

Solar City

SunPower

First Solar

(NASDAQ:SPWR)

(NASDAQ:FSLR)

Market Cap (Google 7/29/14):

6,790,000

6,560,000

6,550,000

Revenues

163,837

2,507,203

3,308,989

Cost of Goods Sold

124,468

2,016,131

2,446,235

Gross Profit

39,369

491,072

862,754

Operating Expenses

SGA

91,321

271,481

270,261

Research & Development

58,080

134,300

Other Expenses

2,602

89,664

Total Expenses

91,321

332,163

494,225

Operating Income

(149,378)

158,909

368,529

Depreciation & Amortization

41,448

98,191

--

EBITDA

(107,930)

257,100

368,529
Next, let's understand the "building block" transactions of SolarCity. They sell, install and maintain solar PV systems to residential and commercial users in the U.S. They either sell outright a system on day one to the customer or they lease, (or similarly provide the system pursuant to a Power Purchase Agreement ("PPA"); from here on both lease and PPA transactions will be referred to as "operating lease" transactions).
The accounting is substantially different between an outright sales transaction and an operating lease. In the case of an outright sale, the company books essentially the full revenue day one, allocates the costs and financing for the transaction and books a certain gross margin. According to the reported financials, the company is actually losing money on every transaction.
In the case of an operating lease transaction, the company accrues revenue on the system provided to the customer over the life of the contract, typically between 10 and 30 years. Allocated costs and financing are also accrued over a long period of time. The following is an illustration (page 16 of the current investor presentation) provided by the company to describe a typical transaction.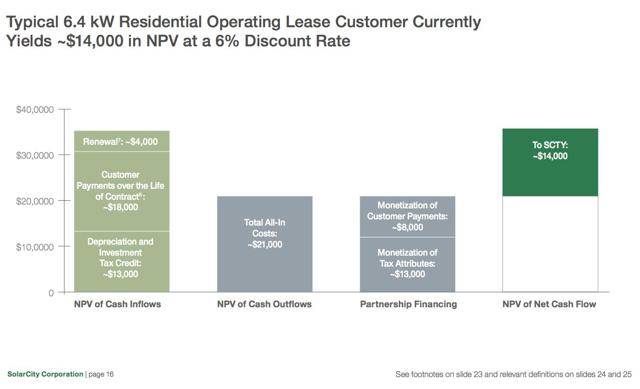 One can infer that the transaction will generate continuous accounting revenue and gross profit over the entire life cycle of the deal in addition to renewal revenue at the termination of the contract. Because of this dynamic, many industry participants have relied on using the Retained Value measurement discussed earlier.
One can debate the merits of Retained Value and the assumptions built into its derivation, but we are currently focused on understanding accounting earnings: past, present and future. So how do the two basic types of "building-block" transactions done repeatedly for customers throughout the country wrapped by a corporate sales, marketing and financing infrastructure amalgamate into the published financial statements of the company? And what has to happen for the company to start stating positive GAAP earnings? Especially as the company is growing rapidly, investing further in its sales and marketing infrastructure, developing vertical integration and increasing overall corporate footprint thereby increasing its SG&A expenses.
Looking at the mix of business in the past, we can see the following breakdown between outright sales and operating leases from page 47 of the SolarCity annual report:
During the years ended December 31, 2013 and 2012, less than 10% of our solar energy system installations were cash sales, measured by system capacities. However, because of our revenue recognition policy, these sales represented 49% and 64% (restated), respectively, of our total revenue for those periods. We expect installations utilizing leases and power purchase agreements to continue to represent the vast majority of our installed systems. As a result, the number of systems sold for cash and delivered in a given financial reporting period will have a disproportionate effect on the total revenue reported for that period.
The company has guided investors to expect the percentage of total sales from outright sales to fall and the operating lease percentage to increase. From the above discussion on accounting methods, we know that outright sales book negative-to-flat gross margins upfront whereas operating lease transactions are profitable but push a substantial amount of the potential earnings into the future. Even so a shift in percentages from outright sales to operating lease transactions will improve reported gross margins in the current period. As lease contracts are added to the company, the stock of future earnings will increase as will the Retained Value. The theory is that at some point in time the cash flows from previously executed operating lease contracts will reach an amount that will eventually overtake the fixed costs incurred to grow and the company will post positive GAAP profits.
So let's review some basic assumptions about future cash flows to determine what is required to generate a profit.
Revenue growth
The company grew revenues by 78% between 2012 and 2013 after growing revenues by over 100% the year before. Given current market conditions, low penetration rates, expanding geographic regions and improving cost competitiveness relative to grid pricing, there is no reason to expect growth to slow. We can get comfortable with revenue growth in excess of 70% per annum for a couple of years. Based on our work, we forecast 1.2 GW deployed in 2016 with a cumulative solar system capacity deployed exceeding 3.0 GW. These numbers are within our comfort range based on current trends, business execution and market size assessments. We will elaborate as we expect to comment on other companies in the industry through future writings.
Gross margin
In order for gross margins to improve, we will need to see the mix of business continue to change. We will want to see outright sales as a percentage of total MW deployed fall to the low single digits, 2% or 3% by 2016. We will want to see system sales post a breakeven or maintain a flat gross margin. We will want to see the percentage of total revenue generated by operating leases to rise from 51% in 2013 to over 80% by 2016 and over 90% by 2017. Finally we would like to see gross margins on operating leases maintain close proximity to the current 61% rate, although we expect some fluctuation in this metric over the next couple of years. Merger integration will cause some headwinds in the near term but scale of economies from the Silevo New York plant and vertical integration will improve the cost profile in future years.
SG&A
SG&A seems to be growing rapidly especially as we notice that first quarter 2014 more than doubled the amount of first quarter 2013 SG&A expense. Part of this growth may be variable costs associated with incentives and commissions paid to distribution channel partners but we expect a large portion to be fixed costs. This higher base of fixed costs will raise the bar for the company in order to achieve profits. We would like to see the company control SG&A costs but have little feel for the precise level. We have taken the current run rate, grown it a bit and then stabilized it in a few quarters. We have not had a chance to speak with the company about our forecasts.
Financing, Depreciation, Deferred Revenue and Deferred Taxes
These topics have material impact on the financial statements, are complicated and worth further mention as they directly affect the valuation of the company but we will save them for another discussion. We are at this moment focused on determining whether the assumptions needed to generate positive operational earnings and cash flow are reasonable and agreeable.
Conclusion
Based on the work we have done to date, we would expect high volatility in the stock price of SolarCity and would avoid the security. We do not expect accounting profits in the near future and only expect operating profits and positive EBITDA from 2016 onwards. We have difficulty seeing this company achieving a positive net income in the next several years and therefore do not see this company being valued on a P/E multiple anytime soon. The lack of reported earnings will make this a highly volatile and emotionally driven stock.
Our conclusion is based on an analysis of earning generating capacity of the business. We see red ink far into the future for this company and need to stretch assumptions beyond what we described above to see operating cash flow. Even with positive cash flows projected, assumptions need to get stretched even further from years 2017 and beyond to justify the current valuation and we still only barely see positive net income reported far in the future, primarily because we don't see enough profit from each individual "building block" transaction to amalgamate up to a robust profitable enterprise.
Financing markets, interest rates and regulations are all favorable now. It is hard to imagine that they can get any better and we actually risk that one or more of them may get worse.
From a big picture perspective, we believe that the current centralized electric utility business model is under threat from distributed power generation and the SolarCity story is attractive in this context. However, we feel that the current valuation is not warranted and would avoid the stock. We are bullish on the sector in general but prefer other companies in this space at this time and will comment on our favorites in due course.
For Long/Short investors, SCTY is a good short at these levels to accompany a long position in one of the better-valued peer companies.
Disclosure: The author has no positions in any stocks mentioned, and no plans to initiate any positions within the next 72 hours. The author wrote this article themselves, and it expresses their own opinions. The author is not receiving compensation for it. The author has no business relationship with any company whose stock is mentioned in this article.