by Mike McDermott
Friday's action offered a dramatic wake up call for the bulls…
It wasn't really the magnitude of losses as the Dow only lost 90 points and the S&P 500 was off just a bit more than 1%. No, the real surprise was in the areas of the market which got hit the hardest:
As Jack mentioned here, the commodity-heavy CRB index took its worst loss in 18 months. Chinese stocks were also hard-hit as traders reacted to new expectations of tighter policy as officials look to put the brakes on a possibly overheating economy.
European markets were also back in focus as Ireland now takes the spotlight as the "most likely to default" peripheral country. For the last two months, traders have naively set European troubles on the back burner, but it appears we must once again face the potential for a destabilizing event on the other side of the Atlantic…
All of these issues are now colliding and trapping bullish traders in heavily extended and now quite vulnerable positions. When faced with this type of situation, there are usually two primary options for traders to pursue:
1) Get the hell out!
or
2) Stand pat and bet the farm!
So far this year, we have seen institutions ignore dangers and escalate their commitments to a recovering economy and a successful QE approach by the government. But at this point, it looks like the majority of traders' ammo has been spent.
As we enter this pivotal trading week, Jack and I share increasing conviction that we are headed for a significant shakeout. The odds favor a major shift at this point and we are positioning our trading book to take advantage of what appears to be the beginning of a dramatic reversal. So let's take a look at the field and see what kind of points we can put on the board…
Commodities Front and Center
For the last few months, hard assets have represented rock-solid trading positions as traders and investors alike looked for ways to capitalize on a widespread currency war.
The solid trends and attractive fundamentals have attracted value investors, swing traders, momentum players – basically a vast majority of market participants. The result is that "long commodities" has become an overly crowded trade that is extended and overdue for some profit taking.
"Profit taking" may be too kind of a word as we look at the dynamics which surround this trend. For one, the weak US dollar has influenced prices which are primarily dollar denominated. As the USD regains traction in the wake of European fears, it is natural for commodity prices to come under pressure.
At the same time, expectations for tighter policy decisions in major EM countries such as China could significantly affect the demand curve for many resources. We're still in the early stages of seeing just how the new developments will shake out, but based on the heavy bullish sentiment, it would not be surprising to see a multi-week bear market in some key commodities.
Early on Friday, we took two material short positions in key commodity areas.
First, we took a bearish position on copper by shorting iPath Copper (NYSEARCA:JJC). After a blistering 47% advance over the course of a few months time, copper is at least due for a consolidation. Considering the potential for a large body of traders to be caught flat-footed in this instrument, the selloff could be swift and violent.
Weakness in the metal with a "PhD in economics" very likely indicates at least short-term trouble for the global economy because weakness in this metal implies falling demand and constrained economic growth around the world (click on chart to enlarge).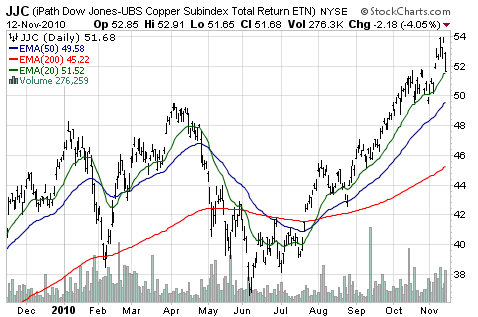 Our second major commodity position was in crude oil and was expressed by shorting iPath Crude Oil (NYSEARCA:OIL). Crude has not had nearly the ramp enjoyed by copper, but the commodity is broadly effected by expectations for economic growth. Not only is the demand side of the equation in jeopardy of flat-lining, but present and future supplies of crude appear to be very robust.
With inventories remaining at elevated levels and new fields likely to come online in the near future, the supply / demand curve very well may allow for lower prices. And with the price of oil recently breaking above the top of the recent range, but failing to hold that level, it appears the bears hold the upper hand at this stage of the game (click on chart to enlarge).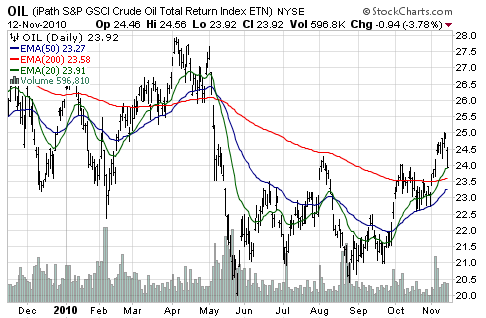 As the potential for an Irish default puts European troubles front and center once again, solar stocks are feeling the pinch.
The euro-zone has been one of the major demand centers for alternative energy with Germany and Spain being particularly friendly to solar energy. Early this year it became clear that the entire region would be forced to adopt austerity programs to keep from defaulting on sovereign debt. The solar complex took it on the chin and stocks began trading at significant discounts to their previous levels.
But as the focus turned to the strength of emerging markets, and hope prevailed into late-summer, the solar industry began trading in a much more healthy pattern. It seemed the world was willing to forget past sins and give Europe the benefit of the doubt when it came to the overhanging debt issues and the long-term demand for alternative energy.
Once again, the turns are tight and sentiment is swinging back the other way. It appears that Ireland could need a massive bailout… Germany is once again feeling like the responsible (and still punished) big brother. And European austerity programs are once-again likely to cut into spending on solar energy.
Renesola Ltd. (NYSE:SOL) has put in a strong run during the second half of the year, but now as its ticker implies may be "out of luck." At this point it appears that buyers have now been exhausted and the stock is breaking through minor support areas and could easily trade sharply lower from this point.
While valuation is fairly attractive at the current price (analyst expect earnings of $1.97 next year) the potential for cancelled orders and poor pricing could have traders hitting the exits for some time to come (click on chart to enlarge).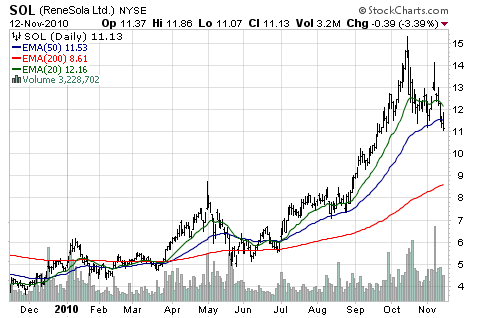 First Solar Inc. (NASDAQ:FSLR) could also be vulnerable after failing to break out near the $150 area and then gapping lower late in October. While the company has one of the more healthy balance sheets in the industry, analysts are only expecting earnings to grow by 12% next year which is far below the expectations for many competitors.
A break below the November lows could offer an attractive inflection point with a reasonable stop just above the November highs (click on chart to enlarge). If the stock were to trade back down to test the 2010 lows at $100, traders could book profits of three to five times the risk taken in the trade. And if solar sentiment shifts far enough, it's not too hard to imagine a much deeper selloff.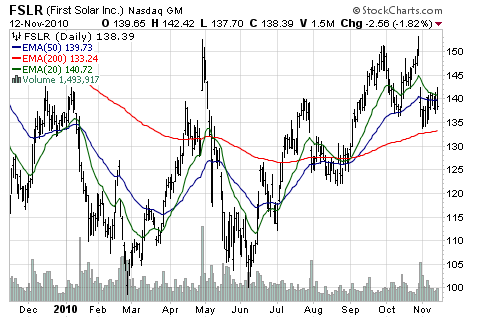 Credit Cards Under the Gun
The credit card industry has been trading in the shadow of a Department of Justice lawsuit in which Visa Inc. (NYSE:V) and MasterCard (NYSE:MA) have already settled, and American Express (NYSE:AXP) continues to fight. Since a few weeks before the settlement, both V and MA have posted impressive returns as traders believed the two companies would benefit from global growth in electronic payments.
Both of these companies receive a significant amount of revenue from international transactions including cross-currency purchases. As the potential for tightening tensions in a global trade war emerge, along with concerns of pressure in China and other emerging markets, traders are beginning to question their assumptions about the long-term growth rates of these transaction processors.
Friday, MasterCard broke below its 20 EMA in what was the worst decline since the rally began in September. We're still waiting for volume to confirm the move, the the price action alone raises concerns and puts MA high on my radar entering this week of trading (click on chart to enlarge).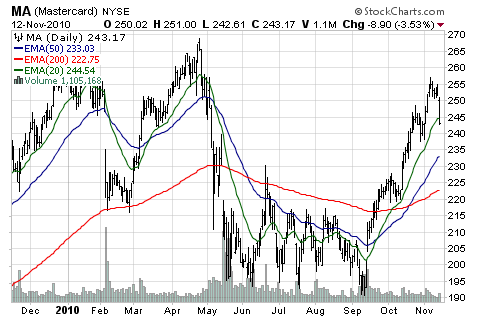 Visa looks like a bit of an under-performer as the stock has been stuck below the $80 level for some time now. It's difficult to see how the $64 billion dollar company could expect to generate significant growth in this environment and apparently traders are starting to look at the law of large numbers in the same light.
The stock could offer multiple entry points depending on how the chart patterns evolve along with the fundamental challenges of a global marketplace under pressure (click on chart to enlarge).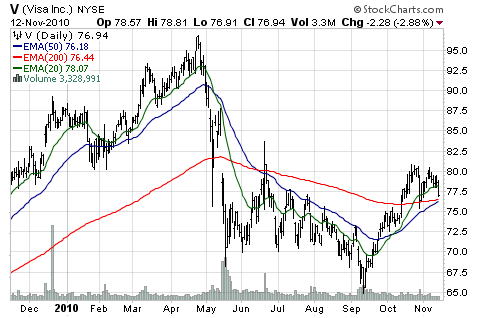 Early Retail Considerations
It's still too early to establish broad short positions in the retail sector as the area has been surprisingly strong. But there are a couple of key retail securities that look vulnerable at this point and could warrant an aggressive early trade.
Coinstar Inc. (NASDAQ:CSTR) has benefited tremendously from its entry into the DVD rental business. The DVD kiosks have become wildly popular despite some complaints of limited selection. At the end of October, the stock gapped more than 20% higher in a single day after posting positive earnings (click on chart to enlarge).
Friday's action hinted that bulls' firepower may be running out. After ramping nearly 200% this year, the stock is due for a consolidation and if competitors like Blockbuster Inc. or Netflix Inc. (NASDAQ:NFLX) begin to offer similar services or gain share – we could see a meaningful price decline.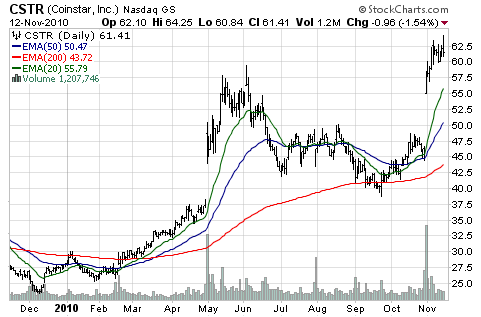 I've also got my eye on Under Armour, Inc. (NYSE:UA) this week as the stock sports a very high multiple and could face a negative catalyst with the end of football season coming up.
The company made great inroads to football with its moisture-wicking athletic gear. From that point, it was a natural shift into cleats, equipment, accessories etc. Management has done a tremendous job of building brand image and I expect the company to continue to grow profits and capture market share.
But traders may have set the bar too high for this company as the share price is now 32 times expected earnings for next year. The football selling season is coming to an end and attention should quickly turn to expectations for spring baseball sales. This is a newer market for the company and while UA has been successful in transferring its brand awareness into different sports, there are a number of baseball competitors which will fight vigorously to defend their turf.
The battle will definitely be interesting to watch, and UA could take some hits along the way – leading to a few opportunities to short the stock on the way down. So keep this speculative retail play on the radar as we enter what could be a profitable end of the year for the bears (click on chart to enlarge).
Several hours before the open, pre-market futures appear flat. We have more negative news coming out of Greece and China will remain at the front and center of most traders' radar.
It's going to be an interesting week with plenty of twists and turns and profit opportunities. Jack and I are shifting into a high-conviction bearish posture – adding exposure in key names as prices trade through key inflection points.
As always, we are carefully monitoring the risk metrics and mindful of both bullish and bearish perspectives. But the statistical odds appear stacked in the bears favor and we are using this high-conviction environment to justify significant positions with very attractive potential returns.
Here's to a profitable trading week!
Disclosure: As active traders, authors may have positions long or short in any securities mentioned. Full disclaimer can be found here.