It's getting to be that time of year again. The leaves are changing (depending on what part of the country you live in), the days are getting shorter and the football games are getting more important. All this means we're getting closer to the end of the year, and the end of the year means it's time for investors to start thinking taxes.
The accountants of the world excluded, most of us don't like thinking about taxes, but there are some unique tax issues ETF investors need to be aware of, particularly if they have invested in a commodities fund. So consider this week's column to be a public service announcement and encouragement to talk with your accountant or financial advisor BEFORE you get a nasty surprise from the IRS.
First, let's look at ETFs like the U.S. Oil Fund (NYSE: USO) and U.S. Natural Gas Fund (NYSE: UNG). These funds have become infamous in recent years for a simple reason: They are far from a good way of getting exposure to the commodities they track. Without digressing too much, it's very possible that you can own a fund like USO and NOT make money while oil prices are going up as the chart below illustrates.
images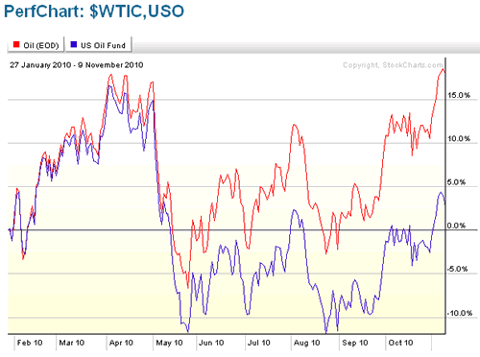 As if that's not bad enough, there's another surprise to go along with an ETF like USO. A recent article by Investor's Business Daily paints the picture well. A gentleman bought 2,100 shares of USO in 2008 and 2009 for roughly $84,000 and then sold the position in March 2010 at loss of $1 per share. He then got a K-1 form that showed he owed almost $29,000 in capital gains for 2009 even though he didn't sell any of his position that year. Shareholders in an ETF like USO have to pay tax on USO's income even if they DO NOT receive cash distributions. Making matters worse, USO says in its prospectus that it probably won't pay cash distributions to investors.
The reason for this little tax surprise, as IBD puts it, is because USO is structured like a limited partnership, not a mutual fund, as most ETFs are.
With ETFs that are backed by physical holdings of precious metals like the iShares Silver Trust (NYSE: SLV) or the SPDR Gold Shares (NYSE: GLD), there's another issue to be aware of. For some reason, the IRS considers investments in gold, silver and other metals to be a "collectible" for tax purposes, essentially treating an ETF like GLD the same way it would treat art or wine.
Remember this: If your gain in GLD or SLV is short-term, it's taxed as ordinary income. If your gain is taxed for holding period longer than a year, then you'll be taxed at one of two capital gains rates depending on your tax bracket. The bad news here is that you can't take advantage of normal capital gains rates on your investments in these ETFs.
In both examples, these tax issues are not widely publicized by the ETFs' issuers. It's buried in fine print deep in the fund's prospectus. Take it from me, an ETF's prospectus usually isn't stimulating reading, but spending a few minutes with it can spare you some unwanted surprises come tax time.
Disclosure: No positions