Investment thesis
We believe that Kennedy-Wilson Holdings' (NYSE:KW) investments are valued by the market well below their fair market value. KW has a long and proven track-record of selling assets at a significant premium to their book value as reported in its accounts at cost less depreciation.
We see the recent IPO of Kennedy-Wilson Europe Real Estate Plc (KWE), referred to as the European venture above, as a key catalyst to help unlock this value. It should essentially showcase to the investment community, in a very transparent and public way, how KW's investment process works and how much value KW creates for its shareholders.
KW's SOTPs valuation implies a share price 27.9% higher than its recent share price. We believe this is a medium-term play, as it will take some years for KWE to develop a strong track-record. In the meantime, any crisis will only play to KW's strengths of thriving in distressed markets, probably setting up an even more asymmetric investment opportunity.
Company overview
KW is a vertically integrated global real estate investment and services company. It has approximately 400 employees in 24 offices throughout the United States and in the United Kingdom, Ireland, Spain and Japan. For those familiar with global property market cycles, that list of countries is no mistake and this highlights a fundamental strength of KW that we will touch on more in this article.
KW focuses on adding value for its shareholders through opportunistic investing and strategic asset management. Its business model is to identify countries and markets with an attractive investment landscape. It then develops an on-the-ground presence, to build up local intelligence and create long-lasting relationships, primarily with financial institutions. Finally, it leverages those relationships to drive proprietary investment opportunities with a focus on off-market transactions.
It operates through two complementary business units:
KW Investments: a fully-integrated investments platform focused on direct real estate investments through commingled funds and joint ventures/separate accounts. It leverages KW Services business, highlighted below, to gain access to proprietary acquisition opportunities. As of March 31, 2014, its net investment account was USD1.5 billion (including USD0.2 billion of cash). In February 2014, KW invested USD203 million in the USD1.7 billion IPO of KWE.
KW Services: includes investment and property management services for third-party owners and company-sponsored investments, real estate auction and conventional sales and research services. It helps generates off-market deal flow for KW Investments through a large network of relationships with institutional clients and individual investors in the U.S., Europe and Japan.
A good overview of its operations, ownership levels, geographical spread and key stats is shown in the slide below: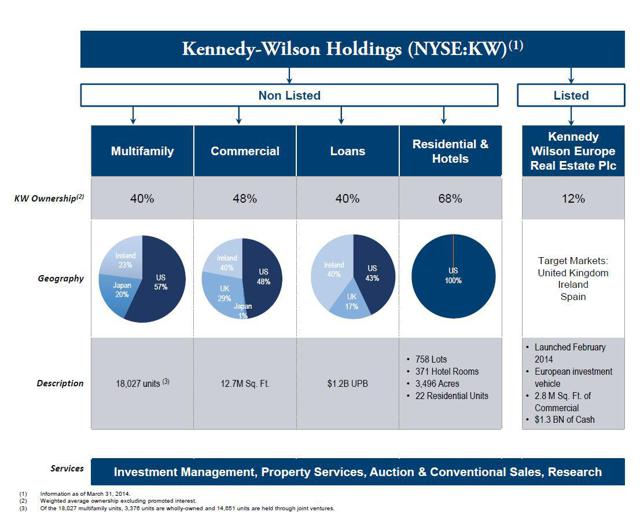 (Source: KW's Q1 2014 Investor presentation)
As set out in the table below, KW now has a market capitalization of around USD2.5 billion and an enterprise value of nearly USD3.0 billion. Looking at the growth in its key metrics, from 2009 to 2013, KW looks like a powerhouse when focusing on its net investment account, total book equity and market capitalization. However, it looks like a bit of a minnow when considering its revenue and income from continuing operations. Its share price performance seems to linger between the two, with the market undecided whether to focus on the asset side or the income side of KW.

(Sources: Bloomberg and company filings)
KW's key strength is exploiting opportunity in distressed property markets
In its 2009 annual report, KW's CEO, William McMorrow, wrote the following to his fellow shareholders. This gives an excellent insight into the caliber of KW's management and their ability to spot opportunity in the toughest of times:
Major corrections create new opportunities that, if seized, can transform companies to even greater heights. Having started with a book net worth of $50,000 in 1988, it is humbling for me to witness the extraordinarily positive events and good fortune that have transpired at Kennedy Wilson during the past 18 months.

We began 2009 knowing that the real estate capital markets had collapsed, creating illiquidity never before seen in our industry. We made the decision to focus our efforts throughout 2009 on raising more capital for the company to take advantage of what would certainly be one of the greatest buying opportunities of the last 50 years. It was inevitable, given the lack of global liquidity, that many of the traditional sources of debt and equity we had come to rely on would evaporate. We packed our suitcases and spent most of 2009 visiting potential new partners. We had over 1,000 investor meetings, and I am very pleased to report that our efforts paid tremendous dividends for KW's shareholders.

Over the last 18 months, we raised $1.3 billion of new capital, which includes approximately $350 million of equity and debt for the parent company, and is now allowing us to expand our service business and our investment platform at a time when many real estate operators are, at best, contracting. Additionally, Kennedy Wilson created new business relationships with some of the most well capitalized financial firms in North America that have a desire to invest in our real estate platform.
Of course, with hindsight he was right. But that was not a one-off. Just like KW did in Japan in the mid 1990s and in the US in 2009, KW also expanded its platform into Europe in the midst of the region's financial problems. KW's management made its first trip to Dublin in December 2010 and seeing the highly distressed banking system realized it was a significant opportunity. To quote William McMorrow:
The Irish real estate outlook at the time was bleak as very few of the people that we met with shared our sentiment about the opportunity in front of us. As we have learned in similar situations, it sometimes takes an outside perspective looking in to see the opportunity in a time of distress. We had done our homework on Ireland and did not waiver in our conviction. Our team was confident that liquidity would eventually return to the Irish market, which would be a catalyst igniting a recovery.
This marked the beginning of Kennedy Wilson's activities in Europe. Today they have offices in Dublin, London and most recently Madrid and have acquired over USD6 billion of assets.
KW Investments: what is the market value of the net investments it holds?
William McMorrow stated in KW's 2011 annual report: "When you look at our book value, remember that it is essentially at cost for our assets, less depreciation. The real book value of the company is well in excess of its carrying value." Later, William McMorrow gave us a clue of what he thinks the market value of KW's net investments are: "At book value, the corporate debt/equity investment account equals 50%; at market value, the corporate debt/equity investment account is less than a third."

(Sources: CEO comments, company's filings, author's estimates)
This is only one data point, so we do not want to place too much weight on it. However, as it is the CEO speaking, we thought it would be worth exploring in a bit more detail. As shown in the table above, we calculate December 31, 2011 corporate debt/net investment account at 54.9%, within a 10% range of McMorrow's 50% comment. As at March 31, 2014, corporate debt/net investment account remains remarkably similar at 55.5%. If the percentage dropped to a third, it would imply an equity multiple of around 1.65x in 2011 and 1.67x at present. Digging a bit further, we tried to gauge what equity multiple the market was applying to book value around the time of McMorrow's comments. We calculate an equity multiple of about 0.90x based on KW's share price at the end of December 2011 and company filings.
As expanded on in the KW sum-of-the-parts valuation set out later in this article, we think KW's investments are currently valued by the market at an equity multiple of about 1.10x. So, though less severe, the discount to market value persists and that is why we believe a catalyst like KWE is so important. The other observation is that even if the market continues to ignore the market value of KW's investments, KW is growing its book so fast that it supports a share price rise in any case. Another way to look at this is, from the end of 2011 to March 31, 2014, KW's net investment account has risen 130%. Over the same period, KW's share price has risen 121%. So increases to book value are helping to drive up the share price, even if the significant discount to market value still exists. McMorrow's comments are helpful, but we rely on a much longer data history as discussed below.
We looked for various pricing points where KW marked book value to market value, normally through actual sales or statements in various filings that revealed the equity multiples. As disclosed in the table below, we were able to assemble a record dating back to 1999. The average implied equity multiple works out at around 1.64x and is very close to McMorrow's own estimate as stated above.

(Sources: KW's company filings and author's estimates)
It should be noted that the structure of KW's investments typically enables KW to generate a higher return and equity multiple on its invested equity then disclosed in the table above. This is due to KW's ability to earn asset, property and/or acquisition fees, together with a promoted interest beyond its ownership percentage upon a sale of the investment. If KW's promoted interest were included, we suspect the implied equity multiple would be north of 1.80x. However, we believe that an implied equity multiple of 1.60x is a good enough indication of what the market value of KW's net investments are vs. book value. Anything above that multiple would be a welcome plus.
An overview of KWE and the European opportunity
In February 2014, KW invested USD203 million in the USD1.7 billion IPO of KWE, making KWE the second largest real estate IPO in the history of the London Stock Exchange. KWE will invest primarily in real estate and real estate loans in Europe, initially in the United Kingdom, Ireland and Spain. It benefits from a right to priority on investment opportunities sourced by KW in Europe. KW currently holds around 13.2% of its total share capital. As the investment manager and largest initial shareholder of KWE, KW is fully committed and invested in making KWE a success. As of June 2014, KWE has already deployed GBP1 billion of capital since the IPO, split UK (60%) and Ireland (40%). KWE has not even started acquiring assets in Spain yet.
The European opportunity is vast. Per KWE's prospectus, in Europe, there are a significant number of opportunities over the medium term to acquire high-quality real estate assets from distressed sellers and financial institutions seeking to de-lever by divesting such assets. According to DTZ Research, as at November 25, 2013, there was a gross refinancing gap of approximately GBP85 billion across Europe, of which the UK, Ireland and Spain in aggregate constituted 37%. As of December 31, 2012, the UK, Ireland and Spain were three of the top four countries with the largest non-performing loan ("NPL") balances in Europe estimated to be EUR164 billion, EUR135 billion and EUR167 billion respectively.
The level of real estate loan sales is expected to rise, instigated by regulatory requirements, retrenching of banks back to their core markets, increased liquidity in the loan sale market and improved economic data allowing financial institutions the flexibility to make the necessary write-downs. This should provide KWE with a significant opportunity for investments.
KW is not alone in its enthusiasm for KWE. Over the years, KW has built a solid reputation with a large number of sophisticated investors. KWE was able to attract twelve cornerstone investors who committed in aggregate a total investment of approximately GBP530 million. The cornerstone investors are: ACK Asset Management, Elkhorn Partners, Fairfax Financial, Fidelity, Franklin Advisers, Janus Capital Management, LeFrak Merchant Capital, Marketfield Asset Management, Moore Capital Management, Quantum Partners, Seawolf Capital and Wellington Management Company.
KWE: how does this KW lead initiative affect KW's value?
We think KWE is a key catalyst that will help drive both future value and help unlock current value at the KW level. KWE will drive future value as the European opportunity is vast and plays to KW's strengths operating in distressed markets. As a separately listed entity and with its net asset value ("NAV") regularly marked to market, we think KWE will serve as a more transparent model of how its investment manager, KW, works in practice. If KWE's share price trades broadly in line with its NAV, then investors may start to wonder why its investment manager's own account is subject to such a discount to fair value.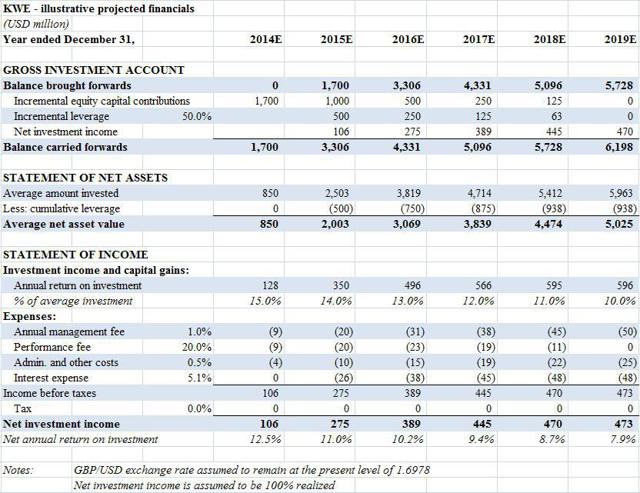 (Sources: KW's and KWE's company filings and author's estimates)
In the model above, we have tried to illustrate a possible projection of KWE's financials over the next 5-and-a-half years. Incremental equity capital contributions, incremental leverage and net investment income from the previous year, are all assumed to be available for investment at the beginning of each year. Given the size of the European NPL opportunity, we suspect KWE will probably raise a further substantial equity amount in 2015E. KWE expects the loan-to-value ratio will not exceed 50% at the time of borrowing. We have assumed incremental leverage as 50% of the incremental equity capital contributions raised in the same year. This falls well below KWE's limit. After 2015E, we have assumed much more modest capital raising activities. The best investment opportunities may wane and KWE may increasingly struggle to source opportunities that satisfy its target return on capital of 15%.
For the statement of net assets, we have assumed that KW takes on average 12 months to invest incremental capital available each year. This is consistent with KW's own view as stated in the KWE prospectus and KW's ability to move quickly when an opportunity presents itself. We use the average amount invested in the year less cumulative leverage, assumed to be in place at the beginning of each year, to calculate the average NAV over that year.
In the statement of income, annual return on investment is calculated as a percentage of the average amount invested in the same year. The annual return is assumed to be high in the early years tapering off to 10% by 2019E. This is roughly in line with the return profile of two other funds run by KW, whose accounts were disclosed in its annual filings from 2008 to 2011. KW is paid a management fee on a quarterly basis that equates to an annual fee of about 1.0% of NAV. There is also a performance fee that is calculated annually as 20% of the excess of the return for that accounting period over a 10% annual return hurdle, as long as it also clears the same hurdle rate over the high water mark. As a proxy, we have assumed that KW's performance fee is equal to 20% of the annual return on investment that exceeds 10%. By 2019E, the performance fee drops to zero due to assumed returns only matching the hurdle rate.
We have assumed other expenses covering acquisition, property management, disposition, legal, accounting and other corporate expenses, comprise 0.5% of the average NAV annually. Interest expense is assumed to be 5.1% annually, in line with KW's share of the weighted average interest rate of the debt in its investments. KWE is regarded as resident for tax purposes in Jersey and is subject to income tax in Jersey at a current rate of zero per cent.

(Sources: KW's and KWE's company filings and author's estimates)
The impact of KW's net fees from KWE is shown in the table above. The management fee is paid 50% in cash and 50% in shares. The performance fee is paid 100% in shares. This underlines KW's belief in its own investment abilities preferring shares to cash. Further, it aligns the investment manager's priorities with that of KWE's shareholders. We have assumed operating expenses to be 50% of the management fee, essentially consuming the entire cash portion of the fee.

(Sources: Bloomberg, company filings and author's estimates)
As KW's fees, net of operating expenses, are all paid in shares, we have included the compounding effect of holding shares vs. cash in the free cash flow used in the DCF analysis above. For example, the USD13 million net fee paid in 2014E is assumed to compound in line with KWE's net annual return each year over the life of the model. The incremental gain is recognised in each subsequent year. The process is repeated for each net fee payment each year. This compounding effect is quite significant. By 2019E, it increases the effective net fee from USD25 million to USD39 million. The discount rate of 9% is in line with the rate used by KW to estimate its own Level 3 fair values and a terminal growth rate of 5.5% is used to try and better reflect the compounding effect of taking fee payments in shares vs. cash. The net effect of these assumptions produces an estimated value of USD936 million or USD9.10 per KW share.
KWE may present an attractive stand-alone prospect. However, we feel KW presents the superior investment opportunity for the simple reason that KWE currently trades in line with its NAV whilst KW does not.
KW's sum-of-the-parts ("SOTPs") valuation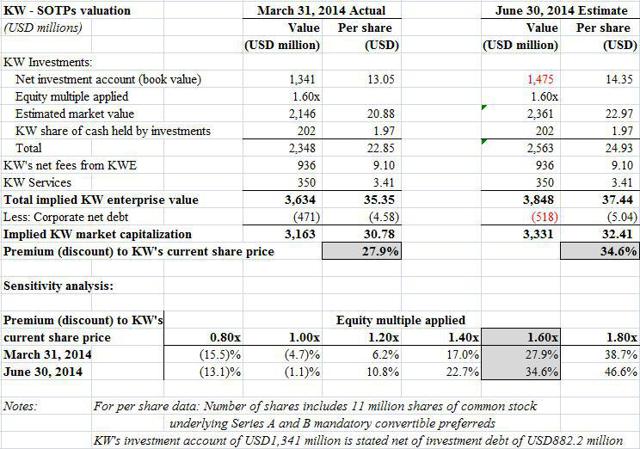 (Sources: Bloomberg, company filings and author's estimates)
Based on KW's March 31, 2014 financial data, we estimate KW's SOTPs share price to be around USD30.78. This represents a 27.9% premium over KW's recent share price. KW's net investments are valued at a 1.60x equity multiple. This is in line with the average historical premium KW's investments have commanded on sale compared with their book value. Including KW's share of cash held by its investments of USD202 million, this values KW Investments at USD2,348 million or USD22.85 per share. This is nearly equal to KW's current share price and it is by far KW's most valuable asset.
As calculated before, KW's net fees from KWE are estimated to contribute a further USD936 million. The value of KW's 13% stake in KWE is included as part of KW Investments. KW Services is valued at USD350 million, based on a historic adjusted EBITDA multiple of 12.80x in line with peer comparables such as FirstService Corp (FSRV), CBRE Group (CBG) and Marcus & Millichap Inc (NYSE:MMI). We believe the value of KW Services' key role in sourcing proprietary deals for KW is captured in KW Investments' valuation.
Given how quickly KW is growing its investment account, we anticipate at least a further 10% increase during the second quarter to June 30, 2014. Its second-quarter results are due to be released on August 6, 2014. The impact of this increase is illustrated in the column titled "June 30, 2014 Estimate". The only changes from the column titled "March 31, 2014 Actual" are highlighted in red. The net investment account and corporate net debt balances are assumed to have grown by 10% in the second quarter to June 30, 2014. The impact on the SOTPs is material, increasing KW's market capitalization by nearly USD170 million. This implies a share price over USD32.00, a nearly 35% premium over current share prices.
As the equity multiple is the key value driver, we have focused on this in the sensitivity analysis using a multiple range from 0.80x to 1.80x. On the downside, we think the risk is limited. Even if we assume that KW Investments' book value is equal to its market value, the downside is only 4.7%. Applying a 0.8x equity multiple implies a 15.5% loss. The market seems to be valuing KW's net investments at around 1.10x book value. This would imply net investments are trading at 30% discount to market value. However, if KW's historic equity multiple of 1.60x and above is a good indication of the current market value, then there is easily 25% plus potential upside.
Risks
Like all companies, KW faces a number of risks:
Interest rate risk: KW has low leverage and low interest rate exposure in our view. Its corporate debt of USD745 million represents less than half KW's investment account stated at a book value of USD1.5 billion (including cash). KW has exposure to fixed and floating rate debt through its consolidated properties and joint venture investments. Half of this exposure is fixed rate debt and a further 30% is floating with interest rate caps. The balance of only 20% is floating without interest rate caps. KW's share of the weighted average interest rate is about 5.1% and weighted average maturity is 6.3 years.
Liquidity: KW is very dependent on the capital markets remaining open and management has not hesitated to raise new equity financing to drive growth. However, as mentioned before, when the financial markets were essentially closed in 2009, KW's CEO McMorrow and his team still managed to raise USD1.3 billion of new capital. With an enhanced reputation since then, accessing liquidity during the next crisis should be possible.
Europe: there are a number of lingering risks in Europe. The risk of deflation is a major concern, but the ECB seems to be very alert to this. Ukraine highlights how quickly tensions with Russia can flare up. However, both Russia and the EU are acutely aware how damaging further escalation would be to both sides. Finally the EU crisis is far from over. However, the ECB's aggressive actions have brought sovereign rates in the riskier countries down considerably. The market has shown little appetite to test Mario Draghi's willingness to put word into action.
The market never recognizes KW's net investments inherit discount to fair value: Just because KWE may highlight KW's investing prowess and its shares may trade around NAV does not automatically translate into KW's shares doing the same. The current discount may persist. We see this mainly as a delayed effect. As KW continues to create value over a longer-time horizon, even book value should rise sufficiently to keep pushing up its share price.
Overall, we think a major crisis, whether in the US or elsewhere in the world, will play to KW's strengths. This is also one of the main reasons we think this trade is very asymmetric. KW thrives in distressed markets. Even if its share price is punished in line with the broader market, knowing how KW works, it would only present an opportunity to pick up more shares at an even greater discount to market value.
Conclusion
At the co-investor level, KW has no shortage of interest. Sophisticated investors, like KWE's cornerstone investors, have experienced first-hand how value generative KW's investment strategy is. This provides us with further comfort that the valuation issue has more to do with complexity rather than sub-par assets. We believe KWE will be the catalyst that enables the valuation gap to narrow considerably at KW's level. KWE was the second-largest real estate IPO in the history of the London Stock Exchange and it is backed by 12 reputable cornerstone investors. If KWE is successful, and its share price continues to trade in line with its NAV, then investors are going to take a closer look at its investment manager, KW. If KW's investments trade at a 1.60x equity multiple this implies a 28% premium to KW's recent share price. We believe this is a medium-term opportunity. It is going take some years for KWE to establish a track-record. In the meantime, we think the downside is limited. If the market remains robust, KW will continue its rapid expansion. If there is a crisis, then this plays to KW's strengths.
Disclaimer: Opinions expressed herein by the author are not an investment recommendation and are not meant to be relied upon in investment decisions. The author is not acting in an investment advisor capacity. This is not an investment research report. The author's opinions expressed herein address only select aspects of potential investment in securities of the companies mentioned and cannot be a substitute for comprehensive investment analysis. Any analysis presented herein is illustrative in nature, limited in scope, based on an incomplete set of information, and has limitations to its accuracy. The author recommends that potential and existing investors conduct thorough investment research of their own, including detailed review of the companies' SEC filings, and consult a qualified investment advisor. The information upon which this material is based was obtained from sources believed to be reliable, but has not been independently verified. Therefore, the author cannot guarantee its accuracy. Any opinions or estimates constitute the author's best judgment as of the date of publication, and are subject to change without notice.
Disclosure: The author has no positions in any stocks mentioned, but may initiate a long position in KW over the next 72 hours. The author wrote this article themselves, and it expresses their own opinions. The author is not receiving compensation for it (other than from Seeking Alpha). The author has no business relationship with any company whose stock is mentioned in this article.