There are many positives moving forward for Amarin (NASDAQ:AMRN) as 2010 comes to a close. December will be extremely significant for this small biotech company, as top-line results from its Phase III MARINE study are expected.

Amarin recently had an investor update regarding two key clinical trials that will both have updates regarding their Phase III status. The MARINE and the ANCHOR study will be providing Phase III study guidance -- a great surprise for investors.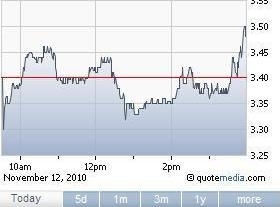 Both studies are being conducted under a Special Protocol Assessment (SPA), and were started at the beginning of the year to examine the efficacy of AMR101 in reducing elevated triglyceride levels in two patient populations. On August 10, 2010, the company announced that randomization to dosing had been completed in the MARINE trial.
The surprise for investors came when Amarin announced that it expected to report top-line results from the MARINE trial before year's end; previously it had expected to report the results in 2011. The surprise with ANCHOR is that randomization of 650 patients in the study will be completed before the end of 2010 -- also ahead of schedule. This means that top-line results from ANCHOR will arrive in mid-2011.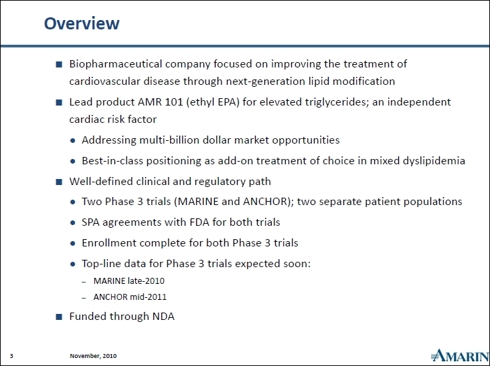 With two pivotal studies ahead of schedule, investors are definitely showing a renewed interest in the company, as evidenced last week by an uptick in bullish options sentiment. Last Wednesday it was reported that there was open call interest of 241 contracts vs. 39 open put contracts (put/call ratio of 0.16). Amarin was ranked #2 out of 25 companies listed.

Recent senior management changes indicate that the company could be positioning itself to be acquired. Joseph S. Zakrzewski recently added CEO to his title of Chairman of the Board; he was COO at Reliant Pharmaceuticals when Lovaza was being developed. AMR101 may prove to be a formidable competitor for Lovaza in the triglyceride space.
The game-changing opportunity for Amarin lies in the fact that Glaxosmithkline (NYSE:GSK)'s Lovaza is only indicated for patients with triglyceride levels greater than 500 mg/dl, while AMR101 is being targeted for patients with triglyceride levels from 200 to 2000mg/dl. It is important to note that Lovaza sales have been increasing for GSK -- it recently surpassed $1 billion in global sales -- so the market potential for Amarin is obvious.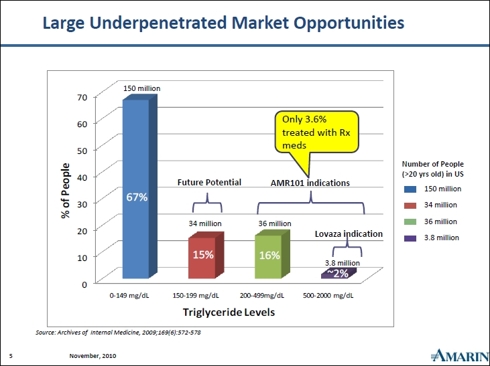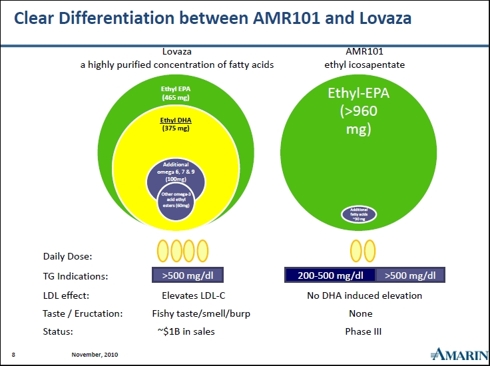 The 52-week high for AMRN is $3.52; it looks poised to exceed that within the coming weeks. Coverage was initiated by Wedbush in July 2010 with a $5 target price. That target was issued prior to the recent guidance from Amarin on its Phase III clinical studies. On November 11, Canaccord Adams initiated coverage with a $7 target price following Amarin's investor call. Canaccord Adams is the same firm that had a buy and a $6 target on Avanir Pharmaceuticals (NASDAQ:AVNR) and then reiterated its buy and increased its target (to $9) two days before the company was approved for Nuedexta. I believe that, as interest continues to grow among investors, the company will see more analyst coverage.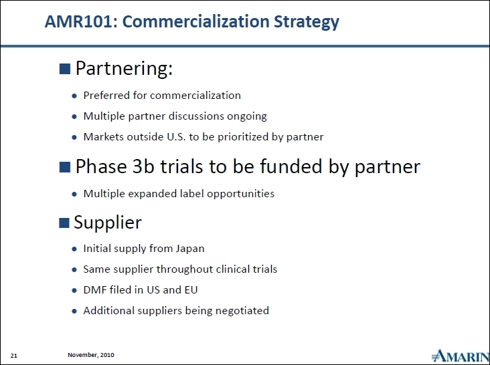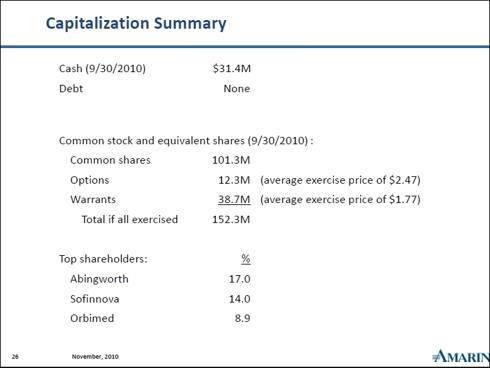 Amarin has stated that it has enough cash to get through the filing of the NDA pending positive clinical trial results. The company has 101.2 million shares outstanding and a little under 50 million in the float. The company has no debt and over $31 million in cash as of Sept. 30. Amarin is proving to be one of the most exciting companies moving into 2011.


Disclosure: Long AMRN but position can change at any time.