Shares of B/E Aerospace (BEAV) has now retraced nearly all gains that were made following news in early May that the company was exploring a potential sale. BEAV shares hit an all time high of just over $101 per share on May 8, 2014. However, since then a sale of the company has yet to occur and BEAV has announced plans to split into two companies.
BE Aerospace Reports Strong Results
BEAV recently announced second-quarter results with the following highlights:
Revenue increase of 28.1% to $1.09 billion compared to the same period a year ago.
EPS increase of 27% to $1.13 compared to the same period a year ago.
Consumables management segment revenue growth of 35%.
Commercial aircraft segment revenue growth of 25.5%.
Business jet segment revenue growth 14.4%
Clearly, BEAV is doing quite well as a business. The company continues to report strong growth and appears to be capitalizing on the strong aerospace cycle. While these results were strong, shares did not move higher because the company confirmed plans to split into two which means that a sale of the entire company is becoming increasingly unlikely. However, given the fact that shares are now trading close to levels that were seen prior to the company announcing its strategic review in early May, I believe strong results should start to matter again and will help send shares higher over time.
Upcoming Company Split
BEAV has said that it expects to file a form 10 registration statement with the SEC in September 2014. BEAV expects to be able to distribute shares of the newly formed Services Co to BEAV shareholders by the end of the first quarter 2015. While a split of the company may not have been the result that some investors were hoping for, I believe the move is a good one and shareholders will be rewarded over time. One reason why I believe the move might lead to the creation of significant value over time is the fact that there may be buyers for either the Service Co or the Manufacturing Co that were not interested in buying all of BEAV. Over recent history a number of company splits have led to major shareholder gains over time. A few examples include the break ups of Altria, Tyco, Conoco Phillips, Timken, and Motorola. While these transactions were all different, shareholders benefited in all of these transactions. One of the main reasons for this is that each business is simplified and easier to manage. I believe BEAV will also see operational improvements from a split of its businesses.
Valuation
As shown by the chart below, based on a TTM PE ratio, BEAV is trading towards the upper end of its historic valuation range but not at a historically high valuation. Based on the upcoming split of the company, and positive outlook for both businesses, I believe BEAV could trade for at least 25 times earnings.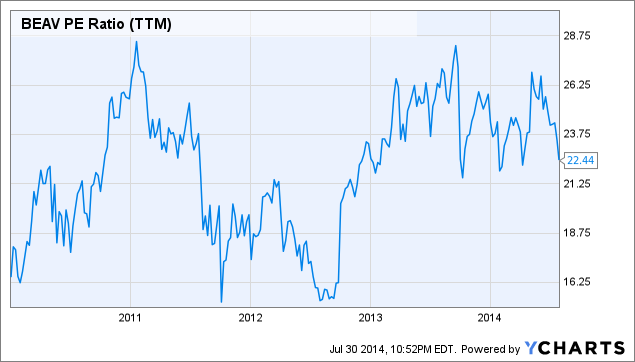 BEAV PE Ratio (TTM) data by YCharts
Conclusion
I believe BEAV's plan to split into two companies is a good move for shareholders. Of course, over the short-term this plan will not be as favorable as a sale of the entire company. The decline from $101 per share to $86 makes sense. However, since BEAV shares are no longer discounting a possible sale of the company I believe the time is right to buy BEAV. In addition to the strong track record of corporate splits, I am also bullish on BEAV due to recent options activity and the involvement of activist investor Relational Investors. Investors should consider buying the dip in BEAV.
Disclosure: The author has no positions in any stocks mentioned, and no plans to initiate any positions within the next 72 hours. The author wrote this article themselves, and it expresses their own opinions. The author is not receiving compensation for it (other than from Seeking Alpha). The author has no business relationship with any company whose stock is mentioned in this article.