By Julian Murdoch
Crude oil has headed higher lately — or, at least it was, before rumors arose that China might increase interest rates, which would stamp out energy demand from the world's largest oil consumer. Now oil's only up 9 percent since the beginning of the year.
Of course, just taking a year-to-date view glosses over the wild swings the commodity has experienced over the past 11 months: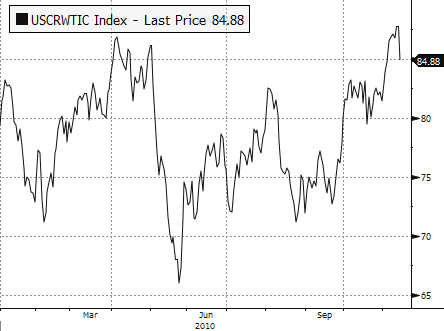 From lows of almost $65 to highs just over $87, crude has been nothing if not volatile, making it tough to figure out which way it will go next.
But how does the performance of crude compare to other energy commodities, such as natural gas, uranium and coal?
Natural Gas
Of the three energy commodities listed above, natural gas turns in the most striking performance—although not necessarily in a good way.
Spot prices at Henry Hub are currently down 64 percent year-to-date. And that's much better than what I would have had to report if I'd written this article a couple of weeks ago: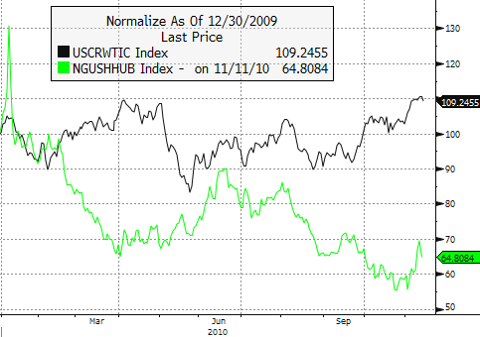 (Click to enlarge)
Natural gas prices had begun to move upward as forecasts of lower-than-normal winter temperatures for the Northeast suggested increased heating demand. But, the end of last week showed that those gains were merely temporary.
The problem? The US is very well supplied with natural gas. Natural gas inventory levels have consistently grown for months now, and last week was no exception; supply is now around 10 percent over the five-year average - a new record.
The only positive for natural gas investors is that the contango curve has flattened out compared with where we were six months ago: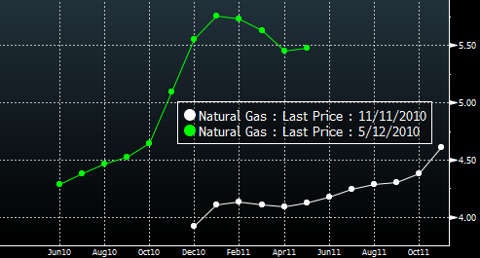 (Click to enlarge)
The front-month roll may remain fairly steep, but the later contracts flirt with slight backwardation before they change back to contango — a radical change from six months ago. Meaning that all in all, the market seems to expect natural gas prices to continue to remain fairly steady throughout winter.
Uranium

Uranium certainly has gotten its fair share of positive press lately — especially after Global X's new uranium ETF, URA, debuted earlier this month. And for good reason: If you could have bought uranium at the beginning of the year and held it, you would be seeing returns near 30 percent (substantially better than crude's measly 9 percent bump):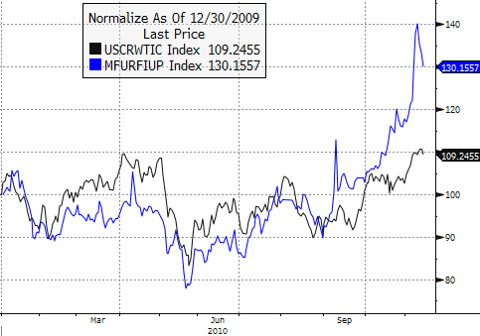 (Click to enlarge)
China, once again, can be credited with at least some of the fuel (sorry) stoking uranium prices.
In an effort to decrease its reliance on carbon-producing coal plants, China has increased its 2010 targets for nuclear power from 70 GW to 112 GW — a leap that has far outpaced analysts' estimates, and one that will most likely continue to support uranium prices, as well as the stock prices of the companies that produce it. After all, according to the World Nuclear Association, China currently has 12 operating nuclear power stations, with 24 others under construction, not to mention others being planned or proposed — all that is going to take a heck of a lot of yellowcake.
That said, however, the chances we'll see uranium prices near $130/lb, like back in 2007, are unlikely. Lately uranium prices have hovered around the $58 per pound level, and are expected to remain in the $46 to $65 range for the rest of 2010.
What's more, in 2011, that price band is expected to drop a bit, to $44 to $55/lb, as the increase in uranium production translates to larger supplies of the stuff. So for now, at least, we may have missed the boat on uranium's rise.
Coal

Slightly beating out uranium's price rise is the environmentalists' worst nightmare: coal.
The price of coal, which powers so much of the world's electricity production, has seen an increase of 31 percent year-to-date: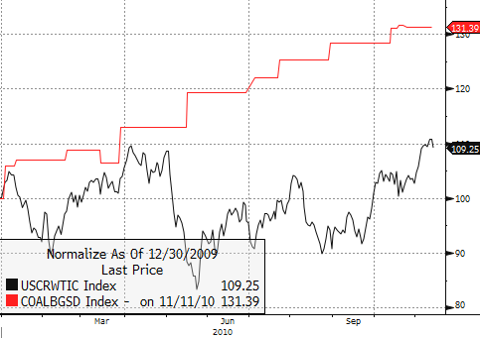 (Click to enlarge)
Unlike crude or the other commodities we looked at, coal has had very little downside so far this year. Other than a brief dip in the spring, prices have steadily climbed. Even during times of lower oil prices, the price of coal continued to climb, which implies that consumers were steady in their demand for coal — and, by extension, their demand for electricity.
In The End

For investors, what this analysis boils down to is that while all energy commodities may seem alike, that assumption doesn't hold true in reality. Even natural gas and oil, which both spring from the same dead dinosaurs, haven't moved in lock step this year. Not only is oil up 9 percent while natural gas is down 64 percent for the year, their daily correlation is just 0.03, meaning they aren't statistically related at all.
On the other hand, uranium and coal have both managed to outperform crude oil year-to-date. Physical access exists in the form of NYMEX futures for both, as well as ICE futures for coal, but investors can also use ETFs to get exposure to companies mining the materials too.
These include the Market Vectors Coal ETF (NYSEARCA:KOL) and PowerShares Global Coal Portfolio ETF (NASDAQ:PKOL) for coal, and the Global X Uranium ETF (NYSEARCA:URA), Market Vectors Nuclear Energy ETF (NYSEARCA:NLR) and iShares S&P Global Nuclear Index Fund ETF (NASDAQ:NUCL) for nuclear energy and uranium.
Disclosure: No positions