How things can change. And how quickly they can change: Let us remember, not too long ago investors, mostly Bears, speculated as to how long it will take for BlackBerry (NASDAQ:BBRY) to disappear and finally go under. We all know the song so well, because it has been played for many years.
Just four months ago, in March 2014, Chen went on record suggesting turnaround odds for BlackBerry of 50:50. Now what does that mean? The pessimist certainly would interpret it to mean failure whereas an optimist would suggest that the company has materially improved its odds compared to just a few months ago. I certainly was (and still am) of the opinion, that BlackBerry has a more than solid chance of a turnaround as evidenced by encouraging news flow over the last couple of months, including the Z3 launch in Asia and new product developments aka 'the Passport'.
Chen ultimately upgraded BlackBerry's turnaround odds to 80:20, which I used as an example of Chen underpromising restructuring success. I also, quite provocatively argued at the time, that Chen doesn't want to make the all too common mistake CEOs make who restructure businesses: Overpromising.
CEOs can do significant damage to a company's stock price by overpromising if the success doesn't reveal itself as promised. Trust and confidence are fragile things, especially for companies in a restructuring context. Add to that, investors' propensity to generally overreact to both positive and negative news, and high volatility can turn them into serious doubters quickly.
Reality check
BlackBerry is no longer on the brink of failure. With a solid cash and investment position of $3.1 billion at the end of the first quarter, there is a substantial margin of safety present in BlackBerry's stock.
In addition, BlackBerry recently reported that it acquired Secusmart GmbH, a German information technology company specializing in security and data encryption. The accompanying press release stated:
Waterloo, ON - BlackBerry Limited (NASDAQ: BBRY; TSX: BB), a world leader in mobile communications, has entered into an agreement to acquire Secusmart GmbH, a leader in high-security voice and data encryption and anti-eavesdropping solutions for government organizations, enterprises and telecommunications service providers in Germany and internationally.

BlackBerry and Secusmart have previously partnered to offer Secusmart's innovative technology to customers that have the most demanding security needs. In fact, last year, the SecuSUITE for BlackBerry® 10 solution was selected by Germany's Federal Office for Information Security for classified communications for the country's highest public officials. Through this collaboration, the two companies have provided Secusmart-equipped BlackBerry smartphones to a significant number of German government agencies and almost all German government ministries and leaders, including Chancellor Angela Merkel.
John Chen also commented on the strategic fit of the acquisition and its benefits for BlackBerry.
We are always improving our security solutions to keep up with the growing complexity of enterprise mobility, with devices being used for more critical tasks and to store more critical information, and security attacks becoming more sophisticated. The acquisition of Secusmart underscores our focus on addressing growing security costs and threats ranging from individual privacy to national security. This acquisition bolsters our security solutions with leading voice and data encryption and anti-eavesdropping technologies, and furthers BlackBerry's security leadership in end-to-end mobile solutions.
One has not to be a specialist in information technology to see that the acquisition makes a hell of a lot of sense from a strategic point of view for BlackBerry, which still is a leader in mobile security and data encryption. The acquisition should also help BlackBerry to sharpen its market position as a security and encryption provider for the government sector.
But taking a step back and recognizing that BlackBerry has moved on from being a 'bankruptcy candidate' to actively buying companies with complementary service offerings is certainly the real story here and highlighting that BlackBerry's push for growth should not be underestimated.
Chart situation
BlackBerry shares are accustomed to volatility. And I don't think many investors are really surprised by it. Companies in restructurings or reorganizations often exhibit a high level of volatility depending on the progress of the restructuring, the news flow and sometimes depending on reasons nobody can really explain.
And BlackBerry certainly is no different: Shares have shot up to over $10 recently and dropped once again to the $9.65 range. Long-term oriented investors who don't lose their cool when the shares or the markets are volatile, could consider BlackBerry stock on any sign of trading weakness.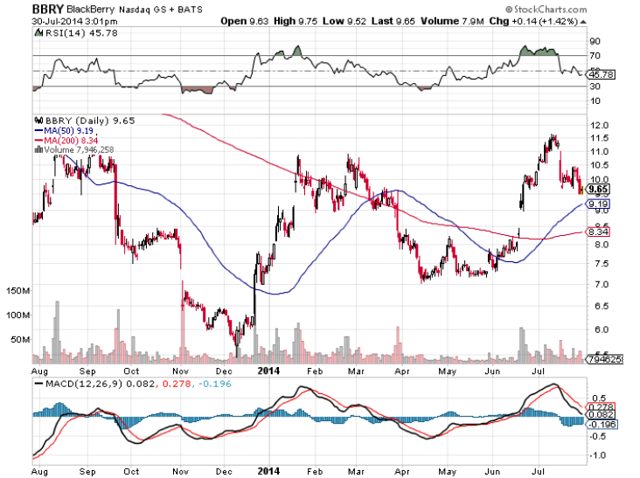 (Source: StockCharts.com)
Conclusion
I clearly like the way Chen is pushing BlackBerry forward. Just a few months back BlackBerry was considered to be a dismal failure with skyrocketing short interest. Fast forward a couple of months and we are talking acquisitions in its core business.
Besides the apparent strategic fit between BlackBerry and the acquisition target, it is clearly encouraging to see BlackBerry playing 'offensive'. It is the right approach, though, to push the company forward. Strong BUY.
Disclosure: The author is long BBRY. The author wrote this article themselves, and it expresses their own opinions. The author is not receiving compensation for it (other than from Seeking Alpha). The author has no business relationship with any company whose stock is mentioned in this article.