"The trend is your friend."
This is a basic and memorable aphorism so simplistic as to, perhaps, be useless. It is especially useless when the trend being referred to is not very carefully defined. My belief is that all things that move, including stock prices, move in some kind of wave (or vibration) going through time.
Sometimes the waves are obvious, and sometimes not. But they are always there.
So this means that a wave, such as the end of July's down wave, is a weekly downtrend. Until events confirm otherwise, it may or may not have anything to do with price trends on a monthly, quarterly or annual scale. Only the actual movement of the market confirms these trends.
Lucky or Smart?
Frankly, I'd rather be lucky than smart. I may be neither. An article I wrote last week, "The Day I Sold Everything" attracted 695 comments that ranged from "You are being foolish" to "Atta Boy, me too."
Honestly, a three day move doesn't make a trend, and it by no means makes me "right." Just the slightest touch of gloating or hubris on my part, and you know the market will rocket off and eat my views for lunch, since I am neither lucky nor smart.
Even if right, I'd take no pleasure in my friends and associates in life or on SA, taking losses. Honestly, I just feel more puzzled by the inscrutable Ms. Market than anything else.
What causes a trend to change in direction is the great mystery.
Among those who try to put reason to the market's action there are many opinions, general and specific, for why prices do what they do. Overbought and oversold are two descriptors that come immediately to mind. When buyers overwhelm sellers, or visa versa, there can be a trend change. A trend can change simply because all the potential buyers have bought and without a single change in fundamentals prices change simply because there is no one with cash to allocate.
I like to watch how the market or individual companies react to news. For example, if there is bullish news and the market is flat or down, I take that as very bearish.
This week we've had unemployment figures released, GDP released, a FedRes moment to digest as well as the Argentina default. So there are plenty of fundamentals to consider. Frankly, I didn't see all of these as bearish, in fact I thought the first three were kinda ok. GDP was plus 4%, unemployment went down (I think that's what the White House said.) and the Fed was the Fed. Argentina is far away. The Ukraine was quiet-ish. The middle east remained a perfect example of the middle eat. So I don't see a bear case in the news.
But what I think is irrelevant to the market.
Near Term Pictures of Prices
As we look at the close here on Thursday our friends at BigCharts.com have the following information to share: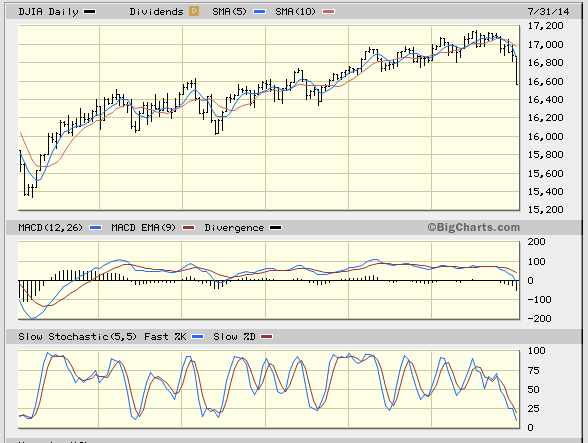 Down 317 sounds extreme - and its certainly not a super day for stocks - but in world where the Dow lives about 17,000 that is only a change of about 1.8%.
Those with the buy and hold-forever viewpoint shouldn't even have spilled drop of coffee from their bone china cups this week. Aggressive traders may have slopped a little Pike's Roast onto the floor of Starbucks, and short-sellers, after six months of getting their butts kicked, probably threw the double espressos in the air.
Rhetorically speaking, "How is it?"
How is it this company goes from darling to dog so fast?
The action of the recent few days clearly is a tough patch for Colgate-Palmolive (NYSE:CL), one of the companies I really like due to their $.36 quarterly dividend. DividendInvestor.com shows a positive story and gives five star rating.
So here we have a large, high-value company that has decisively broken down through its six month uptrend by dropping from a recent high of $70 to today's close around $63.575.
There is a certain temptation to re-establish a position in CL because a 10% discount over recent prices sounds attractive, but one also must ask if this chart from BigCharts.com is a display of the classic falling knife?" The following is a one month snap shot.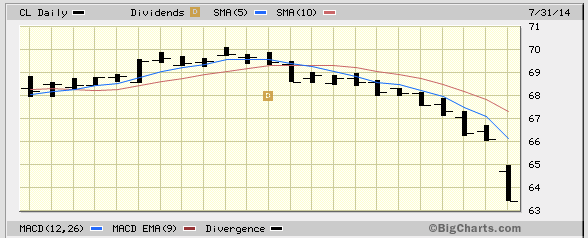 (Read what the Motley Fools say about falling knives HERE.)
I believe this is a trend change in the six month to one year time frame that threatens the multi-year trend. But I could be wrong and things may rebound to "normalcy" tomorrow. But that's not the way I will bet.
My hope is that the chart will clearly signal - at some point - an end to the decline, at some point, show some congestion as the remaining strong hands gather their wits, and a bottom is formed. This is the point at which I'd really like to own CL again.
Mr. Toad's Wild Ride with a Coke
On the Wild Ride the overall range isn't nearly as remarkable as the whipsaw of conflicting opinions back to back!
As an aside, I think when we look at these jerky and spiky, wild up and down days, that frustrate fundamental numerals experts and cause TA jockeys to throw things, this kind of price action is due to the computer driven and institutionally driven side of the market, the quants and their friends.
The staid Coca-Cola company (NYSE:KO) has certain seen in the three month chart below, what I consider a wild ride recently. For me, this undecided turbulence hinted at weakness not strength. But then in a market this fickle things could hastily reverse.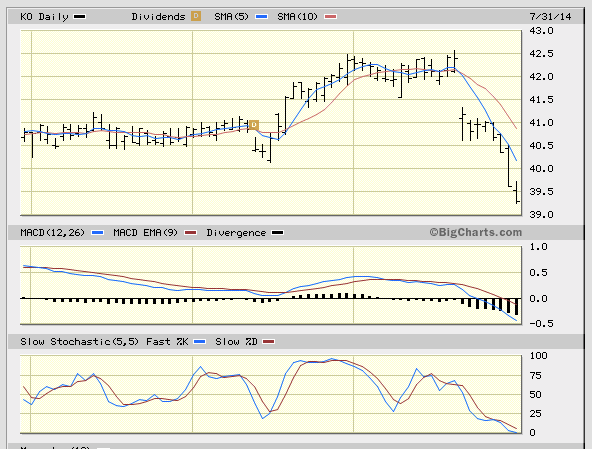 In Contrast, Still in an Uptrend - for Today
At the other end of the spectrum, among the many "stocks I like" is our friend, Apple (NASDAQ:AAPL). As of today, July 31, still hanging on!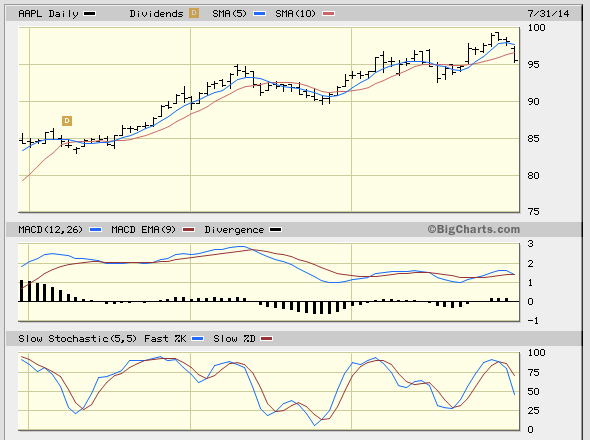 Yes, its under pressure on the three month uptrend, but its holding on.
Even with Thursday's sharp 2.5% pullback, the stock remains above the trend line even when the split makes the longer chart less clear.
Tomorrow could change that, a bounce could move the price comfortably higher or more fear could break the three month line established post-split.
Looking at either of these companies, or at the market as a whole, I find no reasonable case for a radical enough change in fundamentals to warrant the price action we see.
Except for the Sovereign default, events of the week are not entirely bearish. The market is choosing bearishness for its own reasons.
Therefore I submit this is a technical correction, subject more to hope and fear than any clear sell signals from the numbers side.
What actions are to be taken?
I plan to sit and watch. I don't consider the market to have confirmed a downtrend nor preserved the uptrend. The next couple days may resolve that, or not.
My strategy, being where I am with an almost exclusively cash position across multiple portfolios, is to very carefully watch for signs that this hiccup is not going to turn into a major trend reversal. In other words, will these be a minor or middling correction, or the precursor to a bear market. Obviously no one knows for sure, but watching all the possible indicators, I hope to find the right time to re-establish positions in the quality, large cap, dividend payers I like so well.
Does this article have any value?
Maybe. Maybe not.
My goal is never to promote or undercut a security, not to argue for my way of thinking. The goal in my mind is to challenge everyone to think through their own actions and become more confident in their decisions, in some tiny way.
Additionally, I hope that it helps everyone understand how their plan and strategy will look as the events unfold over the next few days, win, lose or draw. For the skittish among us, and I guess that now includes me, our defensive actions seem prudent. For the buy and hold types, now is when they start to say, "This is what I was steeling myself for." For the Dividend Reinvestment Investor, this is when we hope the "drip till you drop" strategy pays off.
Regardless of what unfolds, however, I hope all will come through events healthy, wealthy and wise.
Disclosure: The author is long SO, T, BP. The author wrote this article themselves, and it expresses their own opinions. The author is not receiving compensation for it (other than from Seeking Alpha). The author has no business relationship with any company whose stock is mentioned in this article.
Additional disclosure: The author may establish a position in KO, CL, or AAPL depending on market action.