It appears as if today is going to be another down day as investors will probably be more interested in not carrying added exposure into the weekend as opposed to adding to their portfolios some of these stocks which have corrected handsomely. It has been a pretty disappointing week with equities moving smartly lower even as earnings have been strong. This price action in equities, coupled with that of other asset classes, has some thinking that this is the correction that many have been waiting for. Time will tell whether this is the one, but the argument and data are compelling right now. If the general market does not hit that down 10% threshold, it would behoove investors to focus on those sectors and industries which have corrected as that has been a winning formula over the last year.
Chart of the Day:
The volatility index for the S&P 500 is rising again as investors rush to the sidelines. The chart below shows just how swift this move has been. A few of the people we know who were buying the volatility index near the lows via the iPath S&P 500 VIX ST Futures ETN (NYSEARCA:VXX) took profits yesterday during the most recent big move higher. That could be an indication of a top nearing in the VIX which would correlate to a bottom for the overall market.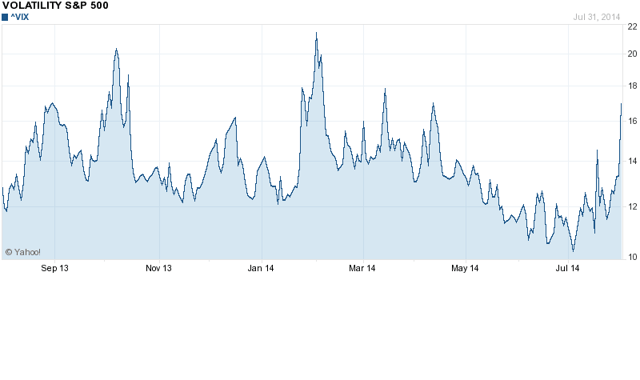 Source: Yahoo Finance
We have economic news today, and it is as follows:
Nonfarm Payrolls (8:30 a.m. EST): Est: 220k
Nonfarm Private Payrolls (8:30 a.m. EST): Est: 225k
Unemployment Rate (8:30 a.m. EST): Est: 6.1%
Hourly Earnings (8:30 a.m. EST): Est: 0.2%
Average Workweek (8:30 a.m. EST): Est: 34.5
Personal Income (8:30 a.m. EST): Est: 0.4%
Personal Spending (8:30 a.m. EST): Est: 0.4%
PCE Prices - Core (8:30 a.m. EST): Est: 0.2%
Michigan Sentiment - Final (9:55 a.m. EST): Est: 82.0
ISM Index (10:00 a.m. EST): Est: 55.9
Construction Spending (10:00 a.m. EST): Est: 0.3%
Auto Sales (2:00 p.m. EST): Est: N/A
Truck Sales (2:00 p.m. EST): Est: N/A
The Asian markets are lower today:
All Ordinaries -- down 1.36%
Shanghai Composite -- down 0.74%
Nikkei 225 -- down 0.63%
NZSE 50 -- down 1.12%
Seoul Composite -- down 0.15%
In Europe, the markets are lower this morning:
CAC 40 -- down 0.99%
DAX -- down 1.78%
FTSE 100 -- down 1.27%
OSE -- down 0.95%
Falling Flat
GoPro (NASDAQ:GPRO) shareholders were optimistic heading into the close yesterday as they pushed the stock higher by 3.57% on the session. Those gains were quickly given up during the after hours session as the market reacted to the company's EPS beat but lackluster revenue growth. GoPro shares were priced for perfection and although the quarter was decent, the EPS figure was not a big enough beat and although revenue growth year-over-year was a respectable 38.1%, the 3.8% growth rate from the prior quarter left investors wishing for more.
This chart shows just how high expectations were for GoPro's earnings yesterday. While they were not bad, they did not hit it out of the park which is why shares will open around the $43/share level.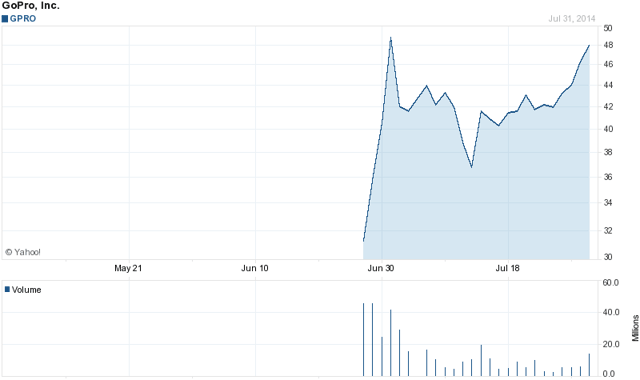 Source: Yahoo Finance
With expectations so high right now, it is hard to be surprised by the market reacting the way it is to GoPro's news. Investors have seen this take place with a number of IPOs and until expectations come back to Earth the shares will continue to react negatively to quarterly results that are not blowouts.
Belle Of The Ball
It seemed that T-Mobile (NASDAQ:TMUS) was destined to be purchased by Sprint (NYSE:S) in the near future, however a new suitor has emerged in the last 24 hours that could throw a wrench into any plans the two companies may have already made. The new suitor is France's Iliad, which is bidding $15 billion, or $33/share, for 56.6% ownership of T-Mobile.
While the deal would have a higher probability of getting US regulators to approve it, the price is below that which Sprint is rumored to have agreed to pay for T-Mobile months ago. There is the possibility that a bidding war now erupts, but Iliad would seem to be constrained in the amount that it can offer due to its relative size to T-Mobile. Our money would be on a Sprint deal as it makes far more sense to combine with another domestic carrier than an international player, but Iliad and T-Mobile would make for interesting bedfellows with their disruptor personalities.
Ebola Treatment?
We have been discussing the Ebola outbreak that is occurring in Western Africa for some time now, even though the events have played out largely unnoticed by the mass media. This is a virus which has no known cure and only a handful of potential treatments which have yet been proven effective. We started looking around at these treatments the other day and were surprised to find that BioCryst Pharmaceuticals (NASDAQ:BCRX) has a drug which has been effective in nonhuman tests aimed at preventing death in monkeys from the Marburg virus, a close relative to ebola that shares many of the same symptoms.
We have played numerous rises in BioCryst shares related to influenza outbreaks around the world, but the next time we buy a trading position might be for exposure to their drug which could help treat ebola.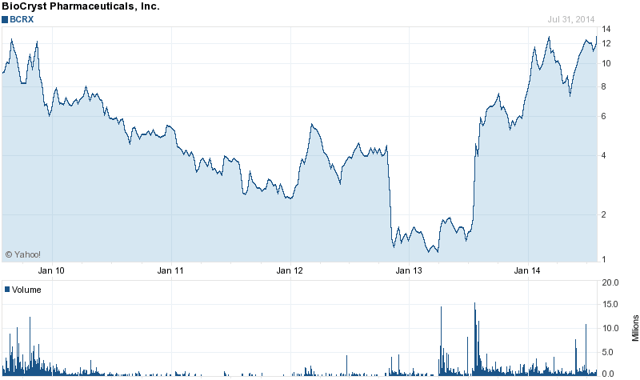 Source: Yahoo Finance
The drug has to be administered to the infected patient (monkey) within the first 24-48 hours in order to deliver the success seen in the tests, which would be difficult with ebola due to the incubation period. This is not a cure but it does put BioCryst on the radar of investors looking for exposure to potential treatments, and the company does have experience of selling vaccines that have not been approved to treat deadly viruses when there are outbreaks around the world.
Mixed News At P&G
Shares of Proctor & Gamble (NYSE:PG) are up this morning after the company reported quarterly results that pleased investors. Under the company's new CEO, it appears that cost cutting efforts are beginning to pay off as the company reported EPS of $0.95 versus the $0.91 consensus estimate. The bottom line number is even more impressive when looking at the revenue figures because the company's revenues were actually down 1% to $20.2 billion. Analysts had expected the company to post revenues of $20.476 billion but the company ran into some headwinds as currency fluctuations played a role in the miss.
For the full year the company still thinks that it will see growth in the single digits as they continue to streamline operations and cut unnecessary costs out of the business model. While that is welcomed news for investors, Proctor & Gamble still needs to jumpstart revenue growth.
Disclosure: The author has no positions in any stocks mentioned, and no plans to initiate any positions within the next 72 hours. The author wrote this article themselves, and it expresses their own opinions. The author is not receiving compensation for it (other than from Seeking Alpha). The author has no business relationship with any company whose stock is mentioned in this article. PG has previously been recommended.