By Joanna Bromley
Big natural resources deals, or at least attempted ones, have continued to make headlines in the past year. We've been following BHP's (BHP) unsuccessful pursuit of Potash (POT), which has raised concerns over foreign control of potash fertilizer and therefore potential food supply. While this deal seems dead, there's more where that came from!
This week, Chevron (CVX) announced that it plans to acquire Atlas Energy (OTC:ATLS) for $3.2 billion ($4.3 billion including debt). The acquisition price is $38.25 on a per share basis in addition to more than 41 units of Atlas Pipeline Holdings (AHD), which are valued at approximately $5.09 per share. So, all in all, that means $43.34 per share, 37% higher than Atlas Energy's closing share price on Monday.
What's left to do? Atlas Energy shareholders must approve the deal. Investor Leon G. Cooperman and his son together own approximately 14% of Atlas shares, and they seem pretty enthused that someone is finally paying attention to Atlas, especially now that it's in the hot spot for natural gas extraction. Cooperman claims he "would have liked more" but given depressed gas prices, he'll ultimately take what he can get.
Really, this is just another page in the natural gas growth story book. Remember when Exxon Mobil (XOM) bought XTO Energy, an expert in natural gas extraction, for $31 billion in December 2009? That was a play on natural gas, and so is Chevron's deal.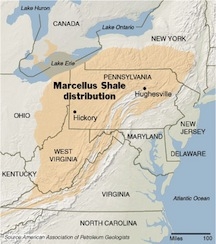 (Click to enlarge)
Only thing is, this strategy is relatively new for Chevron. After all, it's only now deciding to do the deal after its competitors snatched up natural gas fields, particularly land in the Marcellus Shale of the Northeast, where Atlas does its extraction.
CNOOC (CEO) announced recently that it will be working with Chesapeake Energy (CHK) to learn more about shale extraction. Earlier this year, Royal Dutch Shell (RDS.A) bought East Resources for $4.7 billion, which gave it access to 650,000 acres in the Marcellus Shale, the Versailles of natural gas fields.
Given that gas prices have dropped significantly since the XTO deal last year, Chevron may have won the battle in this tortoise-and-hare scenario. It's possible that Chevron is just smarter: gas prices may have reached their bottom at about $4 per million BTUs, 73% off their high in 2005.
Natural Gas Prices, NYMEX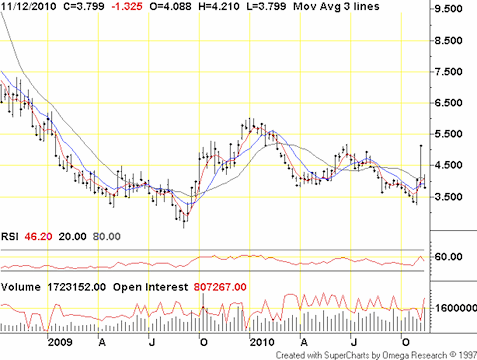 (Click to enlarge)
What's so great about Atlas Energy? Atlas' gas comes from 486,000 acres in the Marcellus Shale, a field that spans from West Virginia to New York. In addition, Chevron will receive a 49% interest in Laurel Mountain Midstream, a joint venture with the Williams Companies (WMB), which will provide Chevron with access to the shale's gas lines.
Chevron will also be able to replace Atlas' place in a joint venture it established in April of this year with Reliance Industries of India: the stake will provide Chevron with a 60% share in 300,000 acres of the Marcellus Shale.
One of the main reasons this natural gas frenzy is so interesting is that extracting natural gas from shale isn't exactly a walk in the park, at least until recent developments made the process easier. Given that offshore drilling might not be a palatable option in the next few years, companies have been searching for more unconventional ways of extracting energy. Often, necessity is the mother of invention!
As more and more natural gas reserves surface, the price of natural gas has plummeted due to greater potential supply. However, many analysts believe that energy prices have bottomed, meaning Chevron lucked out big time and may generate a huge return for shareholders in the coming years. In fact, investors disappointed in Exxon Mobil's natural gas performance since its merger last year may want to put their hat in Chevron's rink, assuming gas prices don't tumble any lower.
Disclosure: No positions