Cimatron (NASDAQ:CIMT) is an Israeli headquartered and NASDAQ listed enterprise, software company. Cimatron's computer aided design 'CAD' and computer aided manufacturing 'CAM' software is sold to designers and manufacturers globally. The company's particular sweet spot is around mold and die making as well as 2.5 to 5 Axis production milling and turning.
The company has a global market share of circa 6 percent in the high end CAM design market when you combine the company's two software products GibbsCAM (5 percent market share) and CimitronE (1 percent).
This software market is estimated to be growing at 8.6 percent according to Technavio with threats to this market including the growth of cheap open source software and the emergence of cloud based CAD/CAM software applications.
The stock has been significantly marked down in the 2014 calendar year like many small tech stocks, however the sell-off may also be related to some of the hot air coming out share prices pumped up the 3D printing phenomenon. Cimatron is now firmly in the buy territory from a few angles.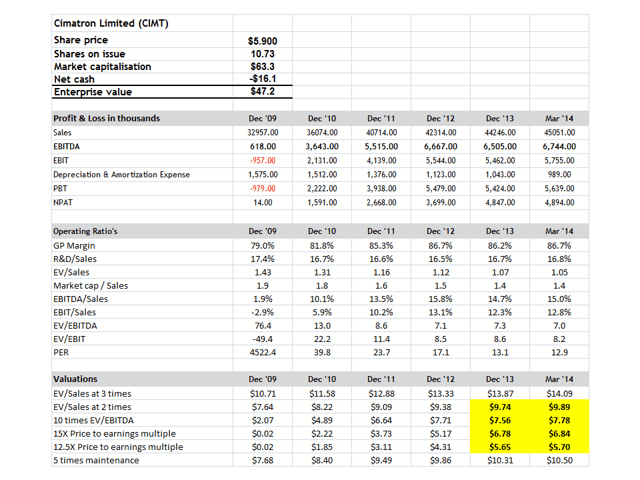 It's hard not to like a software company trading at an historical Enterprise Value ("EV") to Sales metric of just 1.05 times and an EV to EBITDA metric of 7 times. The other metric I like with Cimatron is that around 50 percent of its revenue base is recurring in nature. The company's ratio of EV to recurring revenue is now a miserly 2.1 times. These metrics are all very appealing for enterprise software companies, albeit this is a small one.
There appears to be grounds to believe sales can keep growing moderately and EBITDA margins (currently sit at 15 percent) have the potential to rise towards 20 percent in this relatively mature business.
The major criticism around investing in Cimatron is the lackluster market growth in CAD/CAM software, but for me 8.6 percent industry growth is fine and investors are being more than compensated with the company's current investment metrics. The company must be worth more than 1.05 times sales!
This is exactly the type of company I like to invest into. It's cash generative and well backed by cash with $16 million sitting on its balance sheet. The company owns its intellectual property and has been consistently investing, just-under 17 percent of sales into software development. The company gross profit margins are high at nearly 88 percent, while around 50 percent of revenues are recurring in nature. The company has deep domain knowledge around design software and is still small enough to innovate quickly. These qualities form a great investment thesis and interestingly also provide some downside protection, in the event markets go backwards.
The company has a number of levers it can pull to impress investors and get a share price re-rating in the future. These include acquisitions and capital management with the $16 million cash sitting on the balance sheet. I can also see Cimatron developing new CAD/CAM software modules like its 3D printing initiative, which may grow sales in future years. The operating profit margins can expand organically with 20 percent achievable in my opinion.
It's hard to see much more valuation downside than implied in the current share price, while a $7 to $10 valuation per share appears justified on historical financials. This $7 - $10 can quickly expand if the company executes well on acquisitions and the organic growth strategies. Cimatron must also be vulnerable to being taken-over itself when its trading at 1 times sales.
Disclosure: The author is long CIMT. The author wrote this article themselves, and it expresses their own opinions. The author is not receiving compensation for it. The author has no business relationship with any company whose stock is mentioned in this article.
Editor's Note: This article covers one or more stocks trading at less than $1 per share and/or with less than a $100 million market cap. Please be aware of the risks associated with these stocks.