Google (NASDAQ:GOOG) (NASDAQ:GOOGL) reported a fantastic second quarter and Wall Street reciprocated with shares jumping in the following days. Results surged way beyond last year's second quarter report and the company successfully beat most analysts' revenue expectations. As this jump in value is certainly justified, there are still some concerns that we should not forget including Google's declining cost-per-click, and the Facebook's (NASDAQ:FB) growing share of the mobile advertising market. On the other hand, Google has future prospects that should have investors excited about the company's future. From utilizing YouTube ads to pushing the innovation envelope with Google Glass, the long-term prospects are certainly interesting and if executed correctly, shareholders will be rewarded.
The company's performance this past quarter was impressive on most figures including increased revenue that was up 22%, from $12.67 billion in the second quarter of 2013 to $15.96 billion in 2Q14. Google's Non-GAAP net income came in at $4.18 billion in the second quarter, beating $3.36 billion in the same quarter last year. "Other revenues" jumped significantly this past quarter by an impressive 53% from last year's 1.05 billion to 1.6 billion. This segment includes app download revenue, including a large array of games, which is an area of focus for Google. Figure 1 shows how Google has been able to successfully increase revenue since the first quarter of 2008.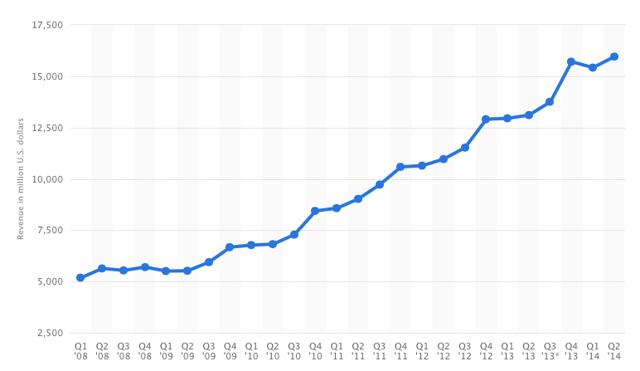 While there were many strong points reported within this earnings report, Google's declining cost-per-click (CPC) for Google's sites were down 7% and average CPC declined 6% since last year. Pricing pressure has increased and will continue to increase due to Facebook's strong mobile ad growth. Figure 2 displays the year-over year change of the average cost-per-click of Google ads.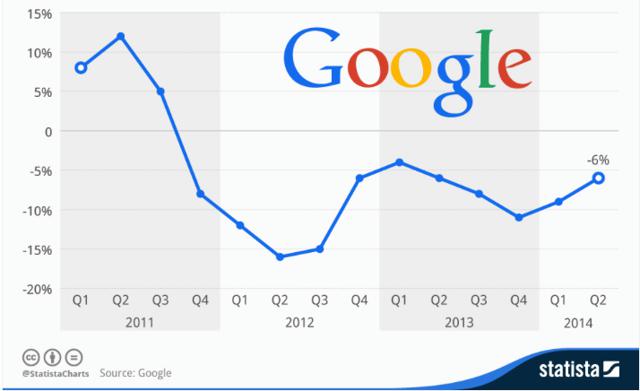 In 2012, Google controlled a 52.6% slice of market share while FB only had 5.4%. This year, it is expected that Google will attain 46.8% of all mobile ad spending, while Facebook is expected to increase its presence in mobile ads to nearly 22%. Currently the I Know First self-learning algorithmic forecast for Google is bearish for the short-term time horizon and bullish for the long-term time horizon time horizon. Shares are expected to fall in the short and mid-term because of a continued weakness in CPC growth as well as pricing pressure from competition for mobile ad pricing but shares are expected increase over the long term due to the company's various strengths.
Competition For Mobile Ad Market
There are three companies that have an incredible presence on our mobile devices. These three companies include Google, Facebook and Yahoo (YHOO). Eight out of ten American smartphone users have used an app or mobile website of these three companies mentioned in January 2014. Figure 3 shows the percentage of American smartphone users reached by mobile sites/apps.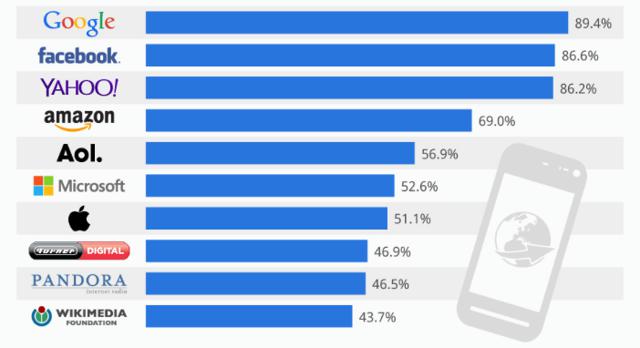 Facebook's drive into mobile advertising has paid off and this is putting pressure on Google's preponderant market share. The social network is by far the biggest competition less than two years after Facebook began utilizing targeted advertising to mobile users. Figure 4 displays the net ad revenues including display and search ads on smartphones and tablets for 2012 through the projection of 2014 by eMarketer.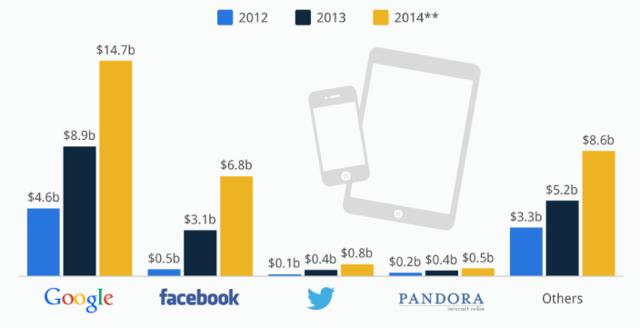 While Google remains the market leader with a strong lead, Facebook has done an exceptional job reaching second place in such a short time frame. Data from eMarketer shows that the mobile ad market is very concentrated, with the top 4 ad publishers accounting for more than 70% of mobile ad revenues in the past year.
DrawElements
Google has signed an agreement to acquire the 3D graphics firm DrawElements, with the intention of increasing the company's ability to monetize the mobile web. This company concentrates on evaluating and analyzing mobile 3D graphics. DrawElements creates a graphics test that assists software developers make their apps compatible with the Android operating system. As more users access the Internet via mobile devices, Android has played a central role in Google's mobile strategy. Android commands a 78% share in the smartphone operating system market, but Google has still struggled to monetize the mobile web. Figure 5 shows the global market share held by leading smartphone operating systems in sales to end users from 1st quarter 2009 to 4th quarter 2013.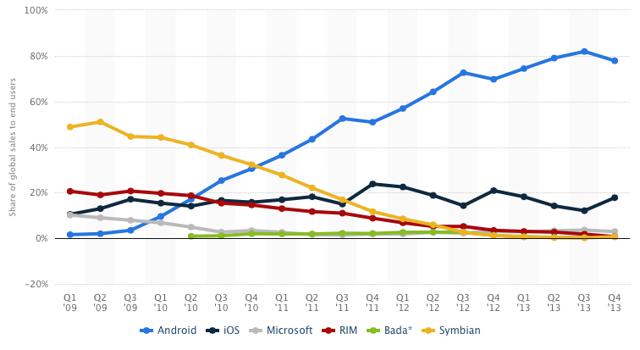 Google has found itself in a tough position. While they do have a strong position in market share, all of the various Android devices have varying hardware components, different GPU's, or screen sizes etc. This makes it much harder for Google standardizing graphics on all of the devices. It is extremely important to keep fragmentation low between devices. Google needed to be able to measure the quality of implementation, stability and correctness by manufacturers. DrawElements can do just this by testing tens of thousands of parameters and cases to make sure everything is correct and allows Google to set higher standards.
Chromebook
Ultraportable PC worldwide shipments are expected to reach 34.4 million in 2014, according to ABI Research. In Q1 2014, Ultraportables experienced an impressive 65% growth year-over-year. While Notebook PC shipments slowed after the holiday season, the overall market is still going strong. Chromebooks have done very well in business-to-business sales, increasing 250% last year according to research group NPD. They operate on Google's cloud service known as Chrome OS and provide everything Google has to offer in one package. With an estimated total of 1.4 million units sold, Chromebooks comprised 35% of all commercial sales of notebooks, during the first five months of 2014. During 2Q14, Chromebook shipments reached 1.8 million units. Chromebooks are attractive because of their low price point, vertical market integration and cloud services, with a strong presence amongst businesses and institutions. ABI Research expects shipments to grow by 56% year over year for the year 2014.
Multiple companies including Hewlett-Packard (NYSE:HPQ), Lenovo (OTCPK:LNVGF), Dell, Samsung (OTC:SSNLF) and others make Chromebooks. As far as shipments are concerned, Samsung has usually been the most popular but Acer outperformed everyone grabbing onto 30% market share in 2Q14. Figure 6 shows Chromebook unit share by brand from January to March in 2013 and then in 2014.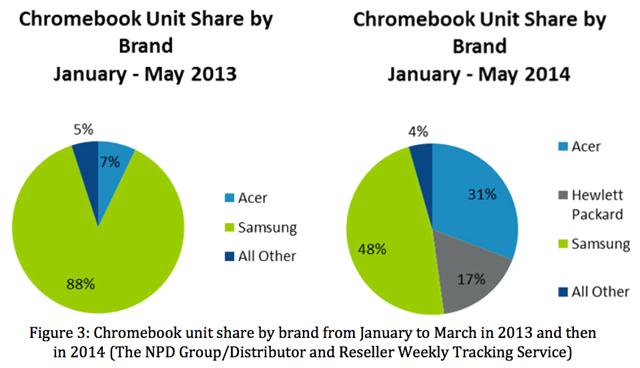 Microsoft Brings Some Competition
Even though there have been strong Chromebook sales so far this year, Microsoft (NASDAQ:MSFT) will be stepping up the competition by lowering the entry price of the Windows 8 notebooks to below $200. While Google will be losing its pricing advantage, the Chromebook will no longer be unaccompanied in this segment of the notebook market, putting the Chromebook to the test. The Windows 8 notebooks are expected to be available by the end of the year, likely around the holiday season.
Algorithmic Forecast For Google Based On Predictive Analytics
At I Know First, we utilize an advanced self-learning algorithm based on Artificial Intelligence (AI) and Machine Learning (ML) that also incorporates elements of Artificial Neural Networks as well as genetic algorithms in order to model and predict the flow of money in almost 2,000 markets from 3 days to a year. As such, we promote algorithmic trading coupled with a vigilant risk management strategy and fundamental analysis for avant-garde investment strategies designed to mitigate maximum amount of risk as well as to optimize potential returns. Just to be clear, this is not high frequency trading and the differences are explained here.
The market prediction system is entirely empirical and not based on human-derived assumptions. This system can also be referred to as a "Big Data" solution for Wall Street by incorporating popular types of convergence averages and moving averages that have been traditionally used to forecast assets with complex and intelligent algorithms that can make these predictions more accurate and efficient.
The human factor is limited to building the mathematical framework and initially presenting the system with the "starting set" of inputs and outputs, which is also utilized for recognizing every other market opportunity. The algorithm then repetitively proposes "theories" and recurrently tests them automatically on years of daily market data. It then validates them on the most recent data, which prevents over-fitting. By separating the predictable part from stochastic (random) noise, the algorithm is able to create a model that projects the future trajectory of the given market in the multi-dimensional space of other markets. The output of the predicted trend is a number, known as the signal, which is used by traders to identify entry and exit points in the market. While the algorithm can be used for intra-day trading, the predictability tends to become stronger over longer time horizons, such as the 1-month, 3-month and 1-year forecast, making this market prediction system ideal for longer-term trading.
The color-coded forecast is very easy to read, where green indicates a bullish signal and red indicates a bearish signal. Deeper greens signify that the algorithm is very bullish, and vice-versa for deeper reds. The signal is the number flush right in the middle of the box and the predicted direction (not a specific number or target price) for that asset, while the predictability is the historical correlation between the prediction and the actual market movements. In other words, the signal represents the forecasted strength of the prediction, while the predictability represents the level of confidence. These are two independent indicators, but consider both as you make your own analysis. Figure 7 shows an algorithmic prediction for GOOG from 1-year ago (July 26th 2013- July 26th 2014). Algorithmic traders utilizing our Top 10 Stocks and S&P 500 Forecast received this prediction.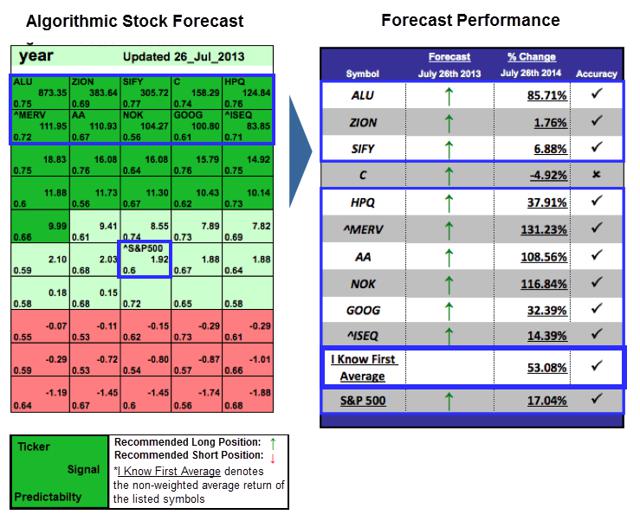 GOOG had a strong signal of 100.80 and an extremely confident predictability of 0.61 in this 1-month forecast and the corresponding return rose 32.39%. The deeper green coloring further demonstrates the bullishness of the market prediction system. Comparing the algorithmic performance from the forecast above to the most contemporary forecast is an excellent strategy for rationalizing your expectations utilizing algorithmic trading as one instrument in your analysis process. Figure 8 shows the current algorithmic prediction for GOOG in the 1-month, 3-month and 1-year time horizons.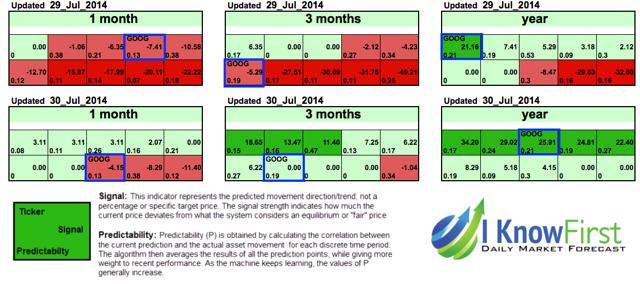 Google has a bearish signal for the 1-month and 3-month time horizons but a bullish signal for the 1-year time horizon from the July 29th forecast while there is a more optimistic forecast for the 3-month time horizon in the July 30th forecast. While the signal is 0.00, this indicates that the algorithm is becoming more bullish GOOG during this time horizon but the magnitude of the predicted movement is expected to be minimal. The strength of the signal will likely change as the algorithm processes new information daily. When the algorithm changes the forecast for a particular time horizon this also may indicate that a buying opportunity could be presenting itself soon. With a bearish 1-month time horizon, algorithmic traders receiving this forecast will be notified of the ideal timing to purchase shares.
Daily forecasts are intended to be utilized as a tool to enhance portfolio performance, verify their own analysis and act on market opportunities faster. We never recommend blindly purchasing assets that are endorsed by the algorithm without your own additional analysis.
Conclusion
While the algorithm is bullish on Google for the long-term time horizon, there will likely be a temporary pull back in the shorter time horizons. Google is still an excellent investment and a strong component of any portfolio but as of right now there will likely be a better entry point in the near future for optimal returns. This company is arguably the one of the most innovative companies in modern times, however a declining CPC does raise some concerns. While I do not believe it is detrimental, this is a significant part of the business model and it needs to be resolved. Competition is heating up for the mobile ad market share but Google's acquisition of DrawElements should help the search engine giant monetize the mobile web more effectively.
Business disclosure: I Know First Research is the analytic branch of I Know First, a financial services company that specializes in quantitatively predicting the stock market. Joshua Martin, an I Know First Research analyst, wrote this article. We did not receive compensation for this article (other than from Seeking Alpha), and we have no business relationship with any company whose stock is mentioned in this article.
Disclosure: The author has no positions in any stocks mentioned, and no plans to initiate any positions within the next 72 hours. The author wrote this article themselves, and it expresses their own opinions. The author is not receiving compensation for it (other than from Seeking Alpha). The author has no business relationship with any company whose stock is mentioned in this article.