The last time I wrote about Apple Inc. (NASDAQ:AAPL) I stated, "But I honestly don't believe now (post split) is the best time to add to my position in Apple, I'm going to wait a bit and let it come in." Since the article was published, the stock has increased 3.67% (but got as low as a 2.1% drop) versus the 0.96% drop the S&P 500 (NYSEARCA:SPY) posted. Apple designs, manufactures, and markets mobile communication and media devices, personal computers, portable digital music players, and a variety of related software, services, peripherals, networking solutions, and third-party digital content and applications.
On July 22, 2014, the company reported second quarter earnings of $1.28 per share, which beat the consensus of analysts' estimates by $0.05. In the past year, the company's stock is up 51.75% excluding dividends (up 54.13% including dividends) and is beating the S&P 500, which has gained 14.13% in the same time frame. Since initiating my position back on May 28, 2013, I'm up 29.17% inclusive of reinvested dividends and dollar cost averaging. With all this in mind, I'd like to take a moment to evaluate the stock to see if right now is a good time to purchase more for the consumer goods sector of my dividend portfolio.
Fundamentals
The company currently trades at a trailing 12-month P/E ratio of 15.44, which is fairly priced, but I mainly like to purchase a stock based on where the company is going in the future as opposed to what it has done in the past. On that note, the 1-year forward-looking P/E ratio of 13.62 is currently inexpensively priced for the future in terms of the right here, right now. Next year's estimated earnings are $7.02 per share and I'd consider the stock inexpensive until about $105. The 1-year PEG ratio (1.37), which measures the ratio of the price you're currently paying for the trailing 12-month earnings on the stock while dividing it by the earnings growth of the company for a specified amount of time (I like looking at a 1-year horizon), tells me that the company is fairly priced based on a 1-year EPS growth rate of 11.23%. The company has great near-term future earnings growth potential with a projected EPS growth rate of 11.23%. In addition, the company has great long-term future earnings growth potential with a projected EPS growth rate of 12.24%. Below is a comparison table of the fundamental metrics for the company for when I wrote all articles pertaining to the company.
| | | | | | | | |
| --- | --- | --- | --- | --- | --- | --- | --- |
| Article Date | Price ($) | TTM P/E | Fwd P/E | EPS Next YR ($) | Target Price ($) | 1-YR PEG | EPS next YR (%) |
| 03Jul13 | 59.78 | 9.99 | 9.59 | 6.23 | 93 | 0.48 | N/A |
| 09Jun14 | 92.22 | 15.43 | 13.46 | 6.85 | 102 | 1.77 | 8.70 |
| 31Jul14 | 95.60 | 15.44 | 13.62 | 7.02 | 105 | 1.37 | 11.23 |
Financials
On a financial basis, the things I look for are the dividend payouts, return on assets, equity and investment. The company pays a dividend of 1.97% with a payout ratio of 30% of trailing 12-month earnings while sporting return on assets, equity and investment values of 17.9%, 31.2% and 25.5%, respectively, which are all respectable values.
The really high return on assets value (17.9%) is important because it is a measure of how profitable the company is relative to its assets, telling us how efficient a management team is at using its assets to generate earnings [for comparison purposes, Apple has the third-highest ROA of all companies in the electronic equipment industry, trailing Eastman Kodak Co. (NYSE:KODK), which sports an ROA of 57.7%, and Fabrinet (NYSE:FN), which sports an ROA of 19%].
The really high return on equity value (31.2%) is an important financial metric for purposes of comparing the profitability, which is generated with the money shareholders have invested in the company to that of other companies in the same industry [for comparison purposes, Apple has the second highest ROE of all companies in the electronic equipment industry, behind Energous Corporation (NASDAQ:WATT), which sports an ROE of 330.5%, and ahead of Fabrinet, which sports an ROE of 26.6%].
The really high return on investment value (25.5%) is an important financial metric because it evaluates the efficiency of an investment that a company makes and if an investment doesn't have a positive ROI then the investment should not be made [for comparison purposes, Apple has the second-highest ROI of all companies in the electronic equipment industry, behind Kodak, which sports an ROI of 172.1%, and ahead of Koss Corp. (NASDAQ:KOSS), which sports an ROI of 25.2%].
Because I believe the market may get a bit choppy here and would like a safety play, I don't believe the 1.97% yield of this company alone is good enough for me to take shelter in for the time being. Below is a comparison table of the financial metrics for when I wrote all articles pertaining to the company.
| | | | | | |
| --- | --- | --- | --- | --- | --- |
| Article Date | Yield (%) | Payout TTM (%) | ROA (%) | ROE (%) | ROI (%) |
| 03Jul13 | 2.92 | 19 | 21.7 | 32.2 | 34.9 |
| 09Jun14 | 2.04 | 31 | 18.0 | 30.4 | 25.5 |
| 31Jul14 | 1.97 | 30 | 17.9 | 31.2 | 25.5 |
Technicals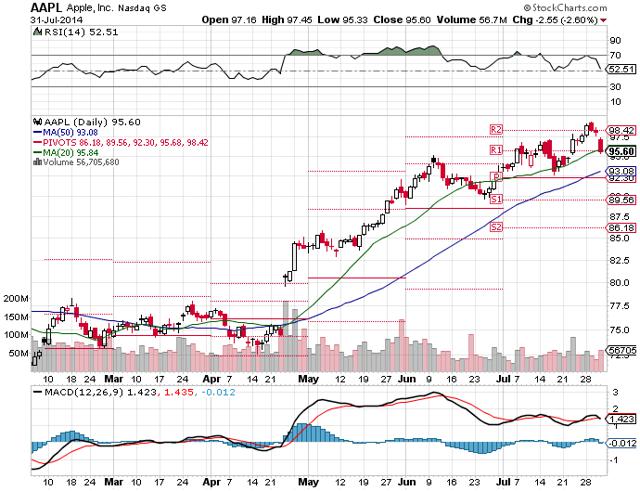 Looking first at the relative strength index chart [RSI] at the top, I see the stock in middle-ground territory with a current value of 52.51. I will look at the moving average convergence-divergence [MACD] chart next. I see that the black line is below the red line with the divergence bars decreasing in height. As for the stock price itself ($95.60), I'm looking at $98.42 to act as resistance and the 50-day simple moving average (currently $93.08) to act as support for a risk/reward ratio which plays out to be -2.64% to 2.95%.
Layoffs? Let's Talk About Layoffs
It seems that in the past couple of weeks if your company is headquartered in the state of California and the first letter of the company begins with the letter "A" there has been a layoff announcement. A couple of weeks ago it was Allergan (NYSE:AGN), earlier this week it was Amgen (NASDAQ:AMGN), and yesterday it was Apple. Apple's restructuring is much smaller than that of Allergan (13%) and Amgen (12%-15%); planning to shed about 200 employees at Beats. After the $3 billion acquisition you would expect that layoffs were going to happen sooner or later; the reduction in force is mainly going to hit the human resources and finance departments.
My take-away from this bit of news and my biggest concern of late has been the American consumer tightening their purse strings. Once employees begin to sniff the hint of layoffs at their company they begin to slow down their spending, cutting back on such things as iPhone upgrades, a product which Apple produces. It's not just Apple products which I'm worried about, it's a recession that I'm worried about. Reduced consumer spending means companies have to sell their products at discounts, earning less on the top line, which then translates into a lower bottom line. The upcoming iPhone 6 is one of those high end products which I can see someone saying, "I'll wait until the next version of the phone because mine is operational and I'm not really sure about things at work." I know I said that about the iPhone 5S.
Conclusion
Apple is a stock that people have been very bullish on, you know it, and I know it, there have been lots of bullish articles published here on Seeking Alpha alone. I can't count how many times I've seen "It's going to a price target of above $100," "The iPhone 6 is going to work miracles," etc. Just please remember to be cautious right now as the market volatility has been spiking of late, yesterday alone Apple dropped 2.6% while the S&P 500 dropped 2%. The stock did get so close to "par" a couple of days ago, hitting $99.44 but then retreating. This is a very crowded investment right now and if the market continues to move downward, this stock will follow suit, but at a quicker pace.
Another reason Apple may have fallen so hard yesterday was because Samsung reported a disappointing quarter. Samsung announced a decrease in smartphone demand. Keep in mind that Samsung produces the lower quality phones which cost much less than an iPhone. If people are holding off on purchases of lower quality phones, the actions either mean they are actually holding out to get the iPhone 6 or may just be saving their money; I'd argue for the latter case. For argument sake, let's say that the iPhone 6 is a success; realistically I believe it's only really going to boost earnings for the next two quarters (up till Christmas) and not much further than that.
The company then has to deal with the iPad where there has been declining growth for the past couple of quarters. I believe with a larger form phone, it will only cannibalize iPad sales. I for one never cared for the iPad, I never owned one because I have one through work, and I would never buy one even if I have to give up this one. The company needs to come up with new products (and no, I don't consider the iWatch as a product) or services because the valuation side of this investment is almost fully realized in my eyes. It either needs to show that it can grow like a growth company, or become much more inexpensive again to make an investment thesis for valuation.
Fundamentally, I believe the stock to be almost fully valued on next year's earnings estimates but fairly valued on short-term earnings growth expectations while sporting great near- and long-term earnings growth expectations. Financially, the dividend is small and has room to grow in the future; however, the financial efficiency ratios have decreased in the past year. On a technical basis, the stock seems to be getting tired and the risk/reward ratio is about equal to me right now. I've been riding this horse for the past fifteen months and I have to say it's getting tired. With the ex-dividend date looming next week I'm going to buy a much smaller batch than I normally do just to get a piece of the dividend pie, but I'm going to stay away from it unless the story changes.
Disclaimer: This article is meant to serve as a journal for myself as to the rationale of why I bought/sold this stock when I look back on it in the future. These are only my personal opinions and you should do your own homework. Only you are responsible for what you trade and happy investing!
Disclosure: The author is long AAPL, AGN, AMGN, SPY. The author wrote this article themselves, and it expresses their own opinions. The author is not receiving compensation for it (other than from Seeking Alpha). The author has no business relationship with any company whose stock is mentioned in this article.