In the late 1990s, telecom providers and utilities initiated a wide-scale build-out of optical fiber networks in anticipation of explosive growth in the demand for network capacity. Their thinking at the time was that the existing copper infrastructure - originally put in place to handle relatively modest amounts of voice traffic - would be insufficient to handle the future bandwidth requirements of the Internet Age, which would grow at an exponential rate for the foreseeable future.
Enter wavelength-division multiplexing (WDM), a technology that, by combining different light signals at different wavelengths on a single optical fiber, multiplied the data-carrying capacity of optical fiber by a factor of ~100. Furthermore, high-bandwidth uses of the Internet - such as streaming video - were slow to catch on at the turn of the millennium. This was partly due to relatively rudimentary functionality of computing hardware at the time (compared to today's technology) and partly due to a slower build-out of "last mile" connections - ones that brought high-speed Internet to the home, rather than the long-haul connections between service providers that spanned countries and oceans.
The rest of the story is history: excess capacity in the optical fiber market resulted in collapsing prices and several high-profile corporate casualties. Among the most prominent was optical fiber giant JDS Uniphase (since rebranded as JDSU), which recorded the then-largest annual loss for a corporation of $56 billion in 2001, driven by a goodwill impairment due to a series of ill-advised acquisitions.
The world is decidedly different today, and the boom/bust days of the optical fiber market are likely behind us. A few key points to consider:
The proliferation of smart devices (phones, tablets) and the increasing rate at which all computing devices are becoming interconnected. According to Cisco, 526 million mobile devices and connections were added in 2013, totaling approximately 7 billion - roughly one device per person on the planet.
With the interconnection of devices, consumers and businesses have expressed a growing desire to be able to access their data anytime, anywhere, on any device - that is, an increasing amount of data will move to the cloud level as opposed to the device level. Per Cisco's Global Cloud Index (2012-2017), annual global data center IP traffic will reach 7.7 zettabytes by the end of 2017, growing at an annual rate of 25% (for reference: a zettabyte is the equivalent of one billion terabytes or one trillion gigabytes).
Machine-to-machine (M2M) communications are only in their infancy today, but will become an increasingly larger component of overall Internet traffic - think video surveillance, smart cars, digital health monitors, and many other applications. Cisco projects M2M Internet traffic will grow at a CAGR of 82% through 2017.
All of these trends point to the need for increased capacity in two areas: data storage and - the focus of this article - data (Internet) access.
After looking at the financial profiles of several companies in the optical fiber space, the one that appeared most attractive - and most worthy of further investigation - was Alliance Fiber Optic Products (NASDAQ:AFOP).
AFOP is a fiber optic components maker, founded in 1995 by current CEO Peter Chang and going public in 2000. The company does not manufacture the cable itself but rather interconnector devices, couplers, splitters, and WDM devices that separate and combine wavelengths. AFOP sells these components to communications equipment manufacturers and service providers, and the devices are deployed across the entire optical fiber network: from long-haul networks (connecting cities) to metropolitan networks (within cities) to last-mile networks (to individual businesses and homes), as well as enterprise and datacenter networks.
The most attractive and abundant opportunities today reside in the metropolitan, last-mile, and enterprise/datacenter networks. Much of the optical fiber deployed in the Dot Com era had been dedicated to long-haul networks, which require relatively few interconnect devices. But the increased demand for bandwidth today necessitates a more comprehensive build-out of metropolitan and last-mile networks; these networks require a larger number of connections and components, which equates to more incremental revenue opportunities for AFOP. Somewhat analogically: long-haul lines are to high-voltage transmission lines on the electrical grid as metropolitan and last-mile lines are to standard distribution lines. With respect to datacenters, the transition to speedier networks (from 1G to 10G, 40G, and even 100G) to support the rapidly increasing demand for cloud computing services requires a transition from copper-based infrastructure to optical fiber - a boon for AFOP's connectivity business.
Financial Analysis
In spite of the boom/bust, cyclical nature of the optical fiber industry in years past, AFOP has an impressive track record of revenue growth over the long term. This growth accelerated dramatically in 2013 due primarily to increased orders from one customer, which accounted for fully 35.3% of AFOP's 2013 revenue (or $26.9 million) compared to just 10.0% and 14.3% of its revenue in 2012 and 2011, respectively. Had this customer stayed in the 10% range, AFOP's ten-year revenue CAGR would still be in the mid-teens (just under 17%). Beyond this one customer, AFOP's largest ten customers comprised over 75% of its revenue in 2013, and more than 60% in 2012 and 2011.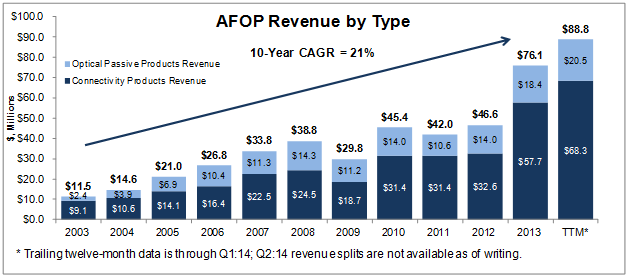 AFOP has not disclosed the identity of its largest customer, but it is widely believed to be Google. Most importantly, AFOP's increasingly concentrated revenue base magnifies the risk of investing in the company's stock. The stock market's reaction to AFOP's second quarter earnings reflects this risk. AFOP's stock price dropped more than 20% on Tuesday as the company was unable to meet its quarterly revenue guidance "due to lower than expected demand from one key customer." On its Q2 conference call, management noted that order flow had returned to normal levels in the third quarter, but that AFOP's fortunes are so closely tied to a handful of customers increases the likelihood of negative revenue surprises.
Pricing pressure is the norm in the optical fiber industry. While excess capacity has resulted in average selling price declines in the past, AFOP also notes in its 10-K disclosures that it expects ASPs will continue to decline over time due to factors such as the introduction of new products or technologies and more efficient manufacturing practices (increased automation). Revenue concentration exacerbates the industry's pricing pressure, as it likely reduces a measure of AFOP's bargaining power in negotiations with its larger customers.
But to the company's credit, this pricing pressure has not been reflected in its profitability. AFOP boasts some of the strongest gross margins in the optical fiber components space, and there has been steady expansion over time, even through the years of the Great Recession. With tight operating expense control, operating margins have improved even more dramatically, from -80% in 2003 to north of 25% over the last twelve months.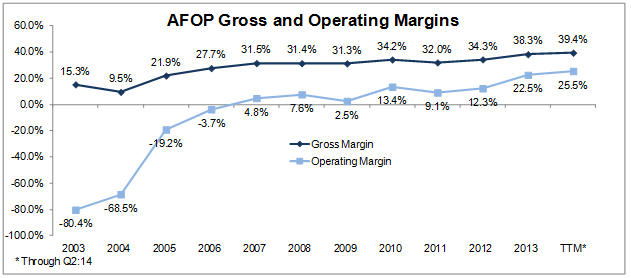 AFOP also sports a clean balance sheet and capital structure, with zero debt and ~$3.45/share of cash and investments as of Q2-end. Coupled with the surge in revenue and improved profitability in 2013, the company created economic value for the first time in a decade as its return on invested capital exceeded its cost of capital by ~12 percentage points (for a brief overview of what EVA is and how to calculate it, click here).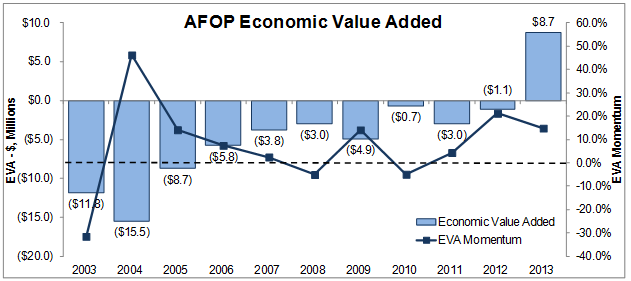 On a quantitative basis, AFOP appears to be a very attractive investment prospect. But there are a couple of issues that require more than a little bit of scrutiny.
Management Compensation and Insider Selling: A read-through of AFOP's most recent proxy statement reveals what I believe to be inadequate disclosure regarding executives' equity-based compensation. In the majority of cases, publicly-traded companies will disclose specific financial goals/targets and/or corporate initiatives to which executive compensation is tied; depending on how management performed vis-à-vis these goals, each person is rewarded a targeted amount of shares and/or options. However, AFOP provides only boilerplate disclosure with no specific financial targets or detailed discussion of its methodology:
Historically, we have not applied a formula to determine the size of individual equity-based awards granted to our named executive officers. When determining the size of an equity award to an executive officer, the executive officer's and the Company's performance, the executive officer's role and responsibilities within the Company, the executive officer's base salary and the size value, and vesting status of his or her existing equity awards, as well as equity awards to executive officers in similar positions throughout the industry are considered. For executive officers other than the Chief Executive Officer, equity awards take into account the recommendations of the Chief Executive Officer. Based upon these factors, the size of each equity award is set at a level we consider appropriate to create a meaningful incentive.
Additionally, in August of last year, AFOP's board accelerated the vesting of the management team's options granted in 2010. These options were originally to be vested in four equal installments in August of 2011 through 2014, but the final portion that was to vest later this year vested last August. Option acceleration clauses are typically in place when there is a change in control for a company (i.e. the company is acquired), but - again - there was no detail provided as to why the vesting of those options was accelerated. It is possible that those options were accelerated to reward Mr. Chang and his management team for a job well done (Q2:13 was the first quarter when AFOP's financial results took a quantum leap forward). While the total sum of options was relatively small compared to shares outstanding (56,000 options vs. 17.7 million shares outstanding at 6/30/13), some transparency on the reasoning behind this decision would assuage my concerns.
Finally, insider selling has accelerated over the past sixteen months, coinciding with the ramp-up in the company's share price. The following chart tracks AFOP's share price from its IPO in November 2000 to the present, and compares it with insider ownership of directors and executives (per the company's annual proxy statements). For most of the company's history, directors and executives have beneficially controlled between ~18.5% and ~22% of shares; as of late March, that figure sits at ~14%. Parsing through the form 4s filed since the end of March reveals that Mr. Chang - who beneficially owned 1.9 million or 10.2% of shares as of March 24th - has further reduced his existing stake by nearly a quarter, with just under 1.5 million shares owned as of May 28th. For perspective, Mr. Chang beneficially owned nearly 2.6 million shares just this past September.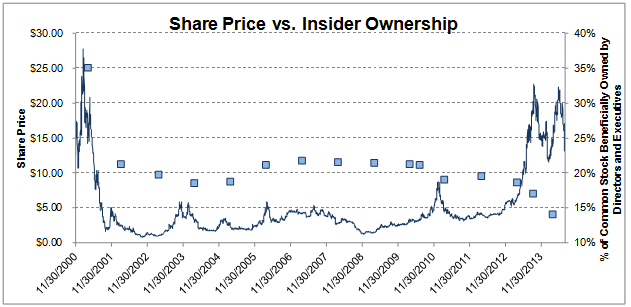 It is understandable that insiders would want to sell a portion of their shares after the incredible run that the stock has had in the last year and a half. Since AFOP's financial performance has been very strong over that period, and the company's stock price languished for more than a decade, I do not hold it against management for rewarding themselves for their efforts. What is disconcerting to me is the degree to which management has sold their shares. Given that they have expressed confidence that the optical fiber industry is in the nascent stages of "the next growth cycle," I would expect that insiders would want to hold onto their shares, if not accumulate more, especially in light of AFOP's robust operating performance relative to its peers. These actions raise questions about management's candor and transparency with respect to the company's prospects. When asked about insider sales on the second quarter earnings call, I thought Mr. Chang sounded defensive and skirted the issue, merely noting that there have been no such sales in the past two months.
Capital Management and Deploying Cash: As revenue growth has accelerated and margins have continued to expand, cash and investments (short- and long-term) have been piling up quickly at AFOP, increasing 36% over the last year and 16% just from year-end 2013. The company has paid dividends in each of the past two years and wrapped up a $6 million share repurchase program in 2013.
Assuming that AFOP's growth trajectory continues - albeit moderating from the hyper-growth seen in the past year - how does management intend to deploy its cash going forward?
Some of AFOP's operating cash flow will have to be allocated to increase factory capacity to accommodate the growth that the company expects. Through the first half of 2014, capital expenditures have totaled ~$2.6 million (vs. $1.7 million a year ago) and management expects to spend $1 to $2 million in each of the next two quarters. Even with these outlays, excess cash will continue to pile up; however, management has not yet explicitly stated what its plans are to use its cash.
In order of preference, I believe excess cash should be allocated as follows:
Strategic (tangential) acquisitions: AFOP's history of steady margin expansion over the last ten years - through the trough of the optical fiber cycle, through the Great Recession - is evidence of Mr. Chang & co.'s operating prowess. The company's financial profile is incomparable relative to its competitors. In addition, in its most recent annual report, AFOP estimated that it had >20 competitors in the optical fiber components as of the end of 2013; it noted, "competitors who provide both active and passive components may have a competitive advantage because they provide a more complete product solution than we provide." The fragmented nature of the optical fiber components industry contributes to the pricing pressure that AFOP alludes to in its SEC filings. Acquiring one (or several) of these competitors would allow AFOP to scale up its operations. If the company could bring the acquired entities' profitability closer to the its legacy operations, then the M&A route would be the path of least resistance to providing value for shareholders, allowing AFOP to compound revenue, profits, and free cash going forward.
Share repurchases: If acquisitions are not on the table - AFOP has not been acquisitive by nature historically - then share repurchases would be the next most intelligent use of free cash. Although the company's fundamentals are on an upward trajectory, per data from YCharts, AFOP is currently valued at the low end of its price-to-TTM earnings range at just ~12x, having varied from just under 10x to as high as ~35x over the past five years. Buying back shares at these relatively cheap levels would not only provide shareholders with a larger portion of future cash flows, it would also likely help to shake out some of the weaker shorts in the stock (short interest is currently ~2.7 million shares - ~15% of total shares outstanding and a little more than a fifth of float).
Dividends: AFOP has paid out dividends of $0.15/share and $0.63/share in 2013 and 2012, respectively. Given the apparent growth opportunities in the optical fiber space and the cheap relative valuation on a historical basis, dividends are the least attractive use of free cash today.
Valuation
While AFOP's relative valuation is on the low side, I have also run a discounted cash flow analysis to see how the equity value matches up on an absolute basis. I employ a three-stage discount model; the first five years (stage one) represent the hyper-growth period, the next five years (stage two) represent an above-average growth period, and the period beyond (stage three) represents the steady-state growth (maturation) phase.

Based on my analysis, I derive an equity value of ~$367 million for AFOP, or ~$20.00 per share. The key assumptions used in my analysis are as follows:
A five-year (2014-2018) compound annual growth rate of 19% for revenues, with the majority of growth coming in the early years. AFOP's hyper-growth period began in 2013 (revenues up 63% YOY), and for the ten-year period from 2003 to 2012, the company grew at a low-teens annual rate. I assume comps will become tougher in the coming years as the impact from AFOP's largest customers becomes more muted, somewhat offset by the secular tailwind of increasing demand for optical fiber components. I do not assume any lift from acquisitions as AFOP has not historically been acquisitive.
Slight expansion of gross margins: With AFOP's top ten customers accounting for roughly two-thirds to three-quarters of its revenues, I assume those customers will exert some pricing pressure on the company and average selling prices will decline somewhat. Although AFOP's margins are decadal highs, the company has exhibited remarkable resiliency in expanding margins in a soft pricing environment.
A flat operating expense ratio, with a declining SG&A ratio due to improved operating leverage being offset by a slightly increasing R&D ratio.
Annual capital expenditures of ~$7 million in each of 2014 through 2018, reflecting capital investment required for expected growth. This figure compares with an average of ~$3 million annually from 2009 to 2013 (with the average being skewed higher by $7.8 million in 2013).
A modest amount of share repurchases beginning in 2015.
Excess cash is equal to total cash, short-term investments, and long-term investments (long-term investments consist of long-dated certificates of deposit) less 5% of revenue, which is assumed to be required for operating purposes.
Using these assumptions AFOP projects to grow free cash flow at a CAGR of ~27% from 2014 to 2018. In the second stage of the DCF model, FCF is assumed to grow at approximately one-third of the rate of the first period (~9% annually); thereafter, FCF growth will be 3% annually, which reflects the business reaching maturity and approximates the projected 50-year global growth rate in GDP. The discount rate of 15% reflects a 200 basis point premium over my standard 13% rate - 13% being my minimum required return on an equity investment - to reflect AFOP's elevated business risk - specifically revenue concentration risk, and the potential for lower than expected top-line growth due to reduced orders from a handful of customers.
AFOP's current share price of $13.38 reflects a ~33% discount to the company's intrinsic value of ~$20.00/share - a comfortable margin of safety for investors to accumulate shares at this price level.
Catalysts and Conclusion
Unfortunately, there are no catalysts on the immediate horizon that would drive AFOP's share price closer to its intrinsic valuation. If the company can continue to report solid revenue growth, diversify its customer base, and continue producing free cash flow growth north of 20%, then the investment community should reward AFOP with a higher earnings or FCF multiple going forward. Acquisitions of some of its competitors to build incremental scale, or a shareholder-friendly capital management plan, such as a commitment to repurchase shares at these price levels, would also be viewed positively.
If AFOP's valuation continues to remain depressed, then I would not be surprised if either private equity or a larger optical fiber company attempted to purchase AFOP outright. It should be noted that Foxconn holds 3.2 million shares of AFOP, or ~17% of shares outstanding - a position that it has held since AFOP went public in 2000, with no purchases or sales of shares in the interim. As an investor that searches for compounding machines - companies that can generate high returns on invested capital, generate double-digit free cash flow growth, and reinvest in their businesses to grow even more - a buyout would be a relatively poor outcome.
In summary, while AFOP is an attractive investment prospect on a quantitative basis, I find it extremely difficult to look beyond the aforementioned issues with respect to management. Mr. Chang and his executive team are undeniably excellent operators of the business, but their unwillingness to address recent insider selling makes me question their candor. To the extent that management does address these questions and provides more transparency going forward, I would be happy to invest in AFOP. Until then, however, I will be sitting on the sidelines.
Disclosure: The author has no positions in any stocks mentioned, and no plans to initiate any positions within the next 72 hours. The author wrote this article themselves, and it expresses their own opinions. The author is not receiving compensation for it (other than from Seeking Alpha). The author has no business relationship with any company whose stock is mentioned in this article.