Uncovering undervalued opportunities is exceedingly difficult as the market becomes more efficient. However, there are still opportunities to capitalize on a mispricing. J&J Snack Foods (NASDAQ:JJSF) certainly falls under that category, as it is positioned for revenue acceleration and margin expansion.
About J&J Snack Foods Corp.
J&J Snack Foods manufactures and distributes various nutritional snack foods and beverages to the food service and retail supermarket outlets in mostly the United States, but it also caters to Mexico and Canada. The company operates in three distinct segments: Food Service, Retail Supermarkets, and Frozen Beverages. It offers various products, such as soft pretzels, frozen juice treats and desserts, churros, and baked goods. Its customers include: snack bars and food stands, department, discount, convenience and warehouse club stores, malls and shopping centers, casual dining restaurants, fast food outlets, stadiums and sports arenas, leisure and theme parks, movie theatres, and schools, colleges, and other institutions. In recent years, it has been opportunistic by acquiring several accretive companies, such as Philly Swirl, Kim and Scott's Gourmet Pretzels, and Frozen Handheld Foods from Conagra.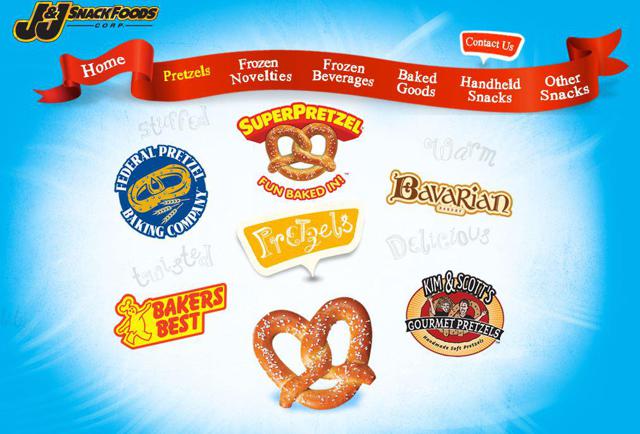 Source: jjsnacks.com
Recent Quarterly Report
On Monday, July 28th, JJSF announced its Q3 earnings report, in which it beat analyst expectations. This stock is lightly followed, with just three analysts, but they expected $244.23 million in revenue and $1.20 EPS during the quarter. JJSF handily beat estimates, and reported $257.1 million in revenue and EPS of $1.26. From the prior-year period, revenue grew 8% and EPS increased 13%. Moreover, EBITDA for the past 12 months was $145.2 million, a new record. Another bright spot during the quarter was the company bought back $5.9 million of common stock and a cash dividend of $0.32 per share was declared, yielding 1.39%.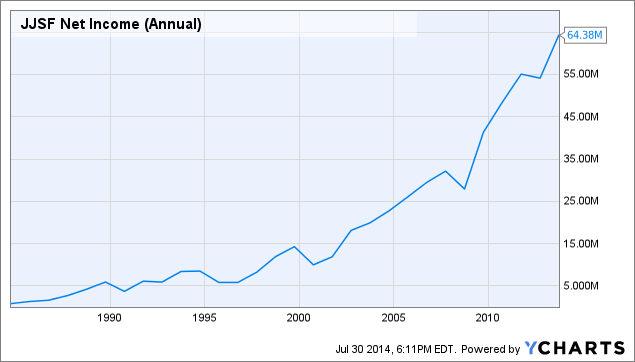 CEO Gerald Shreiber gave positive comments on the quarter results:
"All of our business groups contributed to our record quarter. We had particular strong sales growth in our food service soft pretzel category led by our newer products such as pretzel rolls and sticks. Our ICEE group also had record sales and earnings and our retail grocery group had higher earnings as well."
Besides the better-than-expected revenue growth, margins expanded as well. Gross margins improved from 31.8% a year ago to 32.8%. Further, operating margins improved from 13.66% to 13.87%.

Positive Sales Shift
One of the catalysts for higher margins is a shift to more lucrative sales. JJSF has three distinct segments: Food Service, Retail Supermarket, and Frozen Beverages. Retail Supermarket has the lowest operating margins with 10%. Next, Food Service has operating margins of 13.46%. Finally, Frozen Beverage has the highest margins with 16.96%.
On a y/y basis, the breakdown of sales has become more positive, as the company is generating a greater percentage of sales through the Food Service and Frozen Beverage segments. Food Service revenue grew 8.7%, Frozen Beverage expanded 6%, and Retail Supermarket increased 12.1% from the same period in the prior year. However, with Retail Supermarket constituting the lowest amount of total sales, the revenue growth in the other segments allowed for a total percent of sales shift towards them. In Q3 of 2014, Food Service accounted for the lion's share of revenue with 61.4%, next was Frozen Beverage with 25.05%, and last was Retail Supermarket with 13.54%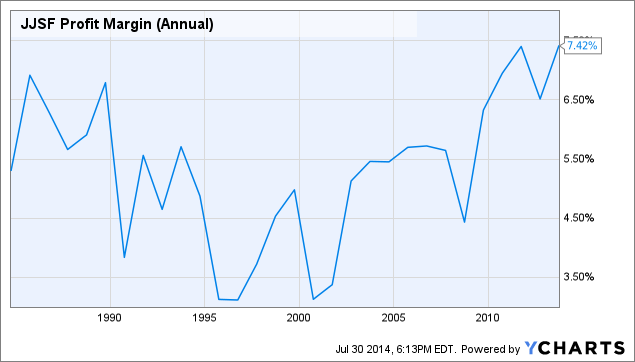 Utilization Far From Capacity
JJSF has a low utilization of its total manufacturing and storage facilities, which will lend itself to growth. Management is vigilant about finding acquisition opportunities, and with the capacity already in place, the company is poised to perform. An ancillary effect of having excess capacity is the capital expenditures will fall, which will improve profitability as depreciation expenses decline.
The company's primary east coast manufacturing facility is located in Pennsauken, New Jersey in a 70,000-square foot building on a two-acre lot. Soft pretzels are manufactured at this company-owned facility, which also serves as the company's corporate headquarters. This facility operates at approximately 50% of capacity.
The company owns a 128,000-square foot building adjacent to this manufacturing facility, which contains a large freezer for warehousing and distribution purposes. The warehouse has a utilization rate of 80%-90%, depending on product demand.
The company owns a 150,000-square foot building on eight acres in Bellmawr, New Jersey. The facility is used by the company to manufacture some of its products, including funnel cake, pretzels, and churros. The facility operates at about 65% of capacity.
The company's primary west coast manufacturing facility is located in Vernon (Los Angeles), California. It consists of a 137,000-square foot facility in which soft pretzels, churros, and various lines of baked goods are produced and warehoused. Included in the 137,000-square foot facility is a 30,000-square foot freezer used for warehousing and distribution purposes. The facility is leased through November 2030. The manufacturing facility operates at approximately 45% of capacity.
The company leases an additional 80,000 square feet of office and warehouse space, adjacent to its manufacturing facility, through November 2030. The company leases through June 2015 a 45,000-square foot churros manufacturing facility located in Colton, California, which operates at approximately 60% of capacity.
The company leases an 85,000-square foot bakery manufacturing facility located in Atlanta, Georgia. The lease runs through December 2020. The facility operates at about 55% of capacity.
Source: 10Q
Initiatives to Utilize Capacity
Besides looking for new acquisition targets, JJSF has begun initiatives to utilize a larger percentage of its capacity and grow the top line.
Pretzel Sales Set To Boost
In late June, Dunkin' Donuts (NASDAQ:DNKN) announced the addition of Pretzel Twists to its bakery offerings. JJSF used its R&D department to concoct the pretzel, and now offers it to DNKN. The product started off in 1,500 stores as a test, but recently expanded into 5,000 stores. This partnership will certainly boost sales in the coming quarters.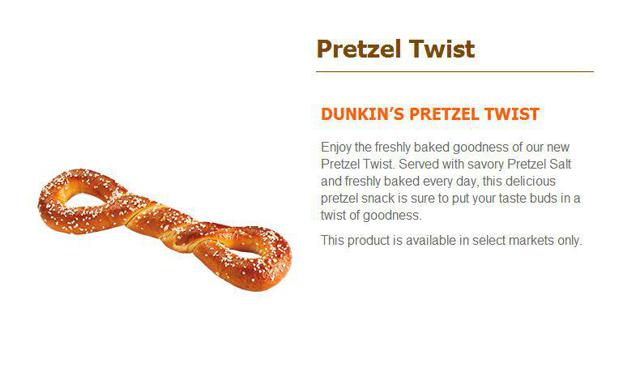 Source: DunkinDonuts.com
Low-Risk Licensing Deal With Mondelez
Another new initiative is a licensing deal that was just struck with Mondelez. JJSF has developed an Oreo Churro, which it intends to sell to fast food restaurants and casual dining restaurants. The company will begin marketing this new product to stores next week. The terms of the licensing deal mitigates risk for JJSF, as the CEO Gerry Shreiber briefly outlined the terms during the conference call:
"We finally put together a licensing agreement. We hope we pay a lot of money because the upfront fees are very, very minimal. There are none. So this is going to be a win-win situation for us. All we have to do is sell and grow the sales."
Source: Earnings Conference Call
Other Notable Positive Catalysts
Amortization Expense For Goodwill Decreasing
J&J Snack Foods has made a few recent acquisitions that have been pulling down earnings through amortization of goodwill. In 2010, it acquired California Churros, then in 2012, it acquired Frozen Handheld Foods from Conagra and Kim & Scott's Gourmet Pretzels. Most recently, it acquired Philly Swirl in 2014. Due to this, amortization of goodwill has been a significant expense. However, in the coming years, it will taper off. In 2014, it is estimated to be $4.9 million, then increase to $5.4 million in 2015, and will drop to $5.1 million in 2016, $2.6 million in 2017, and finally $1.8 million in 2018. This reduction will result in a decline in costs and improve profitability, ceteris paribus.
Favorable Commodity Costs
A risk for any food vendor is rising commodity costs. However, JJSF appears to be ahead of the curve in that regard. It has locked in prices for the next quarter, and may see margins expand if the current trends continue.
"Well commodity costs are favorable. And we're probably booked at the current levels probably through January. And if this trend continues, it may be more favorable over the next year."
Source: Earnings Conference Call
Meeting Regulations To Improve Sales
For the past three to four years, JJSF has seen a decline of 10% per year in the school food service division. The crux of the problem lies in the significant regulatory changes recently, but JJSF is finally ahead of the curve now. Management alluded to this during the Q&A portion of the conference call:
"We've seen a trickle up, a climbing up in our School Food Service business in the past couple of quarters or so, and we think we're ready for some significant increase."
Dividend
J&J Snack Foods has consistently raised its dividend for eight years in a row, and even doubled it this year to $0.32 per share. During the conference call, an analyst asked what it intends to do with the extra roughly $40 million on the balance sheet. Management discussed using the cash on acquisitions that would be accretive, but also stated that if they didn't find them, then they'll look to upping the dividend significantly. Coupled with a flush balance sheet, the payout ratio is quite low at just 17.81%. Therefore, shareholders will benefit either from accretive acquisitions or an increased dividend, either way they will win.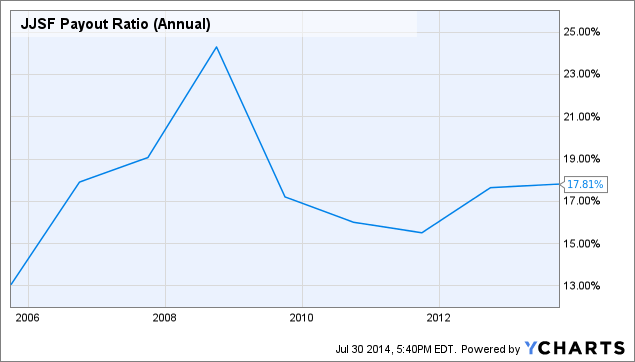 Valuation
The closest competitors to determine valuation compared to industry peers are: Lancaster Foods (NASDAQ:LANC), with a market capitalization of $2.46 billion, and TreeHouse Foods (NYSE:THS), with a market capitalization of $3.12 billion. JJSF has a market capitalization of $1.72 billion.
The first and most widely accepted valuation metric to consider is its price-to-earnings ratio, which is well below its competitors at just 25.71x, compared to 31.05x for LANC and 35.91x for THS. Although it may seem that this premium for its competitors is warranted, as they are larger and thus less risky, JJSF is growing faster than its peers, so the premium is unfounded. Moreover, JJSF has had 43 years of profitability and sales growth for 172 consecutive quarters, so the risk premium is not much of a consideration.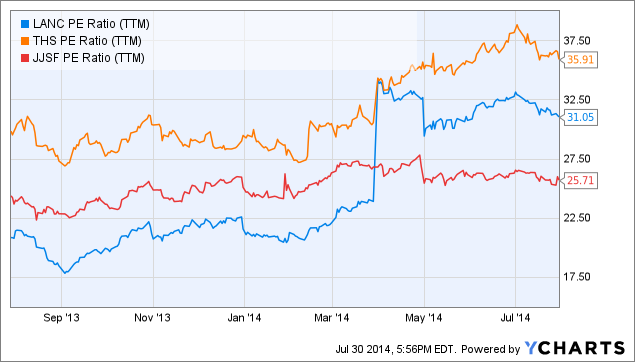 In order to account for the differing growth rates of the companies, a price-to-earnings growth rate can put them on a level playing field. When factoring in growth, JJSF is undervalued as well, trading at 3.49x forward PEG, compared to LANC at 4.44x and THS at 5.17x. So the next step to determining whether or not the valuation divergence is warranted is to see if the growth will be less profitable for JJSF. For that analysis, we will turn to each company's gross margins.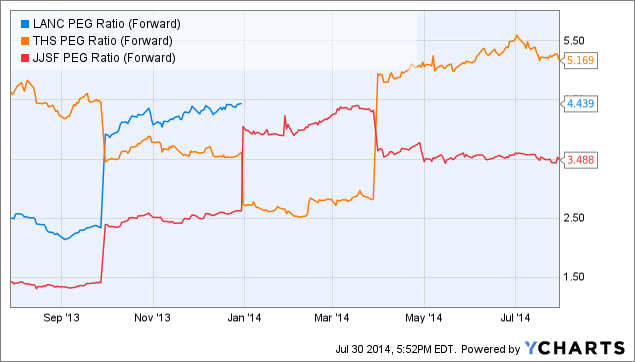 By drilling down deeper, one would expect to find lower margins to account for the pricing discrepancy, however, JJSF has much higher margins than its peers, with 30.35% gross margins, compared to THS's 20.73% and LANC's 22.91%.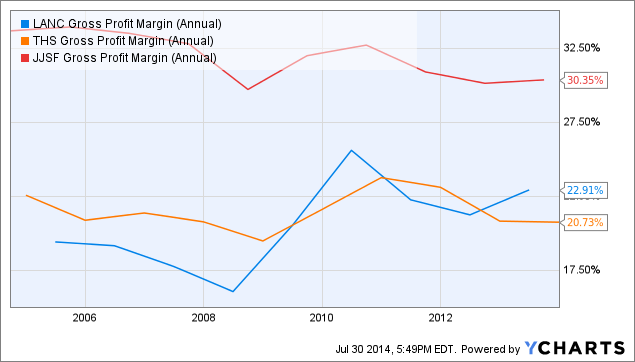 Finally, to complete the analysis, it is imperative to view the operating margins to see if the lucrative margins are flowing down to the bottom line. When reviewing the operating margins, the graph is not as positive as the previous ones, as JJSF falls in between its competitors. However, JJSF has been trending up since 2010, while LANC has been falling significantly since then. Therefore, JJSF is considerably undervalued when compared to its competitors.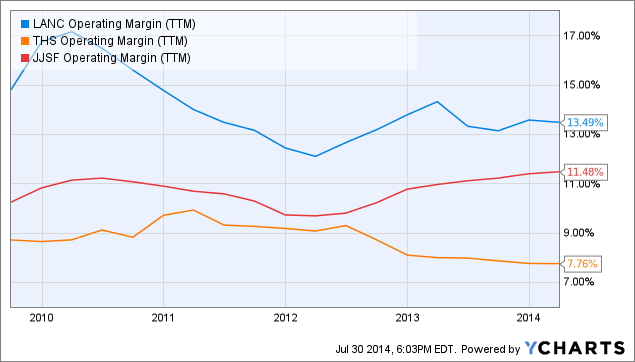 Risks
There are a few risk factors worth mentioning that could prevent JJSF from prospering.
Concentration of Sales
JJSF faces a risk in that it has a high degree of concentration of customers. In 2013, 43% of its total sales came from its 10 largest customers, and its largest customer accounted for a staggering 8%. Therefore, if the customer switched vendors or met financial straits, JJSF would suffer significantly.
An Increase in Commodity Prices
Although I previously discussed the positive direction for commodity prices, it could quickly change. A drought or geopolitical risk could increase food input prices or fuel prices, and that would negatively affect JJSF's margins.
Dilution from Stock Options
In the last quarter, 404,000 options were executed, which diluted investors' ownership and reduced EPS by $0.03. Moreover, the company has approximately 200,000 options still outstanding, with a weighted average of $48.46, so further dilution is likely. However, this is just half the amount that the most recent quarter was affected by, so it will have a negligible effect on EPS.
Control & Age of Gerald Shreiber
Another risk worth mentioning is that founder Gerald Shreiber has 20% of the outstanding stock, which entitles him to three votes on the Board of Directors. Therefore, he and one other director can have voting control of the Board. Further, the risk of losing him as CEO increases each year, as he is now 72 years old.
Concluding Remarks
JJSF has had an exceptional past, with 43 years of profitability and 172 straight quarters of sales growth. Even with that impressive record, a dearth of coverage has led to JJSF being undervalued. The company has a number of positive catalysts on the horizon, such as excess cash on the balance sheet and manufacturing capacity, recent deals with Dunkin' Donuts and Mondelez, and growth in school sales, which will allow JJSF to outperform. J&J Snack Foods is undoubtedly a prudent investment opportunity at these levels.
Disclosure: The author has no positions in any stocks mentioned, but may initiate a long position in JJSF over the next 72 hours. The author wrote this article themselves, and it expresses their own opinions. The author is not receiving compensation for it (other than from Seeking Alpha). The author has no business relationship with any company whose stock is mentioned in this article.