"Oh, don't worry about that. You're just finished, that's all."
- Krusty The Clown, The Simpsons
Since my first article on Destiny Media (OTCQX:DSNY) in February (available to Pro subscribers here), its shares have declined by approximately 42%. ($1.34 to $0.78) and down about 72% from their $2.75 peak reached 9 months ago. I revisited the DSNY story in July 16 article (found here) and the shares have since eroded by 15%.


Source: Bloomberg
My previous articles (and valuable exchanges in the comment section) outline the bulk of my bear thesis on DSNY. I will recap only briefly here:
DSNY's core (>97% of revenue) PlayMPE business is not a growth business, is vulnerable to upstart competitors, faces pricing pressure, and has huge single-customer concentration risk with a contract renewal set for March/April 2015. I generously value this business in the $0.15 per share range (assuming DSNY does indeed renew its large customer) representing a 2.2x revenue multiple or 15x an assumed net profit margin of 15%.
DSNY's supposedly "disruptive" Clipstream video technology is a technically and commercially flawed solution. The first product based on Clipstream ("Clipstream Cloud" touted as "YouTube For Business") was launched 8 months ago and has flopped with virtually (possibly absolutely) no customer traction, offering validation of my initial February thesis. I value it at less than zero as it continues to sap cash and resources, destroying shareholder value.
Even from current levels ($0.78) there is material (80%+) downside if and when the market finally values Clipstream at zero like I do.
The capitalization of the company is shown below:


Source: Keubiko analysis and Bloomberg
Even after the 72% drop from the peak, DSNY still trades at over 11x revenue. Revenue (virtually all PlayMPE) is at the same level it was over 4 years ago: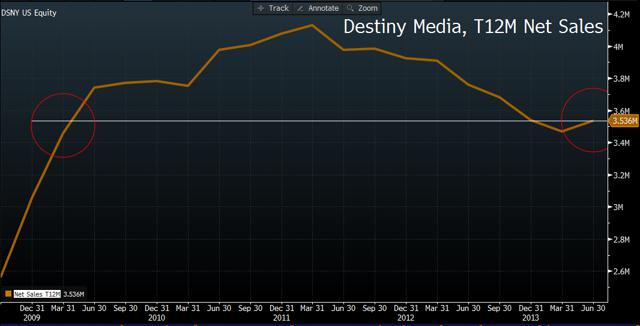 Source: Bloomberg
To put the 11.4x Revenue valuation in context, below is DSNY compared to some of the more well-known "bubble" stocks (that happen to be growing very quickly):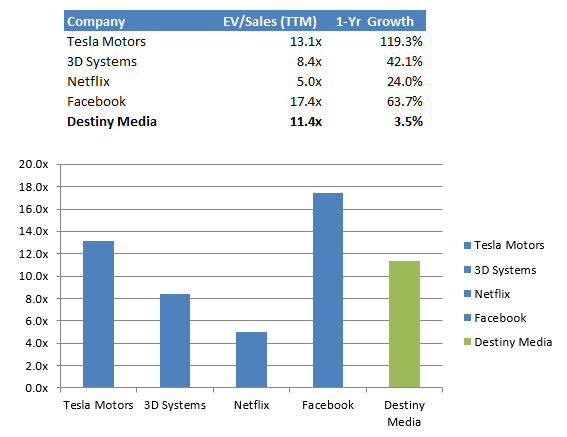 Source: Keubiko analysis and Bloomberg data
For a more optimistic view of the company you can read recent Seeking Alpha articles here and here. As Seeking Alpha's tagline states: Read. Decide. Invest.
This article is in response to a recent corporate update from DSNY. On July 28 the company put out a press release titled "Destiny Media Technologies Provides Development Update for New Disruptive Clipstream Products and Services"

Source: Destiny Media
The first thing I noted upon reading the update, is that there is no reference to any customer deals or traction. Remember, in January the CEO stated:
But in terms of the bigger names, right out the gate, so I don't even remember the date, but I think it was like December 6th or December 7th, I went on my first sales trip. We've all been really aggressive in making the product available to people that want to do due diligence on it, and so those longer sales-the bigger sales are probably a three to five-month sales cycle, but those bigger sales have already started.
For the calendar-challenged, I would note that a 3 to 5-month sales cycle that started in December would have ended in February to April. Today is August 1.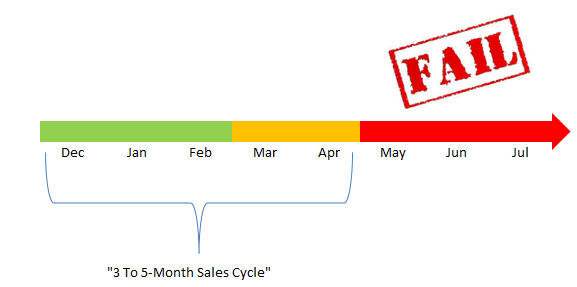 Source: Keubiko and reality
So the fact that by July 28, (2 months into the August quarter) they have not announced any customer wins or technology licensing deals whatsoever is noteworthy. It gives me a great deal of confidence that the quarter ending August 31 will bring further disappointment on the Clipstream revenue front.
The press release referenced a June 2014 article in "Quirk's magazine" (I forgot to renew my subscription, as I'm sure you did as well) that talks about the "$39 billion market research industry" that has a "Titanic data security problem". I immediately went to the article, which can be found here. I had to use my Ctrl-F ((find)) feature to search for any mention of Destiny Media or Clipstream. In doing so I realized that the article, in fact, does not mention Clipstream or Destiny Media at all.

Source: quirks.com
In the same paragraph they put in a quote from Steve Quirk which is unrelated to the article (you know, the article in the DSNY PR that doesn't even mention Clipstream) and is basically a throw-away line about security being important:
When asked about the need for a technology like Clipstream®, Steve Quirk, President Quirks Market Research Review said "With hackers, and other vulnerable exposures in the digital world, security of data and content of online market research is becoming more and more critical."
What makes this section of the update even more laughable is that Destiny pays money to Quirk's and is a page 1 advertiser on their website as shown below:

Source: quirks.com
So who else were they able to get a quote from about the new "Security Pack"? Surely a new customer that has been champing at the bit to unleash the power of Clipstream, right? Wrong. Instead they seem to have reached into their very limited number of existing clients - Stan Hazen of Decision Analyst. Mr. Hazen notes:
For the past five years Destiny Media has been a valued and trusted partner, as we've used their Clipstream® service for secure and convenient media hosting for survey research.
Nice quote, but in my opinion a quote from one of the few people on the planet using the old version of Clipstream (a whopping $28K in revenue last quarter down from $38K a year prior) doesn't add a lot of validation. But what really made me chortle was part two of his quote:
In addition to security and convenience, the fact that Clipstream® works with all platforms and browsers, and without plug-ins or streaming servers, is another real benefit for us, as we don't lose survey participants because of problems seeing videos.
I have to pause here for a moment to give you some background. One of the KEY purported benefits of Clipstream that has been touted for eons by the company (even back to 2000 with the prior version) is that it does not require plug-ins. The old version used a Java applet that was downloaded from a video-serving website and executed by the Java virtual machine on the browser. It ultimately failed (in my opinion) because Java was disabled for security reasons by default on most browsers, and by corporate IT. The nail in the coffin was smartphones and tablets that don't support Java. The new version (Clipstream "G2") uses JavaScript, so rather than using a plug-in or applet the browser (chewing up a lot of CPU cycles and hitting batter life on any laptop or mobile device for video of any length) renders the video.
With that background let's revisit the quote from Mr. Hazen, and indeed what the entire press release is about: the "Security Pack" for Clipstream. But here's the rub:
The Security Pack IS a plug-in! So one of the major benefits touted by DSNY, that Clipstream doesn't need a plug-in, actually needs a plug-in for the security features. Putting in a quote from a customer talking about not needing a plug-in strikes me as pretty odd.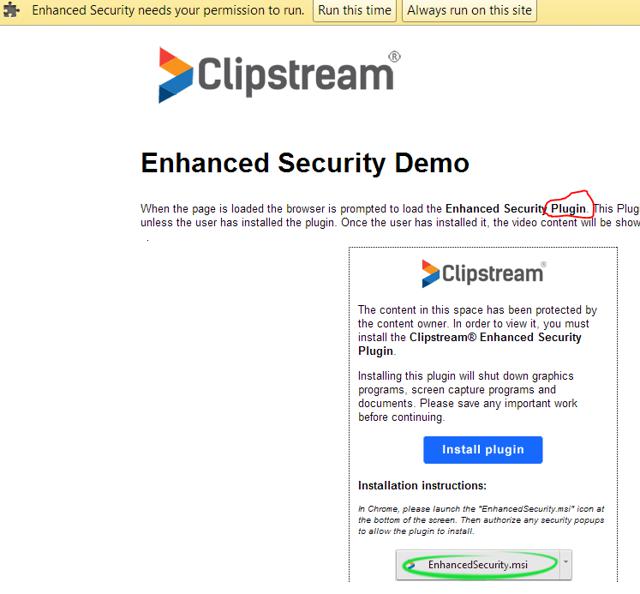 Source: Destiny Media
As the page above notes "The video content will not be shown unless the user has installed the plugin".
I have no issue with plug-ins, but of course many consumers and corporate IT departments do. As Google Chrome notes when I clicked the "Learn More" on the security warning that popped up downloading the Clipstream plug-in:

Source: Google Chrome
The quote from Destiny's "Manager of Client Relations" Keith Loh is even stranger. In a press release basically announcing the release of a plug-in, they insert this:
The industry is telling us that drop out rates from competing products are increasing because recipients often don't have the competing player solution plug-in installed, so the cross platform aspect is already very appealing.
We know that "often" they won't have another plug-in installed. But we know for certain they won't have Destiny's plug-in yet!
Given that DSNY engaged a professional investor relations firm at a cost of 120,000 options and $58,800 cash per year, I'm surprised they wouldn't have caught the mixed messaging here.
What would change my mind and reverse my bearish stance on the company? Simple. Revenue and traction. Fast. That is clearly what investors that bid the company up to $2.75 per share expected. If it doesn't materialize quickly I expect the shares to continue bleed. With only $1 million in cash there is not a lot of room for error. Sales and Marketing costs (seemingly futile to date) are ramping up. The cash flow impacts of this have been masked by declines in R&D spending. Some DSNY apologists argue the product "isn't really ready yet" in which case slashing R&D is worrying.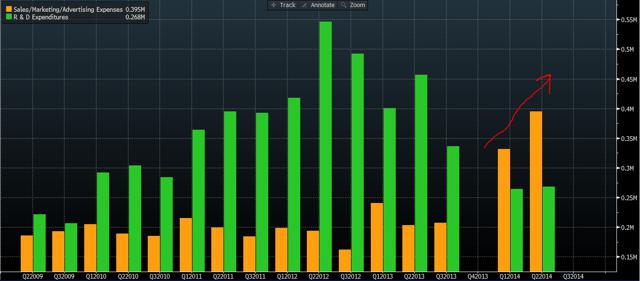 Source: Bloomberg
A potential black swan (or gray swan perhaps, as it is foreseeable) is the looming renewal of DSNY's contract with Universal Media. This one contract accounts for nearly 60% of DSNY's sales. It is up for renewal in March/April 2015. UMG is paying roughly $1.8 million annually for the PlayMPE product.
I believe vastly more cost-effective newcomers such as Haulix (which has a quickly improving feature set) have a good shot at winning business from the high cost dinosaurs in the space like Destiny and iPool. For example Haulix's pricing schedule is $999 per month ($12K per year) for unlimited usage. Even 10 times that figure would be 93% cheaper than what UMG is paying Destiny. Maybe they can defend their turf. Maybe not.

Source: Simpsons Episode "Krusty Gets Kanceled" (with Keubiko modifications)
I could be wrong. Maybe Destiny Media is on the verge of generating a ton of business. I just don't see it. There are still a large number of believers in the stock, despite its horrible performance of late. The real question is how patient they are willing to be. The exit door could be rather crowded.
"Kid, this company's bust. For years I've been giving away free toys and getting cookies in return. It's not a sustainable business model."
- Krusty The Clown
Disclosure: The author is short DSNY. The author wrote this article themselves, and it expresses their own opinions. The author is not receiving compensation for it (other than from Seeking Alpha). The author has no business relationship with any company whose stock is mentioned in this article.
Additional disclosure: This article represents my personal opinions only. It is not a recommendation to buy, sell, or hold any security. It should not be relied upon for any purpose other than entertainment. Numbers and analysis presented have not been proof-read or independently verified. Despite my best efforts I make mistakes. I welcome comments and corrections. No plug-in is required to read this article.
Editor's Note: This article covers one or more stocks trading at less than $1 per share and/or with less than a $100 million market cap. Please be aware of the risks associated with these stocks.