Having a Gym membership is like a carrying a condom in your wallet, you may never use it but you always want to have it. About 50M Americans actively participate or posses some kind of membership to health clubs which collectively generates ~$22B in revenue per year (Source: IHRSA and CLUB 10Ks). That revenue is spread across thousands of fitness clubs ranging from boutique firms (Bikram Yoga) to University sports centers to national fitness chains. Americans love workout facilities of some form and health clubs are here to stay for long time. Health club industry is mature and stable. As an investor, I would like to find a company in this space that could sustain and grow with the industry and that is trading at reasonable price and I believe Town Sports International Holdings, Inc. (NASDAQ:CLUB) is one such opportunity.
CLUB is the largest owner and operator of fitness clubs in the Northeast and Mid-Atlantic regions of United States and third largest fitness club owner in USA based on the number of clubs. CLUB owns and operates 108 clubs in and around NYC, 29 in Boston, 16 in Philadelphia, 6 in Washington D.C and 3 in Switzerland. They operate a total of 163 fitness centers under the brand names:

Business Strategy: Town sports fitness clubs are clustered in the core urban areas with relatively younger population and higher disposable income. These people are more health conscious and ready to pay the extra buck for convenient locations near work and residence.
An average club is about 26,000 square feet consisting of all the fitness equipment along with optional resources like group classes, Basketball court, Tennis, Pool, Sauna etc depending on the location.
Revenue Model: There are two distinct revenue streams a) Monthly membership revenue for the access to the facility and b) Non-membership Revenue (e.g. Personal training).
Membership Revenue:
Passport Membership gives access to multiple locations. Price range from $69.99 to $99.99. Owned by 45% of the members. Passport members are more sticky customers as they take advantage of multiple locations.
Core Membership gives access to single club with price ranging from $39.99 - $79.99. Owned by 31% of the members.
Corporate Membership is similar to passport membership for corporate with price at $65. Owned by 16%.
Restricted membership gives access to single club at all times except between 4:30PM and 7:30PM and the price range from $29.99 - $39.99. Owned by 8%.
CLUB did not have enough pricing power to raise membership fee after the financial crisis due to general economy and competition from specialty boutiques.
Personal Training (Non-membership revenue): CLUB has focused a lot, in the last few years, on improving the non-membership revenue coming from personal training. Currently personal training revenue stands at 14% of the total revenue with a goal to reach 20%.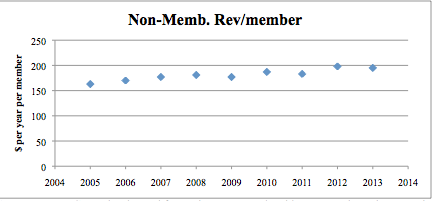 As you can see, CLUB has instead focused on non-membership revenue through personal training classes and group exercises, which is a high margin business.
Return on Investment on a every new club: (Based on last 8 years)
Typical club costs ~$3M to set-up. Assuming they were able to repeat their past performance each fitness center attracts ~3000 members as the club matures, typically it takes 2 years. Average revenue per member per year is $800 from membership fee + $200 non-membership fee = $1000 @3000 members = $3M. Operating costs 90% leaving $0.3M. 10% return on investment.
10% return on investment is attractive especially in the current market where one can raise debt at 5%. But the problem is consistency of the return and repeatability. Recent trends show that CLUB is not able to control its fixed costs.
Competition: Health club industry is a relatively mature industry in terms of the total revenue it can generate i.e., there are fixed number of people who care to work out and they have fixed budget to do so. Reducing the membership cost is not going to make lazy people get out of their sofa i.e., there is no price elasticity of demand but it will attract a different stratum of value conscious health club goers. With the given industry size of ~$22B in revenue, there are thousands of clubs and concepts that compete in this space. Various facilities attract these health conscious people through new concepts, price points and convenience.
CLUB's direct competitors:
1) Boutique clubs: These clubs often offer a unique style of workout like Yoga, Spinning, Pilates, Barre etc. These are relatively inexpensive to start and once the unique concept takes over, they will have decent run for few years till a new concept comes by. CLUB has recently introduced its own brand of boutique clubs called BFX exclusively for cycling and group exercises.
2) Health club chains: Health club chains compete among each other in terms of price, location, amenities and reputation. There are multiple chains like Equinox, Life time fitness, LA fitness, Planet fitness etc., Again CLUB has established itself at major location in Northeast.
There is irrationality and then there is Town Sports International, Inc.
2014 has been the worst year for CLUB with stock down 70% YTD. Let me explain why I call this irrational exuberance and why is there a compelling opportunity especially at this price.
1. Membership decline: Admittedly, members and membership revenue is the heart of any fitness club and decrease in that number is bad but how much of a decrease would substantiate 70% decline in stock price? CLUB had 1.8% decline in total members from 497,000 at Dec 31 2013 to 488,000 end of Q2, 2014. I understand that investors are always forward looking and collectively they are saying members are going to flee at every given chance. But remember that a good percentage of club locations are in prime urban areas and there is no other club to compete at this scale. I live in Boston and I know for the fact that Boston Sports Clubs are at convenient location attracting working class individuals who do not want to travel too far.
2. Upcoming sale delay: Town Sports International entered into an agreement to sell its property at 151 East 86th street in New York City. The agreed upon price was initially at $82M which was recently increased to $85.5M. CLUB Investors got cold feet when the buyer postponed the sale from early April to September 11, 2014. But little they paid attention to the contract which stipulated the buyer to keep $20M in a non-refundable account. CLUB already received $10M of that amount. This gives me enormous comfort that the sale will go through as no one would agree to have 25% of the property value in a non-refundable deposit without the conviction to buy.
3. BFX Studio: As I discussed earlier, CLUB has plans to open its own boutique style fitness centers starting in New York City (Sep 1 2014). BFX focuses on three unique offerings: Ride Republic, which is indoor cycling, Private Sessions for personal training and Master Class for certain group exercise classes. Also each BFX studio is expected to be ~7500 - 10,000 sq.ft compared to 26,000 Sq.ft for a traditional CLUB center and costs ~$1.75M compared to $3M for a traditional center. It looks like investors have completely discounted this idea. For those who are interested check: bfxstudio.com/
4. High Value Low Cost (HVLC) Strategy: CLUB is planning to convert ~20 of its fitness clubs into HVLC style where the membership price will be reduced from $50 to $25. The idea here is to attract value conscious customers who may go otherwise to planet fitness or some other local club which do not have the world-class facilities that CLUB offers. This is limited primarily to the sub-urban markets. This becomes a numbers game now where the fixed costs are going to be spread across more members. I believe this is an interesting proposition that needs to be seen as it unfolds.
5. Closing down non-profit stores: I do admit that CLUB had couple of rough quarters with very high operating costs. Some of the reasons mentioned by management was heating costs especially since they are clustered in North East and the recent winter was pretty nasty. CLUB is focused on improving efficiency. They are closing at least 5% of the low performing clubs and focus on BFX studio concepts.
6. Personal Training Revenue: Non-membership revenue is increasing as a percentage of total revenue and in absolute dollar terms. This is very encouraging as members participating in personal training tend to stick for long term and it is a high margin business.
7. Hedge funds are taking notice: There is a saying in the investing world that smart money smells the opportunity first and dumb money follows later. As recently as July 3, HG Vora Opportunity fund, which manages $0.5B, bought 1.2M shares (5%) of the company at $6.5/share.
8. Debt Level: CLUB has $236M in net debt outstanding, which is spooking investor. Get this, CLUB has same amount debt outstanding for the last 8 years and has never drawn more debt to fund its expansion. Club expansion has always been through FCF. Now, once the real estate sale happens, CLUB may receive $60M after-tax, which should reduce the debt to $175M.
9. FCF Positive: CLUB has been FCF positive for the last 5 years averaging at about $35 - 40M. In fact, it returned investors $70M in FY 2012 in the form of special dividend. Even though I am not in favor of this move against paying back debt, CLUB was comfortable enough with the consistent cash stream.
10. Competition suffering too: Recent Q2 results from LTM (major competitor) also show the difficulties in customer acquisition. CEO of LTM Bahram Akradi mentioned clearly that they are changing their mission from "Customer acquisition" focus to "Customer Retention." Fitness club industry as a whole, I believe, is probably in a slump but the long-term trend is alive.
Conclusion: Investors are focused heavily on short-term metrics and are overlooking the current value proposition. Stock dropped ~70% YTD on a 2% decline in members and dividend cut. There are multiple catalysts lined up in the near future and I believe there is going to be a huge upside from here for those investors who stick through the turnaround story.
Disclosure: The author is long CLUB. The author wrote this article themselves, and it expresses their own opinions. The author is not receiving compensation for it (other than from Seeking Alpha). The author has no business relationship with any company whose stock is mentioned in this article.