Holly Energy Partners, L.P. (NYSE:HEP) is a master limited partnership ("MLP") that has a long-term strategic relationship with refiner Holly Frontier Corp. (NYSE:HFC). HEP is contractually bound to Holly Frontier's growth initiatives and has benefited from Holly Frontier's past refinery expansion initiatives. Last week Holly Energy Partners announced it was raising the quarterly distribution to $0.515/unit for Q2 2014. That was the 39th consecutive quarterly distribution increase, up from $0.5075/unit in Q1, and a 6.2% increase yoy. HEP has increased the dividend every quarter since going public in July of 2004. The partnership currently yields 6%. With an asset base held in attractive high-growth markets, low-risk long-term contracts, and a strategic link to Holly Frontier's growth projects, HEP is positioned to deliver to a total return of 20% over the next 12 months.
The map below was taken from a May investor presentation and gives an overview of the partnership's ideally located mid-continent asset base: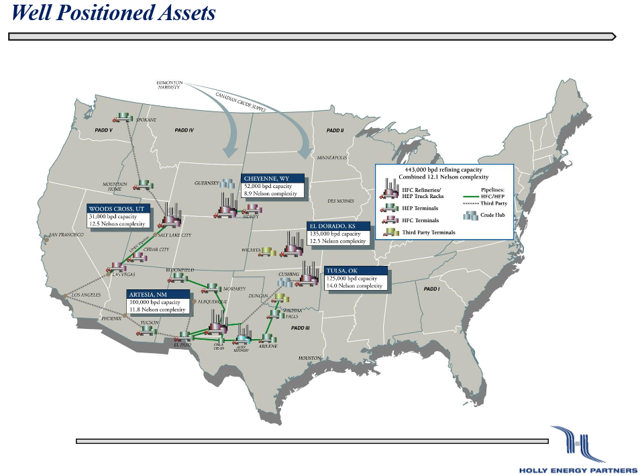 Assets include:
3,000 miles of crude oil and petroleum product pipelines including JV interests in UNEV Pipeline, LLC and SLC Pipeline LLC.
12 million barrels of refined product and crude oil storage.
26 terminals and loading rack facilities in 9 Western and Mid-Continent states.
HEP has a 25% joint venture interest in SLC Pipeline LLC, a 95-mile crude oil pipeline system that serves refineries in the Salt Lake City area. It also has a 75% JV interest in UNEV Pipeline, LLC - a 400-mile refined products pipeline system connecting Salt Lake area refiners to the Las Vegas product markets.
In addition to an asset base that is well positioned to serve fast growing markets, the partnership has a number of attributes which make it an attractive investment:
Revenues are 100% fee-based with no commodity ownership risk.
Long-term minimum volume contracts support stable cash flow.
The company has near-term growth projects focused on capitalizing on rising US crude production.
The partnership benefits from strong sponsorship with refiner Holly Frontier.
HEP has entered into 15-year long-term contracts with several refining customers. These contracts require minimum payment obligations for volume and/or revenue commitments. As a result, minimum annualized commitments will generate over $259 million in annual revenue. The following chart shows that 85% of HEP's revenue is tied to these minimum volume contracts: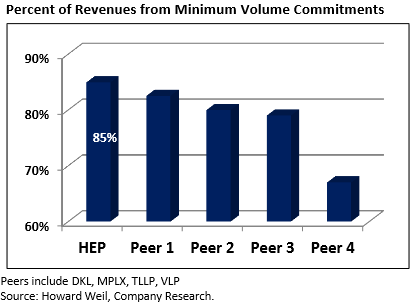 Holly Frontier - A Strong Partner
Holly Frontier owns and operates 5 refineries with a aggregate capacity of 443,000 bpd. HFC produces gasoline, diesel, and high margin specialty lubricants. Holly sources an advantaged WTI-based crude slate from Canada and US shale plays like the Bakken, Permian, and Niobrara. The company is among the top performing refiners in terms of earnings per barrel. HFC has a low debt load and an investment grade credit rating.
Currently, HFC owns 37% of the MLP through LP interests and 2% through a GP interest. HEP has right of first refusal for all logistics assets HFC builds or acquires. As a result of its relationship with such a high quality refiner like Holly Frontier, Holly Energy Partners is ideally positioned to benefit from growing US crude production.
Financial Performance
The following table was taken from HEP's Q1 earnings report: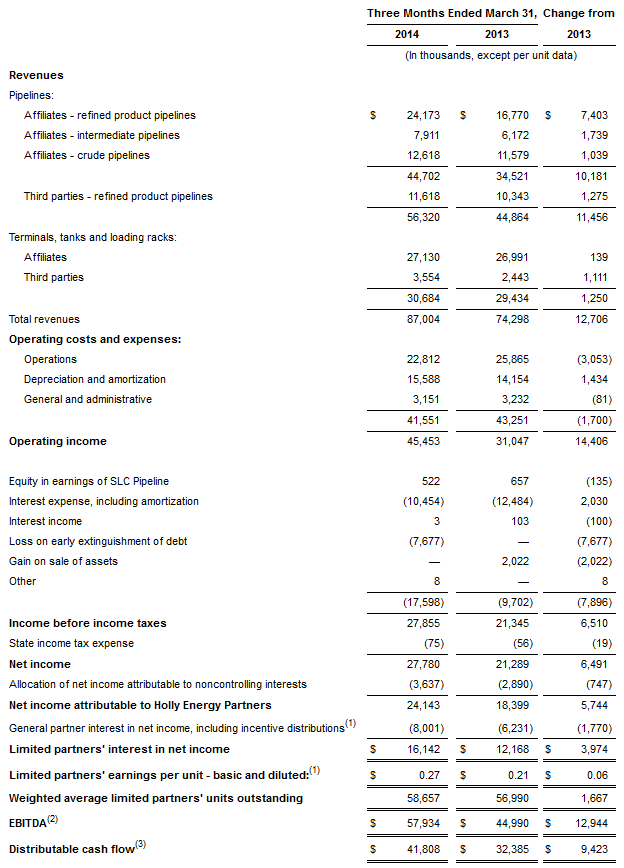 As can be seen from the numbers, revenue is diversified across 3 main categories:
Refined product pipelines accounted for 41% of revenue.
Terminals, tanks, and loading racks contributed 35% of revenue.
Crude pipelines accounted for 14.5% of revenue.
For Q1, while total revenue was up only 17% yoy, operating income was up 46.4%. The outsized jump in operating income was primarily due to a 22% jump in pipeline volumes in conjunction with a drop in operating costs and expenses. EBITDA was up a solid 28.8%.
Net income attributable to Holly Energy Partners was $24.14 million, up 31% yoy. LP earnings on a per unit basis was $0.27, up 29%.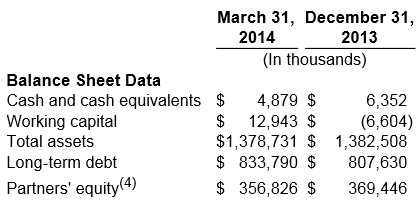 The partnership has $833.8 million in long-term debt while the current market cap is $1.99 billion. That results in a debt-to-cap ratio of 42%. This is not unreasonable for an MLP with low-risk long-term contractual obligations. In HEP's case, considering 85% of revenue comes from such long-term contracts, the partnership is has a quite conservative debt load.
Growth Outlook
HEP currently has two major growth projects on the front burner. The first is an expansion of its SE New Mexico crude gathering system. This project is ideally located to benefit from increased Permian Basin oil production.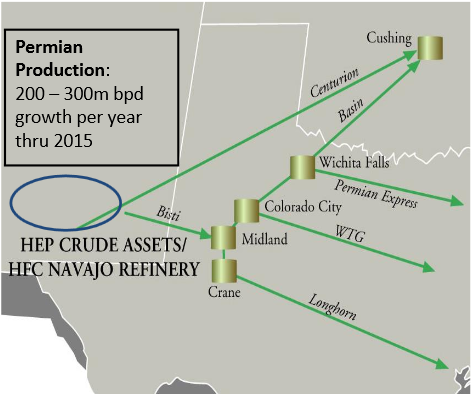 source: HEP May presentation
The system consists of 800 miles of pipeline in SE New Mexico that provides connections to the Cushing, OK and Midland, TX. The expansion will increase the gathering footprint and lease connections while also de-bottlenecking mainline capacity. The project will also improve flexibility to supply the Navajo Refinery with up to 100,000 bpd. Cap-ex is estimated to be $45-$50 million and result in $7.5 million in minimum annual commitments and $1.5-$3.5 million in estimated annual gathering revenue. It is scheduled to come online later this year.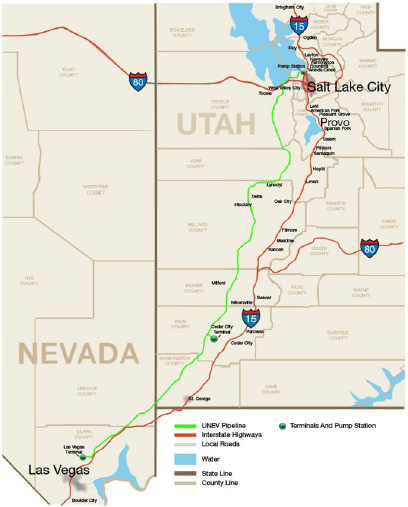 The second major growth project is the UNEV pipeline volume growth project in conjunction with the Salt Lake City refinery expansion. An additional 10,000 bpd of volume should generate ~$12 million of annual pipeline revenue at committed tariffs and $17 million (HEP interest is 75%) at spot tariffs. The refinery expansion is scheduled to be completed in 2014/2015 and includes a UNEV rack expansion in Las Vegas. Holly Energy Partners operates the UNEV pipeline, which runs from Salt Lake City to Las Vegas.
(image source: HEP May presentation)
The combination of these two projects, along with an estimated $3-$9 million in contractual tariff increases, are predicted to result in annual incremental revenue growth of ~$30 million and to increase HEP's annual EBITDA by over 15%.
The Uinta Basin - A Positive Growth Catalyst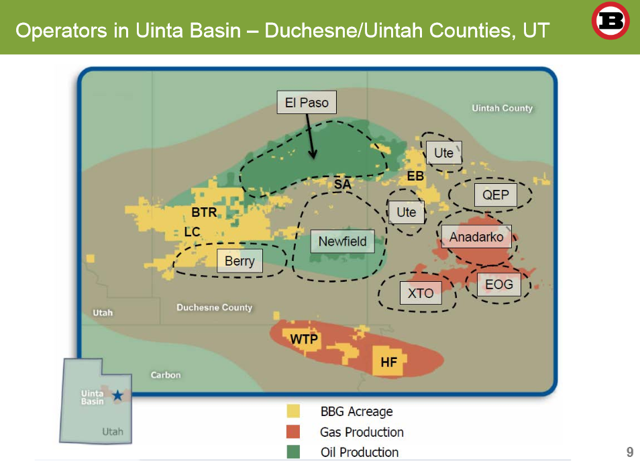 source: Bill Barrett presentation linked below
General partner Holly Frontier is eyeing a growth catalyst right in its own backyard of Utah: growing production from the Uinta Basin. In the Seeking Alpha Q1 conference call transcript, HFC President and CEO Mike Jennings made some interesting comments following a question by Citigroup analyst Faisel Khan. Khan asked about the potential for a new pipeline to get growing Uinta Basin production into Salt Lake City. Jennings responded:
Yeah, that project is being discussed by some industry participants and I'm thinking we are most likely under confidentiality around it and so I'm not going to go further. But it's an interesting concept because the [Uinta] is going to be producing probably upwards of 60,000, 70,000 barrels a day as we look forward and that's a lot of trucks on the road. So a pipeline solution might make a lot of sense up there.
Indeed, according to a presentation by Bill Barrett (BBG) last year, BENTEK estimates Uinta production will grow to over 100,000 bpd by the end of this year: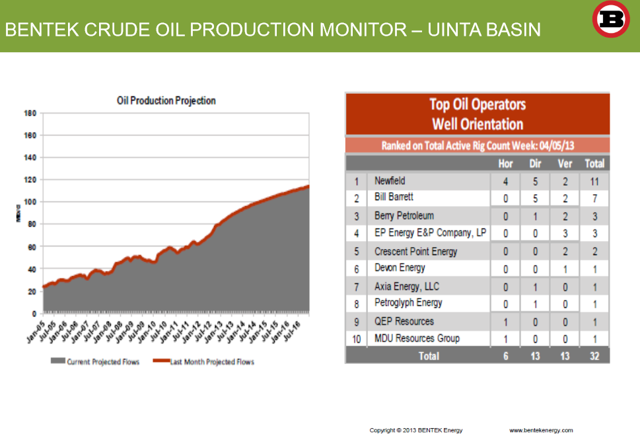 Newfield Exploration (NYSE:NFX) is the leading operator in the Uinta. In its Q2 earnings release, Newfield reported on its progress in the Uinta: Q2 net production averaged 26,100 boe/day, up 5% from an average of 24,900 boe/day in Q1. Based on strong Central Basin well performance, Newfield nearly doubled its beginning of the year guidance for the basin and now expects Uinta production to grow about 10% yoy.
There is no guarantee that Holly Frontier and Holly Energy Partners will participate in a new pipeline out of the Uinta Basin to Salt Lake City, but the partnership is in an excellent position to build and operate it. It makes sense - Newfield already has a 10-year agreement to supply Holly Frontier's Wood Cross refinery (just outside of Salt Lake City) with 20,000 bpd of Uinta wax crude production.
The fact that the CEO of Holly Frontier declined to comment further on the idea (other than to say it makes a lot of sense) due to confidentiality considerations indicates they are likely currently involved in planning discussions. This presents Holly Energy Partners with a potential positive long-term growth catalyst because, as I mentioned earlier, HEP has right-of-first-refusal on any logistical assets HFC builds or acquires. Based on similar pipelines, a new 20,000 bpd Uinta pipeline has the potential to add $30-40 million in annual revenue for HEP and could raise EBITDA by 20% - a larger capacity pipeline - even more.
Growing production from the Niobrara shale in Colorado is also a potential long-term growth catalyst. This is because Holly Frontier's Cheyenne, WY refinery is in an excellent position to accept additional Niobrara volumes.
Risks
As mentioned earlier, HEP has virtually no exposure to commodity price risks. However, the partnership is exposed to the economic viability of refiners like Holly Frontier and Alon USA Energy (NYSE:ALJ) who are exposed to commodity prices. As with any pipeline company, HEP also faces uncertainties with respect to crude and refined product volumes, but as I pointed out earlier, the vast majority (>85%) of HEP's revenue is from minimum volume contracts.
The biggest risk to MLP's like Holly Energy Partners might be rising interest rates. The ultra-low cost of capital of the last few years has benefited MLP's in two ways:
Low cap-ex expense relative to asset expansion ROI.
The search for yield.
As a result, MLP equities have exhibited high rates of capital appreciation. Currently, an MLP that pays a 6% dividend like HEP is viewed very favorable when compared to a 10-year Treasury note at ~2.5%. If interest rates were to rise considerably in a short period of time, the entire MLP sector (and HEP), could under perform the overall market. That said, HEP's current 6% yield does offer some downside protection.
Dividend Growth
As mentioned before, Holly Energy Partners has an impressive record of raising distributions for 34 consecutive quarters. The latest increase in Q1 equates to an annual payout of $2.03/unit.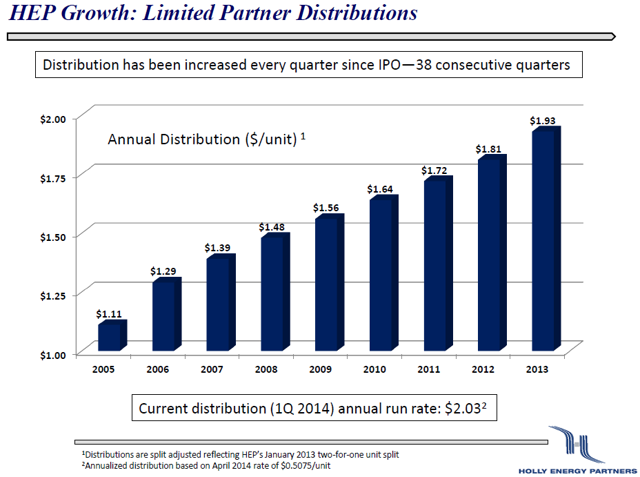 source: HEP presentation
To get an estimate of the distribution growth potential through 2015 due to the growth projects discussed in this article, I have summarized historical revenue and per unit annual distributions over the past 3 years in the following table. In addition, I have included analyst estimates for full-year 2014 revenue, and my own revenue estimate for 2015 based on HEP's recent slide presentation, executive comments in Q1's conference call, and the growth projects discussed in this article. The analysis is valid because, historically, HEP's distribution growth has closely followed growth in revenue and EBITDA.
Annual Revenue
Distributions/Unit

Distribution/Unit

YoY Change

2011
$213.6 million
$1.72
$0.08
2012
$292.6 million
$1.81
$0.09
2013
$305.2 million
$1.93
$0.12 *
2014
$336.7 million
$2.09 (est)
$0.16 (est)
2015
$376.0 million
$2.30 (est)
$0.21 (est)
*Negative affected by Navajo refinery crude restrictions (see "Q4 Snap Back" explanation below)
Given these 2014/2015 revenue based distribution estimates, and anticipating they will continue to support a 6% yield for the partnership considering its low-risk fee-for-service long-term contract driven business, HEP should move to ~$38.3 by mid-2015.
This price target would be raised if HEP participates in additional new growth projects due to growing production in the Uinta and/or Niobrara and the need for added pipeline and storage capacity. As mentioned earlier, HEP management is apparently already in confidential discussions concerning a possible new pipeline from the Uinta Basin to Salt Lake City.
Look For A Q4 Snap Back
Looking at stock chart (see below), we can see HEP backed off from its 52-week high of $38.53 the second half of 2013 due to a crude reduction issue at the Navajo refinery because of waste water constraints. The issue was resolved, but it negatively impacted HEP's Q4 distributed cash flow by ~$8 million as compared with Q2 and Q3. I would expect the partnership to recoup these losses in this year's Q4. As a result, I am looking for very favorable Q4 2014 yoy distributed cash flow comparisons.
Summary & Conclusion
Holly Energy Partners is a fast growing MLP with strategic ties to a strong sponsor in refiner Holly Frontier. The partnership has an impressive dividend growth record of raising unit distributions every quarter since going public. Current catalysts include two near-term growth projects that are estimated to, along with increases in contractual tariffs, raise incremental annual revenue by ~$30 million and EBITDA by over 15%. In addition, the partnership is in an ideal geographic region to benefit from growing production in the Permian, Uinta, and Niobrara basins. These are positive catalysts right in HEP's own backyard and are not necessarily tied to general partner Holly Frontier. That is, HEP is free to third party organic growth projects.
HEP's revenues are 100% fee based and dominated by low-risk long-term contractual fee-for-service minimum volume commitments. As a result of growing revenue and EBITDA, HEP should retrace to back to its 52-week high of $38.53 and then some. My 12-month price target is $39/share. Combined with the 6% yield, that would give investors a total return of 20%. Upside to this target exists should additional growth projects materialize as a result of growing production in the Uinta and Niobrara basins. HEP is a BUY.
| | |
| --- | --- |
| Market Cap: | 1.99B |
| P/E ("ttm"): | 35.02 |
| EPS ("ttm"): | 0.95 |
| Div & Yield: | 2.03 (6.00%) |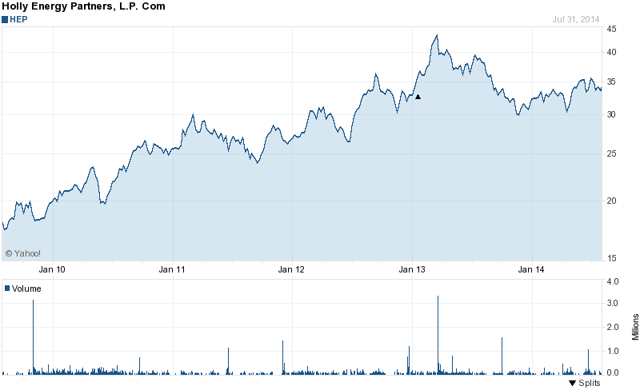 source: Yahoo Finance
Disclosure: The author has no positions in any stocks mentioned, and no plans to initiate any positions within the next 72 hours. The author wrote this article themselves, and it expresses their own opinions. The author is not receiving compensation for it (other than from Seeking Alpha). The author has no business relationship with any company whose stock is mentioned in this article.
Additional disclosure: I am an engineer, not a CFA. The information and data presented in this article were obtained from company documents and/or sources believed to be reliable, but have not been independently verified. Therefore, the author cannot guarantee their accuracy. Please do your own research and contact a qualified investment advisor. I am not responsible for investment decisions you make. Thanks for reading and good luck!