Cisco (NASDAQ:CSCO) designs, manufactures and sells Internet Protocol (IP)-based networking and other products related to the communications and information technology industry and provides services associated with these products and their use. The product portfolio consists of a broad line of products for transporting data, voice, and video within buildings, across campuses, and around the world.
CISCO's fiscal year ended on July 2010. It recorded $40 Billion in Sales with a Gross Profit or $25.6 Billion and a net income of $7.7 Billion. Earnings per Share increased with 26.7% from fiscal 2009 to 2010. Operating and Net Income have on average increased with around 11% in the last 10 years. Total cash and investments ($39.8 Billion) is more than twice the size of its total debt. CISCOs performance in the last 10 years has been impressive and it has built up a rock solid balance sheet. Let's take a look at CISCO's sales based on region and product category (Graph 1).
Graph 1: Sales per region & product category

In the last few days, the stock price declined with more than 18%. The stock is currently trading around its 52-week low. The large decline was mainly due to CISCO's disappointing revenue guidance for the rest of the year and lower gross margin (62.8% versus 65.3%).
Let's take a look at Cisco's earnings power and growth to determine if this is a good time to step in or add to an existing position. First, we'll take a look at the financial trend for the last few years.
Graph2: Revenue, Operating Income and Free Cash Flow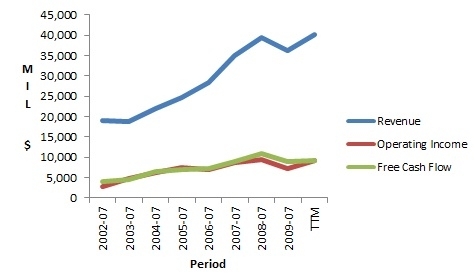 Graph 3: Operating margin, ROE and ROIC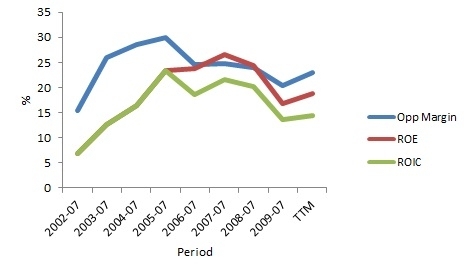 To calculate its Earning Power Value earnings need to be adjusted to represent the cash investors can extract and still leave the company functioning. Secondly, we need to determine a discount rate. Following adjustment to the earnings:
· EBIT margin of 24% (median of the last 10 years)
· SG&A, R&D and Depreciation adjustment
· Tax rate of 22% (median of last 10 years)
· Discount rate of 12%
This gives an Earning Power Value of $19.83 a share (assuming no growth). How much value will the future growth of Cisco create? We'll take a 10% growth percentage for our calculation with a cost of capital of 9% and a ROIC of 15%. This gives a present value of cash flows of $29.75.
Let's take a look in graph 4 at the share price (last day of fiscal year) versus the intrinsic value (EPV + Growth) in the last 10 years.
Graph 4: CSCO Stock Price versus total EPV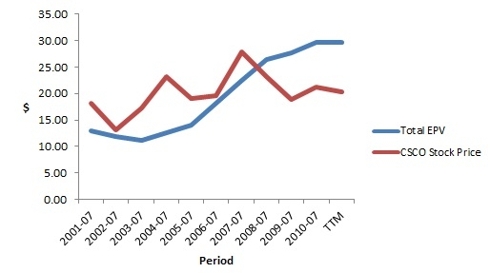 The stock can be bought against its current earnings value and you get the future growth for free, providing a good margin of safety. This is an attractive opportunity to consider creating or adding to an existing position.
Disclosure: Long CSCO