By Maulik Mody
Stocks declined slightly and Treasuries collapsed on concerns of inflation. Advanced retail sales and increased business inventories reported today also caused Treasuries to sell off, pushing yields higher. The 30-yr yield reached its highest levels since May. Gold & oil declined slightly, while the dollar advanced.
Economic Data
In an indication that consumer spending is bouncing back and leading the recovery, retail sales advanced 1.2% during October, beating economists' forecasts of 0.7%. This has been the biggest increase since March this year and instills confidence in retailers right before the holiday season kicks in. Stock market gains and an improving job market may boost consumer spending in the months ahead.
Sales increased the most owing to strong demand for vehicles and parts. Auto sales increased 5.7% last month, up from 1.7% during September. Building material purchases increased 1.9%, while home furniture and electronics sales weakened. Excluding auto, retail sales increased by 0.4%, in line with economists' forecasts. Excluding auto, gasoline and building materials, sales improved only 0.2%.
While retail sales may have improved, manufacturing activity in the New York region slowed as reported by the Federal Reserve Bank of New York. The Empire state index fell to negative 11.1 in November from 15.7 in October, ending in the negative territory for the first time in 15 months. A negative reading suggests contraction in manufacturing. The index fell mainly as orders dropped as demand for goods is not strong enough for manufacturers to increase production.
In a separate economic release, business inventories increased 0.9% in September, up from 0.6% the previous month and beating economists' expectations of 0.8%. Manufacturer inventories increased 0.7% while that for retailers increased 0.8%. Wholesalers saw a 1.5% increase in goods stored for sale. Sales for manufacturers, retailers and wholesalers increased 0.4%, 0.8% and 0.4% respectively. The inventory to sales ratio was unchanged at 1.27%.
For more on today's economic release, click here.
Interest Rates
Yields rose across the curve on today's economic data and as the Fed faced opposition against its asset purchase program, pointing that the Fed risks a surge in inflation by purchasing more assets.
The yield on the benchmark 10-Yr note gained 17 bp to 2.96%, its biggest one-day jump this year. The belly of the curve widened as the 5-Yr yield increased 16 bp to 1.53%. The Long Bond fell on opposition to the Fed's asset purchases, pushing its yield 13 bp higher to 4.415%. The front end of the curve gained as the yield on the 2-Yr ended 3 bp higher to 0.54%.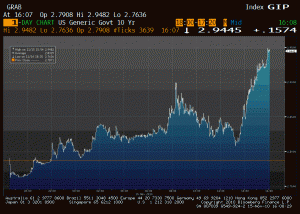 Inflation expectations, as seen by the yield differential between the 10-Yr Treasury and 10-Yr inflation-indexed securities (TIPS), remained unchanged at 2.08%.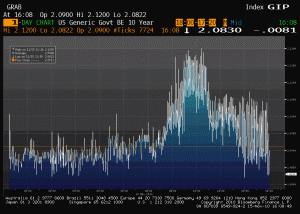 Yields were higher among developed nations across the Atlantic. Yield on Germany's 5-Yr Bunds increased 4 bp to 1.68%. France's 5-Yr bond fell as its yield pushed 3 bp higher to 1.92%. 5-Yr UK Gilts last traded 6 bp higher at 2.04%.
Yields were lower across the peripherals as bonds of these nations rallied. Portugal's 5-Yr bonds gained as its yield fell 10 bp to 5.39%. Italy's 5-Yr bond gained slightly as its yield fell 2 bp to 3.19%. Spain's bond gained pushing its yield 4 bp lower to 3.74%. Greece's bond gained the most as yield fell 30 bp to 11.92%.
Across the Capital Markets
Stocks declined as companies such as Pulte Group Inc. (NYSE:PHM), Amazon.com (NASDAQ:AMZN) etc fell about 3%. The S&P weakened 0.1% to 1197.75. NASDAQ fell 02% to 2513.82. The VIX Volatility index fell close to 25 to 20.20.
The dollar gained as seen in the DXY index, which gained to 78.618. Euro weakened 0.8% against the dollar to 1.3587. The British Pound fell 0.4% to 1.6053.
Gold spot price fell about $8 to 1360.60. Crude oil price fell $3 to 84.88.