Lowe's (NYSE:LOW) has embarrassed home improvement retailer Home Depot (NYSE:HD) for a long time. Now, amidst housing hell, Home Depot is crawling back with great operational improvements and even increases in sales.
Earnings: Increased 21% to $834 million ($0.51 per share) from $689 million ($0.41 per share) YOY.
Revenue: Increased to $16.6 billion from $16.36 billion YOY.
Actual Versus Wall Street Expectations: HD beat Wall Street earnings expectations for $0.48 a share, but fell slightly short on sales expectations of $16.63 billion. (FactSet Research).
Notable Stats:
Same-store sales also rose 1.4%.
HD guidance expects sales to be up approximately 2.2% for the year.
Did You Hear That?
Frank Blake, chairman and CEO, said:
As the business stabilizes, we continue to improve our operational performance. We are exercising good control over our expenses but we're also investing in the business to drive improvements across customer service, merchandising and our supply chain.
Official Company Earnings Release and Conference Call: Read all the details here and listen to the conference call here.
Commentary: Although shares of HD are off their summer highs, the stock is exhibiting positive price action as it bounces off a converging 50 and 200 DMA.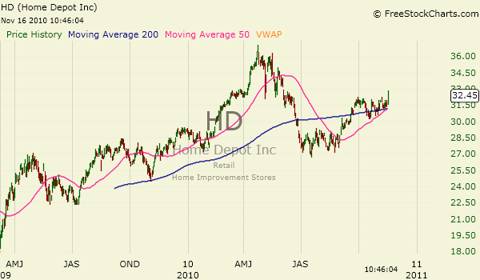 (Click to enlarge)
Disclosure: No position