Overview
It seems as though dividend investing continues to grow in popularity. Whether investors are looking at lower yield Aristocrats such as Coca-Cola (NYSE:KO), McDonald's (NYSE:MCD), and Wal-Mart (NYSE:WMT), higher yielding stocks in the REIT/Financial industries, or a diversified portfolio of various dividend paying stocks, many investors are depending on current and/or future income from these investments.
However, I believe that too many investors are chasing high yields that some stocks currently offer, which will cost them higher overall returns in the future.
When looking at dividend stocks as income investments, I believe there are several key factors to consider.
Stability - This refers to not just the stability of a stock's dividend, but the stability of the company in general. Is the company in good financial shape? Does the company have a history of growing revenue/earnings? Does the company have too much debt? What are the number of shares outstanding today vs. ten years ago?
Dividend History - In looking at dividend history it is important to look at both yield and growth. Why is the current yield high/low (is it because the dividend continues to grow or is it because the stock price continues to fall?)? Does the company have a good history of increasing dividends or at least maintaining them?
Valuation - Is the stock currently fairly priced? over priced? under priced? Why?
Future Outlook - How has the company performed recently? What changes are they making that will improve or worsen this performance? How safe is the dividend?
I believe that too many investors often see double digit yields and forget to ask some of these important questions. I know from past articles that I've either written or commented on, that several investors seem perfectly happy receiving their high yield dividends in a stock that continues to see a drop in price.
In one article, I was discussing Armour Residential REIT (NYSE:ARR) with someone and I couldn't understand why they were happy in an investment that was not only down around 25% (while other similar REITs were up significantly), but also an investment that displayed several dividend cuts one after the other. I tried to explain that the only reason the yield was so high was because the stock price continued to fall, but the comment appeared to have fallen on deaf ears.
I'm not trying to say that investors should panic anytime one of their dividend investments sees a decline in stock price, but I do believe that investors (even strictly dividend investors) should care more about the quality of the company than the quality of the yield.
To illustrate I am going to list and quickly overview some high yielding stocks that I believe are worthy of consideration as buys along with some high yielding stocks that I recommend avoiding.
High Yielders Worth Considering
Arlington Asset Investment Corporation (NYSE:AI)
Looking at the table below, you can see that AI's stock price has increased 75.94% over the past five years, while it's dividend has increased by 150.00%. While AI hasn't increased its dividend for several years, it has remained steady at $0.875 for 13 consecutive quarters. It currently yields just over 13%.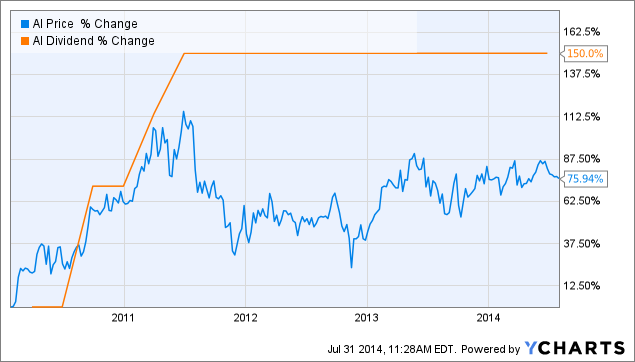 In the company's latest quarterly earnings call, its CEO stated some of the reasons as to why AI remains an attractive investment option:
We continue to be optimistic about Arlington's opportunities, while Arlington has provided growth in book value, stable dividends and industry-leading returns in recent years, including since the onset of QE3 in the fall of 2012, the company continues to be differentiated by its C-Corp structure, tax benefits, complementary hybrid MBS portfolio, substantial hedge position, liquid balance sheet and declining expense ratio.

Looking forward, we expect cash earnings to benefit incrementally from the full effect of our last capital raise, as well as from the ongoing migration of private-label MBS to hedged MBS -- excuse me, hedge agency MBS and a reduced expense to capital ratio. The dynamic of our company and our portfolio have continued to perform within our expectations.
Medley Capital (NYSE:MCC)
Looking at the table below, you can see that MCC's stock price has increased 7.22% since mid-2011, while it's dividend has increased by 131.30% and is currently yielding 11.42%. MCC's latest dividend increase was in August last year, and I wouldn't be surprised to see a similar increase this August.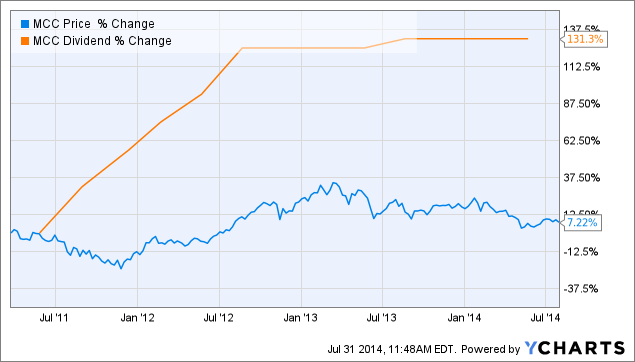 I don't see MCC's stock price appreciating much in the near future, but I also don't believe it will drop by all that much either (compared to the overall market). I wasn't thrilled with the company's Q2 quarterly report, but wasn't disappointed either. I believe MCC's strategy of diversifying its growing portfolio will generate long term success.
KKR & Co. L.P. (NYSE:KKR)
Looking at the table below, you can see that KKR's stock price has increased 125.30% over the past five years, while it's dividend has increased by 737.50% and is currently yielding 11.02%. While the company's dividend is sporadic, it does have an overall uphill projection since 2010.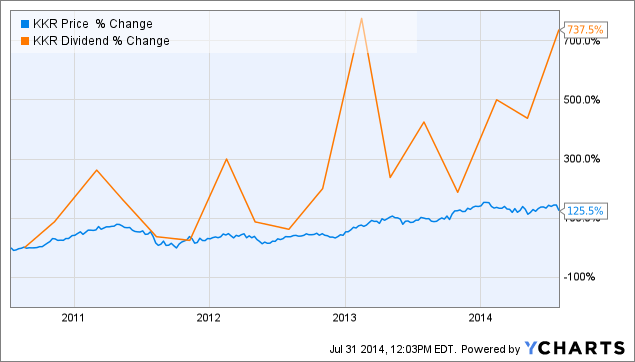 Last week, KRR reported strong Q2 earnings as the company continues to perform well. One of the key items in the company's earnings call discussed was:
With more permanent capital inside the firm we are better aligned with our fund investors can accelerate our growth and generate more total distributable earnings and therefore, more distributions from everything that we do.
This is one of the reasons I believe that KRR will continue to see very nice long term returns in both its stock price and dividend distributions.
High Yielders to Avoid
Looking at the table below, you can see that ARR's stock price has dropped by 48.70% over the past five years, while its dividend has dropped by 87.50% and is currently yielding 14.15%. ARR's dividend has held steady since October of last year, but there is no reason to assume any future dividend increases.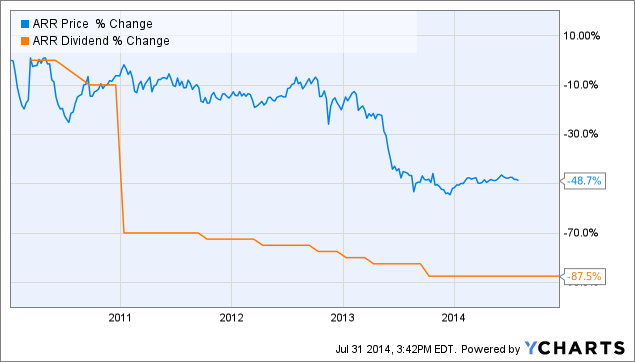 ARR has made some changes to try and improve its performance; however, I have not seen enough evidence that the management team has the necessary skills to make the right decisions. While the company has been able to stabilize its dividend distributions, the company continues to lose book value. If this continues much longer, it will pose serious problems.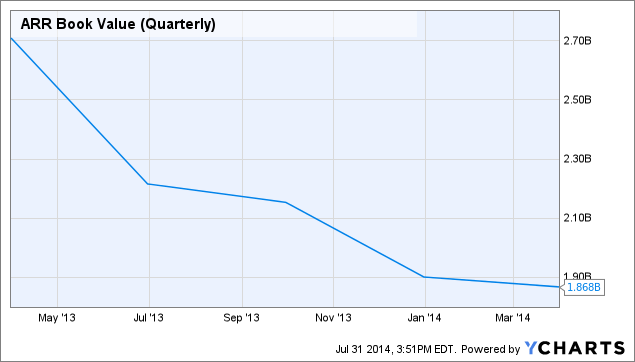 ARR Book Value (Quarterly) data by YCharts
Because of this I recommend investors who don't already own ARR to avoid it. If you do already own it (and you have owned it more than 6/7 months) you are most likely in the red. I'm not suggesting you sell, but I would definitely think twice before reinvesting any dividends into additional shares of this stock.
Just Energy Group (NYSE:JE)
Looking at the table below, you can see that JE's stock price has dropped by 59.90% over the past five years, while its dividend has dropped by 37.70% and is currently yielding 14%.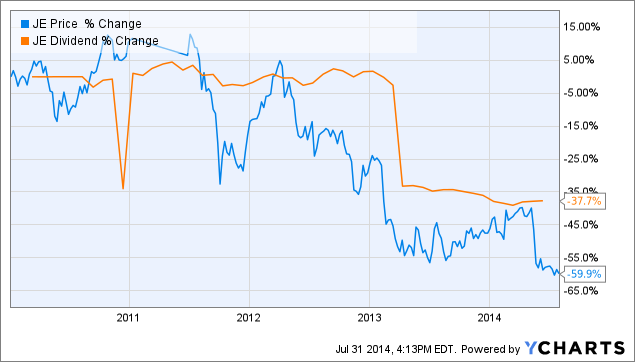 Looking at the table below you can see that JE has been able to increase revenues; however, that increase hasn't translated into the bottom line (as of yet).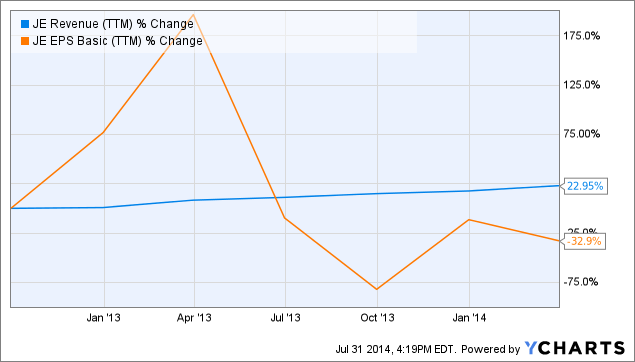 JE Revenue (NYSE:TTM) data by YCharts
And with the company's high payout ratio, I recommend avoiding this stock as an income investment.
Conclusion
The main point of this article isn't to give recommendations on stocks worth buying or avoiding (although I did throw a few of those out there). The main point is to challenge the way we look at high yield investments. I know seeing double digit yields can be very tempting, but I also know that often chasing these high yields can lead to long term disastrous consequences.
When looking at high yield investment opportunities, don't worry as much about the yield. I know this sounds strange, but there will be good high yield investments available, so just looking for a high yielding stock and buying is a bad move. Instead focus on the underlying qualities of the company to determine how likely that this yield will continue into the long term future. Consider whether the yield will be high in the future because of stock price declines or because the company continues to grow its dividend. And above anything else, perform your own research before making any investment decisions.
Disclosure: The author has no positions in any stocks mentioned, and no plans to initiate any positions within the next 72 hours. The author wrote this article themselves, and it expresses their own opinions. The author is not receiving compensation for it (other than from Seeking Alpha). The author has no business relationship with any company whose stock is mentioned in this article.