Friday was another down day for stocks following the notable -2% decline on Thursday. After a few feeble pushes to the upside in the early morning trade, stocks rolled over and were solidly down once again by mid-day, before battling back into the close. But despite the generally poor performance of stocks for a second consecutive day on Friday, several important points of good news accompanied the bad. Overall, investors could find reassurance at least as we head into the weekend that the latest stock market correction is taking on a more orderly behavior.
The first positive development was that stocks were able to successfully hold key support levels for another day. Stocks as measured by the S&P 500 Index (NYSEARCA:SPY) made an early run at its 100-day moving average, which has served as reliable support on four occasions since the beginning of 2013, but at its lows of 1916, the index never came closer than five points to this support level, currently at 1911. And the S&P 500 still remains a solid distance away from its 150-day moving average, which provided key support during the correction at the beginning of 2014, currently at 1883. In short, the recent correction over the last two days at least to this point continues to represent nothing more than a pullback in a longer-term uptrend.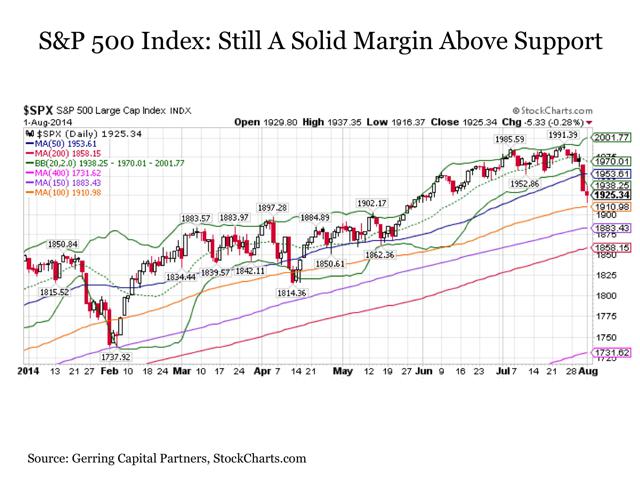 As discussed in my article from yesterday, one of the concerns emerging from Thursday's trade was that it had the initial appearances of developing into a liquidation episode, which are particularly damaging for capital markets in that it involves the indiscriminate selling of securities across all asset classes, beyond any fundamental or technical rationale. For example, liquidations are what defined the declines that took place during the financial crisis, so they are important to monitor closely. The liquidation risk that emerged yesterday was highlighted by the fact that the set of major asset classes that are uncorrelated to negatively correlated with one another, including stocks and high-yield bonds (NYSEARCA:HYG) versus long-term Treasuries (NYSEARCA:TLT) and gold (NYSEARCA:GLD), all moved solidly to the downside, with the only winners being cash (NYSEARCA:SHV) and volatility (NYSEARCA:VXX).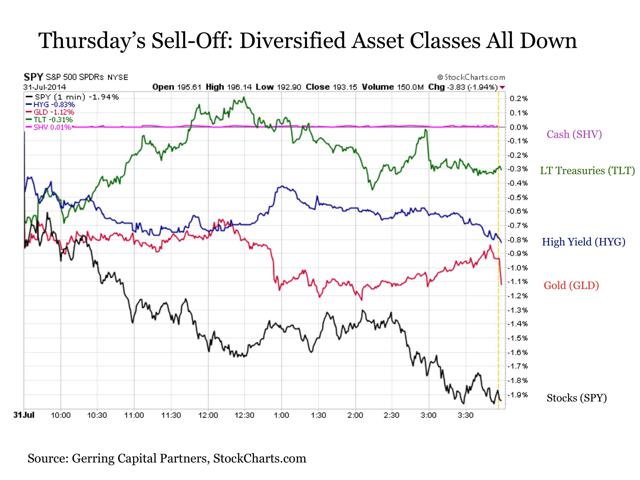 Thus, one of the key factors to watch in Friday's trade was whether this trend continued or even accelerated into a second day. The good news is that it did not. High-yield bonds were down more than stocks, which is notable and potentially problematic for stocks for more fundamental reasons, if this trend continues. But the decline in high-yield bonds is to be expected, given the relatively high weekly returns correlation at +0.73 with stocks. On the other hand, gold burst to the upside at the open, and held its ground to the upside all day. As for long-term Treasuries, they managed to overcome a sharp early morning move to the downside, to end the day solidly in positive territory. Overall, this differentiation of returns across these diversified asset classes is what would be reasonably expected in a normal, rationally functioning market where participants are not being forced to toss out their holdings indiscriminately in a scramble to raise cash.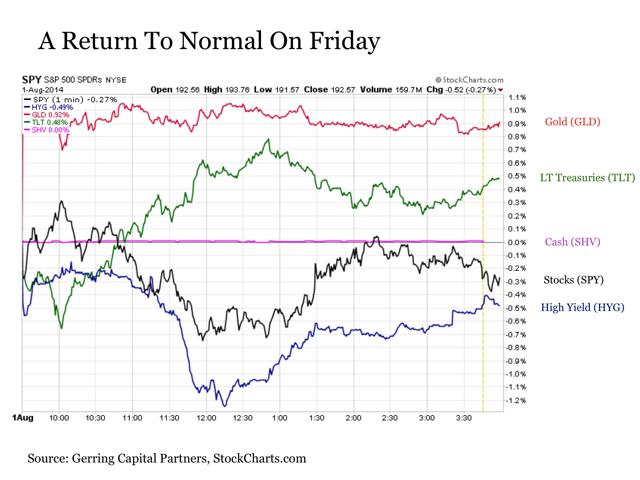 Taking this a step further, we witnessed similar promising signs from within the stock market in performance across sectors. On Thursday, all stock sectors, from technology (NYSEARCA:XLK) to utilities (NYSEARCA:XLU), moved uniformly to the downside, providing yet another indication of underlying liquidation pressures.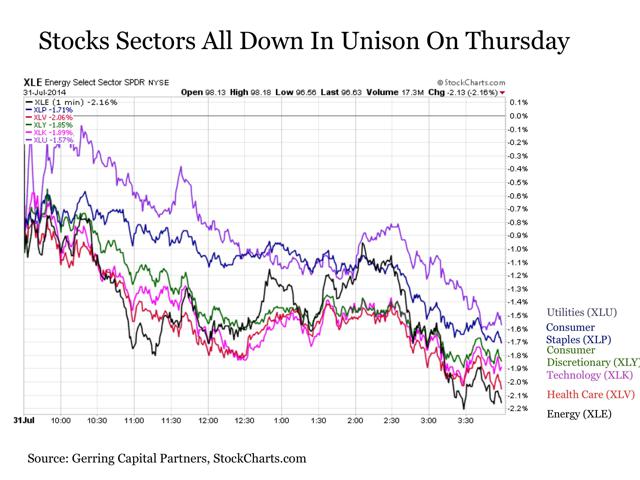 But on Friday, we saw the return of differentiation across stock sector returns. As might be expected on a modest down day, the more defensive sectors of consumer staples (NYSEARCA:XLP) and utilities moved higher on the day, while healthcare (NYSEARCA:XLV) ended close to flat. As for the more cyclical sectors such as consumer discretionary (NYSEARCA:XLY), technology and energy (NYSEARCA:XLE), these all ended down for the day, as would also reasonably be expected on a day when the overall market has moved lower. But regardless of whether these sectors ended up or down for the day, the fact that we saw a meaningful differentiation in performance across sectors suggests that the normal rotation of capital within the stock market had been restored at least to end the week.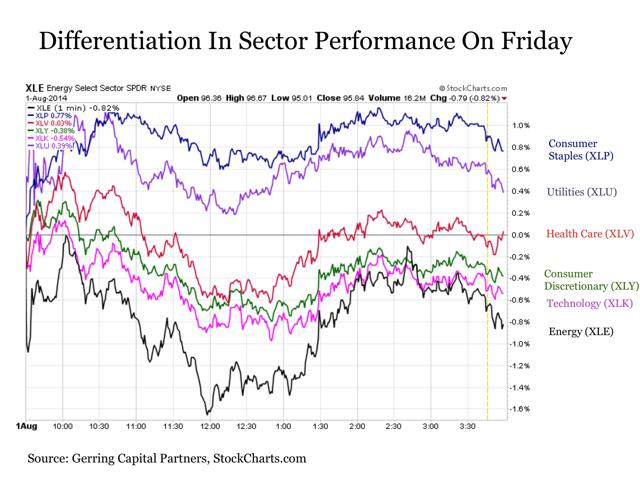 This apparent return of order to capital markets was a positive development on Friday. Investors can successfully navigate stock market corrections or even outright bear markets if the system is behaving normally. But when selling conditions become chaotic, as they did on Thursday for an extended period of time, there is virtually nowhere to hide other than cash and outright hedges. And with the pending exit of the U.S. Federal Reserve from its once extraordinarily aggressive stimulus program that has been in place in several different forms for more than five years now (this, of course, is how extraordinary becomes common), with the potential for subsequent rate hikes not far behind, we can only wait and see how markets will react and if such order can be maintained.
Of course, none of this means that the stock market is necessarily out of the woods and the threat of a more sizeable correction has gone away. Stocks are long overdue for a pullback at least in the -10% range, and August has been a generally lousy month for stocks over the six years since the market bottom in 2009. Moreover, a fair amount of technical damage was sustained underneath the market surface, and some troubling signals are building from the small cap stock (NYSEARCA:IWM) and high-yield bond markets. As a result, now is not the time to become complacent, as the potential remains for further downside as we enter into the new trading week ahead.
Disclosure: This article is for information purposes only. There are risks involved with investing including loss of principal. Gerring Capital Partners makes no explicit or implicit guarantee with respect to performance or the outcome of any investment or projections made. There is no guarantee that the goals of the strategies discussed by Gerring Capital Partners will be met.
Disclosure: The author is long TLT, XLU. The author wrote this article themselves, and it expresses their own opinions. The author is not receiving compensation for it (other than from Seeking Alpha). The author has no business relationship with any company whose stock is mentioned in this article.
Additional disclosure: I am long stocks via the SPLV as well as individual stock names. I also hold a meaningful allocation to cash at the present time.