Some new and clarifying information has recently been made available by Sterne Agee after a meeting with the CEO, CFO and a general manager of NXP Semiconductors (NASDAQ:NXPI). Most of the commentary pertains to the corporation's High Performance Mixed Signal ("HPMS") chips. Further, there are some projections out beyond a 12-month time frame.
Semiconductor companies tend to be categorized in one or two ways, depending on the type of signals they specialize in: analog or digital. Analog signals, also referred to as linear, involve varying voltages and currents. If you witness a substance filtering electricity so that a particular color of light is produced, you may essentially have an analog chip. Digital chips recognize whether a current is sufficient or not, which is represented as either zero or one. The most powerful, high-speed microprocessors are digital. Mixed signals combine analog and digital. The vast majority of NXP's products are categorized under HPMS and are at the forefront of innovation in several industries.
Sell Side Analysis
While excessive detail is not provided in Sterne Agee's July 31st Report, there is indication of
Potential for a paradigm change in Mobile Payments in 2H14, which could drive a bigger trend toward handsets (after multiple prior attempts), especially with some killer apps and marquee phones which could drive a second wave of "mobile payments" into a 300-900M L-T smartphone market.
Also,
With 4G-connectivity the car is now a moving network, and the bigger concern which puts NXPI at pole position is security with car networks, car access and car control with a $10-$25 average, and up to a $100 opportunity...NXPI is also still in the early stages of its keyless entry ramp at the #2 U.S. Auto OEM where it is still only 30% penetrated on its way to ramping to 70%-plus.
From the sound of it, keyless vehicle access is being provided through a customer such as Delphi Automotive (NYSE:DLPH) to domestic manufacturers.
Two graphics, (1) showing a current valuation table, and (2) future projections, follow. NXP is compelling in light of future earnings and free cash flow estimates:

HPMS growth is predicted to continue at the fastest rates within the company's high margin Identification Segment, though Automotive is not very far behind.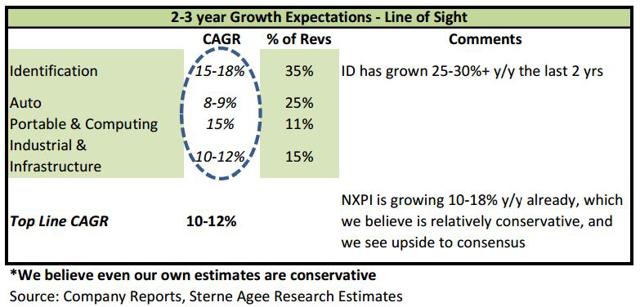 Technical Observation And Explanation
The stock has sold off with an exceptional earnings report days ago:

It implies that expectations are high. This trait has been observed in many other instances. In fact, Jim Cramer has recently gone into detail about it in describing Buffalo Wild Wings (NASDAQ:BWLD). NXP shareholders can take comfort in the fact that the company is continuing to buy back shares at newly lower prices, having the authorization to retire roughly another 13 million.
Smart Home = Connected Home?
Speculation might not be advisable in regard to the exciting news surrounding the Portable and Computing Segment's guidance to 40% higher revenues next quarter. However, amidst coinciding matters a resultant insight into future technology cannot be ruled out. NXP has consistently emphasized its ability to control systems within the home, including everything from door locks; to lighting systems controlled through "low power wireless microcontrollers and sensors." Apple (NASDAQ:AAPL) is rumored to be implementing "smart home" technology, complete with an advanced georeferencing capability, into its future iOS 8 operating system. Obviously safety and security concerns surrounding wireless access or control of living quarters are not to be taken lightly. NXP is principally identified with secure connections. So there is no confusion, there should be no implication here that an NXP design is behind any such key new Apple offering, though a nexus is a possibility.
HPMS chips can continue to support accelerated NXP revenues through future years. Payment and automotive technologies are among the reasons. The stock remains at low multiples in comparison to some peer firms in considerations of future earnings and Free Cash Flow. Meanwhile, the number of shares outstanding should continue to decrease.
Disclosure: The author is long NXPI. The author wrote this article themselves, and it expresses their own opinions. The author is not receiving compensation for it (other than from Seeking Alpha). The author has no business relationship with any company whose stock is mentioned in this article.
Additional disclosure: A long position may be initiated in AAPL over the next 72 hours.