AVANIR Pharmaceuticals, Inc. (NASDAQ:AVNR) has announced that it intends to offer and sell shares of its common stock in an underwritten public offering. Jefferies & Company, Inc. is acting as sole book-running manager in the offering and Canaccord Genuity Inc., Wedbush PacGrow Life Sciences, Summer Street Research Partners, and Merriman Capital are acting as co-managers for the offering. In addition, Trout Capital LLC is serving as a financial advisor to AVANIR. The offering is subject to market conditions, and there can be no assurance as to whether or when the offering may be completed, or as to the actual size or terms of the offering.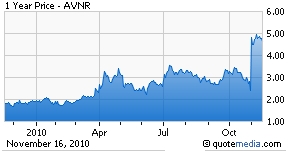 I have sold 50% of my AVNR investment, locking in a 100% gain, and will let the other 50% ride as it is pure profit. My average cost is $2.65 a share for the fund I manage. Congrats to those that bought AVNR after reading my article.
I believe AVNR intends to raise around $75M on this offering. I would imagine $4 would be the downside for the stock. The possible upside over the next 12 to 18 months could be $8 to $10 a share, all depending on sales etc. AVNR's current share price is $4.62
New investors may want to consider buying AVNR when the offering price is completed. Short sellers should consider covering on this news.
Disclosure: Long AVNR