Investors had many concerns heading into Chipotle Mexican Grill's (NYSE: CMG) second-quarter earnings report on July 21. Chief among them was as to how Chipotle's recent price increases were being received by customers, as Chipotle had, in late April, announced its first company-wide price increase in three years as a response to skyrocketing food costs.
Through its report, however, Chipotle has proven that concerns over customer reaction to price increases are unfounded, and that, in fact, these price increases and what allows Chipotle to smoothly implement them may actually benefit the company in the long run.
Chipotle Soothes Worried Investors and Delivers Incredible Results
When Chipotle finally did report results on July 21, the company smashed even the most optimistic EPS and revenue estimates and reported astonishing 17.3% comparable restaurant sales growth.
Still, Chipotle CFO John Hartung knew customer reaction to the company's recent price increases was a major concern for investors, and, thus, addressed the issue very early in Chipotle's conference call:
"Aside from the slight shift from steak to chicken, our customers have generally responded well so far, but it is early and we'll continue to watch for resistance in terms of fewer customer visits as well as customers trading down."
Sure, some customers are trading down to lower-priced meats, but at the end of the day they are still going to restaurants in ever-increasing numbers, as Hartung also stated in his remarks that one of the primary drivers of the growth in comparable sales was an increase in overall customer traffic.
Why Chipotle Wasn't Hurt by Higher Menu Prices
Common sense, however, tells you that customers should be affected by price increases, especially in the cut-throat restaurant industry. Heck, when McDonald's (NYSE: MCD) or Yum! Brands (NYSE: YUM) raise prices customers are up in arms.
The catch is that Chipotle's customers aren't the same as McDonald's and Yum! Brand's. People don't go to Chipotle for a cheap meal like they do when they go to McDonald's or KFC. Chipotle customers go for the premium, healthy food Chipotle offers through its Food With Integrity program, and are willing to pay the hefty price that comes along with it.
Chipotle, as Morningstar analyst R.J. Hottovy puts it, "has done a great job cultivating a brand that commands pricing power." 6.25%-6.5% (which is what these increases amount to) on top of the premium price one is already paying simply isn't a deal-breaker for Chipotle customers, as is evidenced by the 17.3% increase, not decrease, in same-store sales Chipotle achieved in the quarter.
McDonald's and Yum! Brands are also dealing with rising food costs, yet are much more limited in their options. Menu price increases would almost certainly alienate at least some of their customers, while holding firm means potentially compromising on margins. At least up to this point, McDonald's and Yum! Brands have stood firm, as neither has announced any company-wide price increase plans.
Quite frankly, neither one of them can afford to take their chances with customers. In their most recent quarters, U.S. comparable restaurant sales decreased 1.5% for McDonald's, 2% for KFC, and 4% for Pizza Hut. Yum! Brand's other chain, Taco Bell, saw U.S. comparable restaurant sales increase 2%.
For Chipotle, fostering its unique premium food, premium cost environment has allowed the company to stay ahead of food costs and quietly beef up margins while McDonald's and Yum! Brands have only been able to maintain theirs over the past half-decade.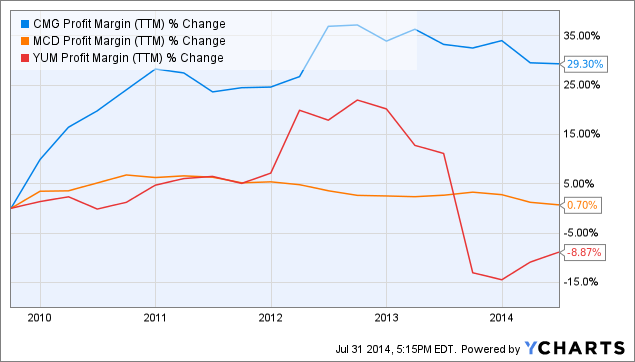 CMG Profit Margin (TTM) data by YCharts
The Takeaway
It is worth noting, as CFO John Hartung did, however, that it is relatively early to completely judge customer reaction. Even when these price increases do take full effect (by the time Chipotle reports third-quarter results in October), however, it is unlikely they will have proved to be a major deterrent for customers.
For this, Chipotle can thank its unique, premium brand that "commands" pricing power (something which also has, and should continue, to allow Chipotle to steadily increase margins). Because of this, I fully expect Chipotle the business and Chipotle the stock to continue to reach greater heights into the future.
Disclosure: The author has no positions in any stocks mentioned, and no plans to initiate any positions within the next 72 hours. The author wrote this article themselves, and it expresses their own opinions. The author is not receiving compensation for it (other than from Seeking Alpha). The author has no business relationship with any company whose stock is mentioned in this article.