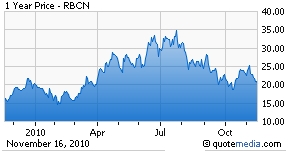 With 3 million tax returns prepared per year, about 3% of all tax returns prepared by a professional, JH (JTX) is unique in the sense that it's the only one of the "big three" tax preparation firms that is both primarily concerned with franchising and is publicly traded. The corporate arm operates the 11% of the JH corporately owned units and works on developing corporate partners, such as with Wal-Mart (NYSE:WMT), as of 2010. The president, Harry Buckley, has made it unequivocally clear that "we are a franchiser and we want to increase franchise locations as a percentage of total locations, not the other way around." Even that 11%, nearly a thousand locations, management is looking to slim down:
We are looking at new and different approaches to get company-owned locations back in the hands of motivated franchisee entrepreneurs such as selling individual offices rather than whole markets where it makes sense.
In 2010, Mr. Buckley has stated that they're beginning to phase out the national advertising campaign performed in conjunction with Magic Johnson and that there'll be "less emphasis on national advertising and a renewed focus on our regional and local marketing activities." For the 2010 tax season, the franchisees were provided a local promotional packet and marketing plan with mailings for the first part of the tax season, January 15th through February 28th, and the second through April 15th. These mailings are overwhelmingly directed towards lower-middle and lower earnings households.
This year represents an arrangement with Wal-Mart in introducing about 1,750 kiosks to their storefronts, benefiting from the high foot traffic of individuals within the desired demographic that Wal-Mart serves. Of these, 75% have been reserved for franchisees and 25% for the corporately-owned operation. This Wal-Mart partnership represents a return to JH's roots as contracting with a big box retailer, first Montgomery Ward 1989, which took JH from a handful to over 500 locations within three years.
On August 5th, 2010, the IRS announced that it would no longer be informing providers of refund anticipation loans if a tax payer has any back taxes due. By virtue of this, RALs may have to be made at a higher interest rate, much like credit cards, to account for defaults if a particular tax payer had significant tax obligations and decided not to pay back the loan. H&R Block (NYSE:HRB) settled earlier this month in its lawsuit with HSBC (HBC) to provide financing for RALs despite the new underwriting variables. JH has had to switch from bank to bank to find a reliable provider that will service RALs at all of their locations, as the agreement with their creditor requires.
Put plainly, JH is on the verge of bankruptcy. Creditors nearly forced it into bankruptcy in May of last year, but management was able to negotiate favorably to avoid such proceedings. The IRS's decision to make RALs difficult to provide make meeting the terms the creditors have stipulated virtually impossible. As it stands, 50% of JH's locations provide RALs. Those locations that don't do RALs experience 20% less revenue. Keeping creditors at bay requires keeping the RALs at or near 100% by Oct 1st 2010, which hasn't happened. With $260 million in long term debt subordinate to the stock, the market has priced JH at virtual bankrupt pricing.
Failure of the management can be attributed to stock buybacks with borrowed money while the stock was sky high, taking until 2010 to provide an online feature to do taxes, and reliance on a single small bank to provide RALs. Look for a bankruptcy in the near future.
Disclosure: No position